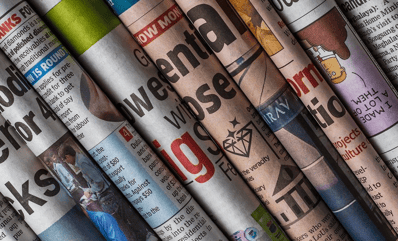 Gone are the days of chasing down potential customers, trying to put a paper coupon in their hands. Modern inbound marketing means customers come to you, looking for answers to a question or solutions to a problem. They are drawn in by engaging social media posts, informative blogs, and finely tuned SEO...and turned into lifelong customers with the crinkly feel of old fashioned paper.

The New Role Of Print
Print advertising used to (and still does) eat up a significant portion of advertising budgets. But aggressive outbound print campaigns are resource-consuming dinosaurs in the face of finely-tuned marketing funnels and inbound marketing campaigns.
Inbound marketing pulls people in by being helpful, solving problems, and offering a personal connection. This is where print is your inbound marketing campaign's secret weapon.

People Trust Print
People trust print. They especially trust print content they've opted-in to receive. In fact, they welcome it.
As What They Think points out, if a reader opts in to your newsletter or mail list, any printed material you give them is a "welcomed guest." Customers who have already been drawn to your digital content are far more likely to respond to your catalog, brochure, or direct mail offer.
Suddenly that old fashioned paper coupon — this time with a digital discount code on the bottom — becomes a valuable marketing tool again! Personal URLs allow you to uniquely tailor — and track — your customers' experiences. Use print and digital together to give customers a fully immersive experience.
For the real omni-channel experience, print is essential. Studies show direct mail improves ROI by 20% when included in an integrated campaign.

The Power Of Print
According to ClickHeritage, 60% of online brand searches begin because of a printed message, direct mail is 20% more likely to motivate consumers to take action compared to digital media, and 70% of survey respondents feel direct mail is more personal compared to digital.
Print is a tactile medium that conveys depth of subject and expertise. It's key to making your digital storefront "real" to consumers. An actual person reached out and put a physical object in their hands, like a sales brochure, a product description sheet, or discount coupon.
Smaller, tighter-focused mail campaigns means you can bring some of that work in-house. Get your office printer in shape and stock up on genuine toner (or sell off your surplus toner)! Personalized customer engagement makes an instant connection and brings your e-commerce business into the real world.
We recently ran a targeted direct mail campaign that used "real-pen" technology. Each customer we reached out to got a letter that looked like it was addressed by hand. This "note from Grandma" look yielded a 1700% return on investment! We also follow up each customer order with a phone call from a live representative. These personal touches make a lasting impression and lead to repeat customers.
Print generates a stronger emotional response. Participants in an advertising survey spent more time on physical ads compared to digital ones, with 26% of them keeping direct mail for future reference. People remember things they see in print, while digital impressions evaporate almost immediately.

The Power Of "Swag"
Adapt your digital funnels to include print – we are living in the world of omni-channel marketing. Social media and email inbound marketing campaigns should include printed endpoints — brochures, printable coupons, infographics and tri-folds — to back up the most salient sales points. When it comes time for buyers to make a decision, these print resources will help them choose in your favor. All of your digital marketing has led them to this point. But it's your print campaign that will close the deal.
Don't ignore the power of "swag". Free giveaways connect with customers, especially if you give them something useful. We gave away mousepads with a permanent coupon code printed on them. Not only is our logo beneath our customers fingertips every day, but there is also an offer to bring them back.

From Digital to Physical
According to Hubspot — which originally coined the term "inbound marketing" nearly a decade ago — potential clients who are drawn to your business are already interested in your product and have conveyed a level of consumer trust. You're already halfway to a sale or conversion.
Inbound marketing techniques appear to work best for high-prices products, knowledge-based, and products that require a lot of research. People need to read and absorb information, and the best way to do that is with print media. Complicated information is easier to understand in print rather than digital. There are too many distractions with digital. Print is simply better when it comes to conveying detailed information.
While social media videos and photo-heavy blog posts draw customers in, electronic media is often not enough to close the deal. This is where good, old fashioned print marketing comes into play.

The Print Advantage
HubSpot's State of Inbound Marketing survey showed 60% of marketers have incorporated inbound marketing into their overall marketing plans.
Marketing basics - attract, engage, and delight — should all have a print equivalent in your inbound marketing campaign. Inbound marketing can increase email contacts, audience engagement and click-through rates. Great print support leads to conversions and lasting customer relationships.
The opt-in mentality of inbound marketing leads interested clients to you. Use print as a value-added reward for having found you. Follow up with a physical coupon. Your logo is completely forgettable online, but a print version in a potential customer's hand makes your business as real as any brick-and-mortar or e-commerce retailer.
Print plays a valuable role both at the top and bottom of your sales funnel. At the top it's pure advertising, vital for boosting brand awareness, brand worthiness, and value in the marketplace.
At the bottom of your funnel, print delivers the detailed information and the immersive experience needed to close the deal. Inbound marketing answers consumer questions and builds brand trust.

If you're interested in discussing your current inbound marketing strategy and how you can start to improve your website results with initiatives that drive results, we invite you to schedule an inbound marketing consultation with our team.

Guest Author: Amy Miller is a freelance writer who writes everything business and productivity. When she is not writing, she is reading, watching or listening to something about business or is traveling/hiking.