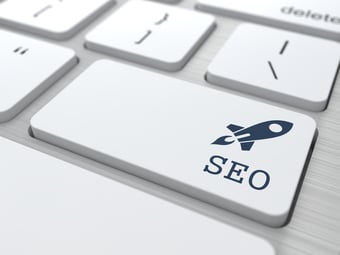 Are you looking to get your website to rank higher organically in search engines? Because traffic is one of the keys to growth for any business, your SEO ranking is very important to your success with digital marketing and driving new prospects to your website. It doesn't matter if you have a new website that's been live for a few months, or an established website that's been live for years, there is always room to improve your SEO approach.
Before we jump into how you can start to optimize your SEO strategy, let's do a quick recap on Google's ranking factors.
Google Ranking Factors
Google defines the prioritization and relevance of the results based on more than 200 ranking factors. That's a lot to keep track of as a marketer! To help narrow that down, here are the 10 main factors that search engines use to present the results to visitors:
Page Authority / Page Rank
Domain Authority
Relevance Of Links
Original And Quality Content
Content Size
Title Keyword (Tag Title)
Keyword In Content
Time On Page
Page Loading Speed
Responsive Design

All these factors can look very overwhelming, especially if you are trying to improve the SEO of a website by yourself or even with a small marketing team. SEO requirements are constantly changing, and it can be hard to keep up with the latest developments, so we've chosen 5 of the top ways that can help you improve your SEO results.

1. Mobile-First Website
In July 2019, Google updated its Mobile-first indexing. Google's indexing had always been based on desktop, but with this move, the search engine uses the mobile version of the site as a base.
This can seriously damage the organic positioning (and consequently traffic) of websites that aren't optimized for mobile devices. However, according to Google, sites that only have a desktop version will continue to be indexed and, if they have quality content, they may not be harmed.
Google has released a document with several techniques to have a better mobile site. Here are some of the techniques:
Use "click to call" buttons
Keep menus short
Make it easy to go back to the site home
Make the search field visible
Allow browsing without registration
Simplify and facilitate the inclusion of information (such as forms)
Do not zoom in on the screen (display the information at the appropriate size)
If you would like to sink your teeth into it, Google just released its updated Mobile-First Indexing documentation along with some tips.

2. Page Loading Speed
Page Loading Speed is another essential factor to your SEO ranking, because nobody likes a slow website. In 2018, Google released "The Speed ​​Update". From then on, the speed of websites on mobile devices would begin to affect organic positioning in searches made on mobile phones.
Besides the importance of the search ranking, the page speed loading has a substantial impact on user experience. Check out some data that will change your mind:
Nearly 70% of consumers admit that page speed influences their likeliness to buy (source: Unbounce)
40% of visitors abandon pages that take more than 3 seconds to load and every 1 second more in the site load time reduces conversions by 7%; (source: NeilPatel)
19% of marketers think load times do not influence conversions. (source: Unbounce).

So there's a gap where you can make a difference and get better results than your competitors.
To see how is your website is performing, we suggest you check out Page Speed Insights.
What is the ideal loading time? Despite the statistics, the short answer is: as soon as possible. We already know that the loading time of your website influences your results, so you should optimize it to the maximum to keep loading time to a minimum!

3. Keywords
The keyword is the bridge between your audience and you. More than 100 billion searches are done daily on Google, and behind each search, there is a user with a problem. A question or issue that your company is very likely to be able to solve. It should appear on your content, title and URL.
Therefore, it is essential that your URL is descriptive and that it contains the desired keyword, something like "https://website.com/post-title". Avoid creating URL's with codes as in the model "https://website.com/gt14698" or also parameters like "https://website.com/?p=19541".
Also, it is more reliable and accessible for people to share the links on your site with their respective contacts. Here's an excellent example of content with an optimized title, description, and URL. This is a private certifier company which is ranking higher for that keyword.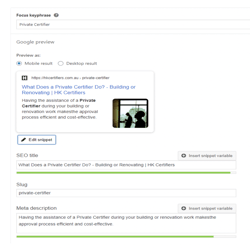 4. Scannable Content
How is the content you produce for your company? In addition to the ideas themselves, do you also think about how to structure it? Contrary to what some people think, the internet is not like a book. This means that if you write a long, monotonous block of text, people will ignore your message. On the internet, people are usually multitasking, so they are likely to browse your site while chatting with friends, responding to emails or any other activity.
As a result, they need to filter and scan information on your website quickly. Otherwise, they skip to any other page. Some elements you can insert to make your content scannable are:
Short paragraphs
Headings
Bullet points
Bold
Italic
Images
Videos

5. Redirects
Besides ranking high on Google Search, you want people to find the information that they are looking for when they land on your website. A redirect is a configuration on the server so that access to URL "A" is directed to URL "B". For this you can use 302 or 301 redirects, which are the most used (and indicated).
A 302 redirect is temporary, so you are telling search engines that you are applying any changes or improvements to URL "A", and you are temporarily redirecting users to URL "B". A 301 redirect is final, so you are telling search engines what they can already consider only the new page, which receives the note, and even that the authority of the old URL also goes to the new one.
In addition to migrating pages that no longer exist and to avoid any 404 errors, the 301 redirects should also be used in other situations — for example, relocating the website's domain (be it just migrating from HTTP to HTTPS or even a name change), redirecting old URLs to new ones.
If you're interested in discussing your current marketing strategy and how you can start to improve your SEO results, we invite you to schedule an inbound marketing consultation with our team.
If you want to see how your website's SEO results compare to your competition, get your free SEO report card.


Guest Blog Contributor: Gabriela Damaceno is a journalist and head of online content for Media Shark, Gold Coast digital agency. You can connect with her via Linkedin.