TikTok, YouTube, Facebook, Instagram, Snapchat, Twitter...the list is endless. With 4.76 billion users on social media and 92% of marketers already using social media to reach their audiences, where do you stand? E-commerce has a strong bond with social media, but it's not merely choosing any platform that is new and exciting. A whole science goes into social media marketing, what channel to use, and the steps necessary for success.
Like any successful digital marketing strategy, your social media campaign needs to be well thought out. These 7 steps will help you build a successful social media strategy to drive results.

1. Identify your goals
Every marketing strategy begins with a list of goals. What do you intend to acquire from your social media marketing campaign?
Increase brand awareness. Promote an image that highlights the value of your brand. Go beyond simply a promotional approach.
Expand the audience base. It's time to grow. Amp your reach to bring new followers on board. Begin by digging into conversations that are tangent to your business or industry.
Build a community. Everyone is important, from mere visitors to loyal fans. Your brand is the common factor.
Increase engagement. Create compelling, valuable content to connect your brand with your customers.
Increase web traffic. Whether you aim to generate more leads or more sales, you essentially need people to come to your social media account. Implement tactics to get their attention.
Keep your goals simple and realistic. However, it's essential that your social media marketing goals align with your overall business objectives.

2. Know your target audience
Research and learn everything about your potential customers and your buyer personas. And it's easier than you think. With so many social media analytics tools available, you'll have all the in-depth information about your followers.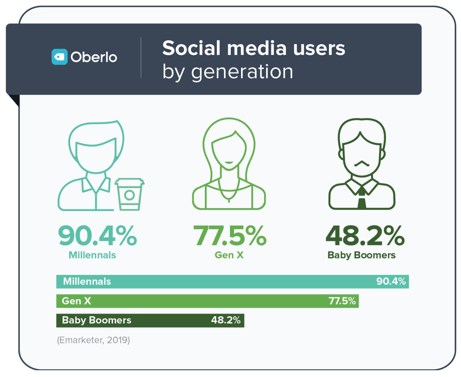 Source
With the aid of real-time data, you can seamlessly create an audience persona. This will help to identify what type of content your customers want to consume, when they are more likely to interact with your brand, and other demographics such as age, gender, location, languages spoken, and much more.
Establish which metrics are the most important for you. Basic ones include reach, clicks, engagement, hashtag performance, sentiment, likes, acquisition, etc. Use these insights to reinforce your initial goals and keep your social media marketing strategy spot on.

3. Choose the right channels
With the aid of consumer insights, you are in a better position to influence your audience. Now you can refine your strategies and ads to make them more effective. Above all, you can identify which channels to approach. The goal is not to be on every platform - that would be a feat for any marketer. The goal is to be on the channels where your target audience is spending time, so you can connect with them on the channels that are most beneficial to them.
Consider the characteristics of the following: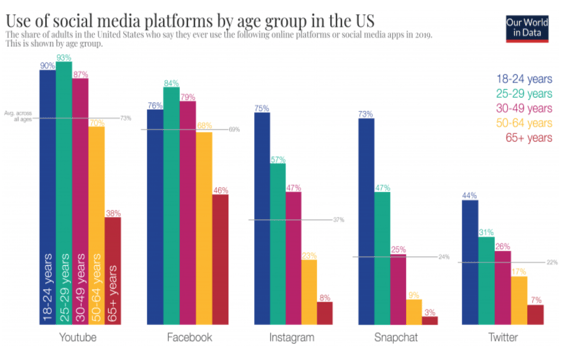 Source
LinkedIn has a well-educated professional audience, making it ideal for industry-specific content.

Facebook and YouTube are great for ads and brand promotion. They have a broad general user base.

Females are more present on Pinterest.

Instagram and Snapchat are favorites among the younger generation, primarily because of the bold, eye-catching content.
Depending on your brand and the products you sell, select a network that aligns with your consumer base. That way, you can spend your time and efforts on the right channels.
While it may seem smart to maintain multiple active social media accounts, you need to identify the ones that are the most suitable for your customers. Knowing the differences between various platforms can help you budget your ad spend and time. For example, an e-commerce platform for clothing may be more successful on platforms such as Facebook and Instagram instead of LinkedIn. And a cosmetics brand may find Snapchat and Instagram Stories ideal for makeup tutorials, while Twitter would be more suitable for customer service issues.

4. Study the competition
It's vital to analyze your audience and the competitors within your industry. Monitor specific keywords, phrases, and hashtags. Though many invest in competitor analysis tools, you can also review their social presence. It's a simple way of comparing your strategy to others in the same business. You can see what types of posts seem to be working for them and others that may not be as engaging. This is all public information available that you can see just by visiting competitor social channels. Comparing your brand to others does not mean you should copy their strategy. In fact, it's a way to set yourself apart from the competition by looking for alternative creative options.

5. Create and curate engaging content
Whether it's a promotional post or a social ad, you need to create engaging content all the time. Quality is an essential aspect of any social and content strategy. Allow the content to promote the personality of your brand. Ideally, you should center it around a theme. This will help create consistent and aesthetically pleasing content.
Consider the visual nature of Instagram and Snapchat. Content on these channels is typically designed to catch the audience's eye. However, it should involve user-generated content and hashtags to promote your brand and build a community. In fact, use the people who love your brand as a promotional tool. So instead of investing time and resources in finding new customers, use your existing brand advocates to enhance your brand presence. Also, consider asking a question or gathering opinions via a poll helps to boost engagement. Moreover, time-sensitive content like stories keeps people coming back for fear of missing out.
33% of marketers struggle with creating compelling visuals. But remember that social media is all about being social. So vary the type of content you post and aim to provide content people enjoy, whether it's memes, photos, videos, podcasts, etc. To organize your content, consider utilizing a content calendar. If you're using a tool like HubSpot or other marketing automation tools, content calendars are built directly into the platform to help organize this type of content and creative assets.

6. Communicate
You don't need to post content on social media daily. But interaction is crucial. So make sure you communicate with your audience in a timely manner. It's not about quantity but about quality. Post at times when your followers are more likely to engage. This ensures that engagement opportunities are not wasted. Also, aim to respond as quickly as possible. The last thing you want to do is ignore customers who are already interacting with your brand. According to SproutSocial, a brand typically responds within 10 hours. But customers favor those that reply within four hours.
Chatbots are the latest ways to interact, respond, and gauge customers around the clock. They facilitate communication channels and automate tasks, especially to resolve issues that customers have without the need for human intervention. Moreover, chatbots can help create a personalized experience for your customers.

7. Think long-term
Social media platforms are one of the most important components of marketing. But you need to manage and budget cross-channel campaigns. This includes exposure across social media and mobile apps, websites, email, and word-of-mouth recommendations. That way, you can provide an integrated yet consistent consumer experience.
The key takeaway is to allocate a budget to encompass all essential aspects of your marketing strategy. However, keep track of the latest innovative technology that is entering the market. Begin incorporating them into your current campaign to get ahead of the competition, as they make sense for your brand and personas.
Social media marketing is a way to interact with your audience on a more personal level. It helps to develop a deeper connection with customers. To tell a unique and engaging story, utilize memorable and relevant hashtags. This will help followers link back to your campaign and create longer-term success.

Social media isn't a one-size-fits-all strategy. You must develop a campaign and social media strategy specific to your goals. Focus on creating a social strategy that understands the needs of your followers. More importantly, audit your strategy from time to time. Assess what's working and what isn't. Above all, identify ways how to improve it. Analytics and improvement are the key to success in your social media campaigns and overall marketing campaigns.

If you're interested in discussing your current social strategy and how you can further align that with your brand and voice, we invite you to schedule an inbound marketing consultation with our team. You can also check out our social media marketing explainer video.