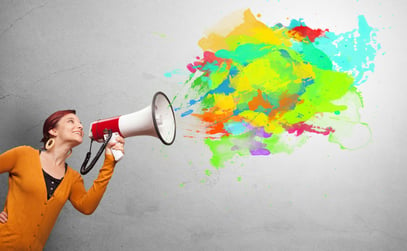 3.1 billion people globally use social media, and no business can afford to miss out on social media marketing as part of their strategy. If you are new to social media marketing, we have some best practice advice for you to start or build your social strategy.
Starting any marketing campaign can be overwhelming for any organization, regardless of its size or budget. Adding to the situation, the entire social universe is a highly diversified terrain where chances of making a mistake are pretty high. To help you navigate social media, here are 9 tips to either build or optimize your social media marketing strategy.


1. Recognize Your Audience And Choose Your Platforms
Different platforms on the internet house communities with various likes and interests. Before starting your online venture, you first need to understand the dynamics of how they function and what your target audience (buyer persona) prefers. To make things simple, it's important to ask yourself the following questions:
What's their age group?
What is their profession?
In which place will they appreciate seeing my products/services?
Are they direct consumers or recommend it to their bosses?
What do they need to know about my offerings?
Do I need to educate them?
Are they buying it instantly, or will they opt for market surveying?
What is the best time to approach them?
Will I need a sales/support team to engage with them?
You should also understand the "unique selling point" of each social media channel because they can have a tremendous impact on how people will perceive your brand. Facebook is the market leader in the social media marketing game, and it enjoys 1.5 billion daily active users. On the other hand, 60% of users on Instagram log in regularly while LinkedIn drives 80% of the B2B leads as the biggest networking platform for businesses. YouTube has a user base of 2 billion (monthly) and is one of the most preferred places to know about any specific subject.
Remember: Don't try to have a presence on every social channel. It will waste time, resources, and budget to try to be everywhere. You need to build a strong presence on a few channels first, and then consider expanding your presence based on where your target audience is spending time online. Example: Selling an attendance management system makes sense on a B2B channel LinkedIn, but doesn't make sense on SnapChat. Simply having a social media handle or randomly posting on your channels is not going to help you when trying to reach your target audiences.


2. Create A Content Strategy and Cascading Goals
Every smart marketer knows the importance of creating a content strategy. It means to develop your own set of media in all desired formats like text, audio, videos, images, and infographics for managing them in marketing campaigns. You'll want to create most of your content well in advance and then you can tweak it for all of your social media channels. It will save you a lot of time and helps maintain consistency. I also find that investing in a content strategy early will save you from spending heavily in the later phases.
Setting targets is a necessary part of running a digital marketing campaign. You can start by devising an action plan which has tangible results to check on whether the strategy is working or not. These milestones will also act as indicators of success and give you a green signal on increasing your efforts in various directions. Some of the elements to creating manageable and attainable goals are:
Bound by a timeframe
Confirmed by numerical values
Cascading in nature i.e., lead to the next phase of enhancing the marketing funnel
Oriented towards generating ROI
Having provisions to grade engagement levels and their effects
Cascading goals will help you stay on track. You can get a certain number of new followers, but if you don't know what to do next to engage them, it will likely not be impactful for your business. Digital marketing is highly reliant on fast-moving efforts that resonate with your target audience.


3. Leverage Facebook's Extensive Marketing Options
Facebook is certainly one of the most versatile channels for online marketing, as it serves us with an unbelievably broad array of options both organically and through paid social engagement. You can run ads on very targeted masses, and you can also time your ads to match particular events in your target segment's lives. For instance, you can place your display ads on the timeline of expectant parents or anniversaries. You can also target the friends of people in a particular user group. Before you start your Facebook mission, here are a few stats to keep in mind:
85% of Facebook users want to see videos but without sound, so make those videos engaging with your visuals first
11% of all posts are just video
The average price for Ads decreased by 6% last year
CTAs in your ads will improve your CTR by 2.58x

4. Maximize Your Engagement on Platforms Like LinkedIn and Instagram
Instagram is one of the most popular places for marketers looking to capitalize on the lifestyle and consumer market. Most of its user base is young, and engagement is the key to success here. Creating brand-specific hashtags, collaborating with influencers, and churning quality content are some of the essential tasks.
LinkedIn, on the other hand, is a great business networking tool that allows you to focus on a very segregated market of professionals. You may regularly interact with them because they value knowledge as the biggest asset, and posting periodically adds to your credibility. LinkedIn ads are also one of the best for B2B marketers, as LinkedIn ads have a 277% higher visitor-to-lead conversion ratio compared to Facebook and Twitter. Also, consider posting your content to your company page and your team's personal pages. People want to hear from other people on LinkedIn. When we share content to individual pages compared to company pages, the engagement is much higher. You can use a tool like HubSpot to help automate this as well so the task is not so time-intensive.


5. Use Twitter, Reddit, and Quora Like Content Labs
How do you know that your content idea will perform well? Perhaps, you need to test your content before investing. Quora is one of our favorite destinations to see if new ideas will perform or not. It provides the users to add, answer, upvote, and downvote questions and answers. Being a community-driven platform, getting feedback is quite easy. You can also use Reddit if you want really dedicated users who are almost obsessed with the quality quo.
Twitter is the go-to place for top e-marketers as they use it extensively for testing ideas. With the help of analytics tools like BuzzSumo, you can gather valuable insights regarding the public interest. We also find that testing your ideas is crucial to your success as you have to make content that appeals to the masses. It should be crisp, valuable, and share-worthy.

6. Focus On YouTube for Video Marketing
YouTube can prove to be a perfect place to establish your online presence as 70% of its users engage with specific channels and their creators. You can create a significant shift in the buyer intent as 80% of buyers say they watch YouTube videos before making a purchase. Focusing on video marketing will reap unparalleled results as we humans tend to be much more fascinated with the audio-visual method of communicating information than mere words. Current increases in internet accessibility and bandwidth have made it possible to upload and consume more videos than ever before. YouTube will act as both an informative platform and a place where you can perform product demos. The ability to deliver easily consumable content is the biggest advantage of YouTube for any business.

7. Don't Forget Using a Marketing Automation Tool
So, now you are ready to launch your social media marketing strategy. Will you do the work manually or will you use some sort of automation-based marketing software? Businesses use dedicated marketing automation software solutions like HubSpot, which allow users to schedule posts and manage entire social media campaigns including brand monitoring, conversations, post engagement, and even ads, from a single tool. We recommend HubSpot because it helps businesses maintain consistency and keep things manageable, which integrating all of your analytics, and giving you some actions you can take after some converts, like start an email nurturing sequence. Questions on HubSpot? Click here to schedule a free evaluation with our team.

8. Keep Tabs On Your Progress
Analytics play a crucial role in determining how successful you will be in the future. It is because you need to understand what content is driving engagement, and what your target audience finds the most valuable. Analytics is the only way to measure how your current strategy is doing and what you need to do to improve results in the future. Track things such as:
Visits from social media
Leads from social media
Customers from social media
Interactions
Conversations
Engagement
Audience growth
You can't manage what you can't measure. Make sure you have integrated analytics before venturing into your social media program.

9. Maintain a Consistent Brand Personality Across All Platforms
Last but not least, people expect brands on social media to have their own personalities. They would like to connect with brands that have an active voice and connect with people humanly. Having an online personality that resonates with your target audience is probably one of the best tactics to win over the social media world. Failing to do so will have you at the risk of losing over 50% of your valuable prospects and customers.

If you're interested in discussing your current social media strategy and how you can further align that with your brand and voice, we invite you to schedule an inbound marketing consultation with our team. You can also check out our social media marketing explainer video if you have any questions specifically on social media.