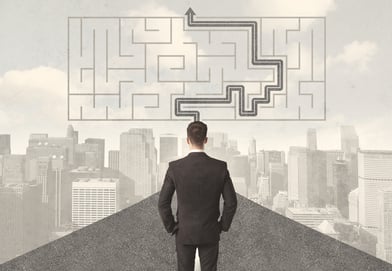 Marketing automation provides many business benefits. It saves time, scales marketing and sales efforts and offers the ability for better measurement of your return on investment (ROI). However, for the best results, it is necessary to ensure that your marketing automation strategy is aligned with customers' buyer's journey.
This is critical to make sure you are delivering the right content to your prospects at the right time to help them through the decision making process. How do you start the process of aligning your automation strategy to the buyer's journey? The following steps illustrate how to do so efficiently and effectively:
1. Map out the typical buying process.
To do this, you need to get into the mindset of your buyers and visualize the decision making process they take. There are several ways and channels in which a person may come into contact with your brand. There are also differences in how your messaging might be received across the various marketing platforms.
Your goal is to make it easy for each of your curious leads to take the next step in the buying process that will most quickly and efficiently lead to a conversion. Where some people might react to email newsletters or comment on social media, others may want to talk to a sales rep. Set up your strategy to include multiple contact-to-conversion pathways to give everyone an opportunity, on their terms, to engage and move to the next step in the marketing and sales funnel.
2. Understand the analytics.
It's important to have a clear sense of analytics at the beginning of the process so you have a baseline for mapping out your process. For example, knowing how long it takes to get a lead to move to an opportunity and how long it takes for that opportunity to close is important. This helps to understand how your marketing automation strategy can decrease that amount of conversion time.
It's also crucial to know where potential buyers may be getting stuck in the sales and marketing funnel. For example, you may need to add an email and maybe a Facebook ad at an important step of the buying journey, to answer important questions before they take that next step. Analytics are key as they will help you and your team pinpoint where you need to focus your strategy for the best short-term and long-term gains.
3. Talk to your sales team.
No successful marketing strategy can be drafted or implemented without input from your sales team. Sales and marketing must collaborate and must be aligned at every step in the process. One way to align these teams is to have your marketing team spend a day with your top sales personnel to learn how, when and to whom they are reaching out to get a clearer sense of your target audience. You can find out where sales are successful and where they may need assistance. Having an open dialogue with your sales team also ensures your automation strategy isn't overlapping with strategic sales communications.
4. Understand each of your buyer personas.
This part is critical, especially since many businesses have multiple buyer personas. If you're not familiar with buyer personas, they are fictional representations of your ideal customer that help you to align your content with your prospects. This includes everything from demographics to what they do in their spare time, to where they search for information and what their pain points are.
When drafting your personas, it's important to receive input from marketing, sales, customer service and your customers directly through interviews and surveys. Once you finalize your personas, you can ensure that your content resonates with the goals, challenges and voices of those personas. This will help answer critical questions as they go through the buyer's journey.
5. Complete a content audit.
When developing your automation strategy, you may be surprised that you have a great deal of content already created. Complete a content audit to ensure you have strategic content for each persona at every stage of the buyer's journey (awareness, consideration and decision).
You will also want to review the content and any associated analytics you have to identify what has resonated with buyers and what hasn't quite hit the mark. For example, you might have a whitepaper that's generated countless leads for your business, and a webinar recording that doesn't seem to be pulling people through the funnel. Strategically determine what content stays and what needs to be redone to help move buyers through the decision-making process. A content audit may appear as a daunting task, but the end data will make sure you develop content that is better suited to your audience and their consumer journey.
6. Put the right technology in place.
The right tools can mean the difference between success and mediocrity. Before signing off on your marketing automation strategy, check to see if you have the right technology in place so your program operates seamlessly and ensures a proper transition between marketing and sales. Your marketing automation platform also needs to integrate with your CRM to close the loop between sales and marketing and for tracking ROI.
When evaluating marketing automation platforms, consider the other digital tools needed to make your automation program a success, including landing pages, dynamic website forms, social media integration, competitive intelligence and more. Automation goes far beyond email, so be sure to consider that when making your choice in technology.
Aligning your content with the buyer's journey is essential to ensure your automation program is a success and pulls your prospect through the decision-making funnel. By thoroughly planning your program, having the right strategy in place and always monitoring your analytics, you are setting yourself and your team up for a successful automation program that will help convert more leads to customers and build more advocates for your brand.
Are you looking to develop your marketing automation strategy to align with the buyer's journey? Schedule a complimentary marketing automation consultation with our team of inbound marketing experts.