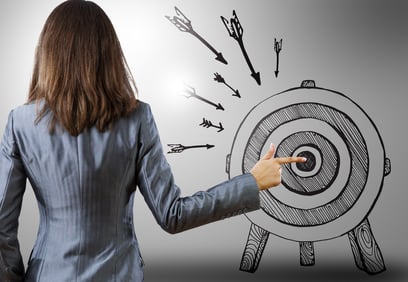 Businesses that are starting their marketing automation need need to set clear goals on what they are looking to achieve through email marketing automation. Setting your goals and launching your marketing automation campaign should go hand in hand. For one, you cannot determine the best strategies to use without knowing what you want to achieve. On the other hand, using marketing automation as a business strategy should also guide you on what targets to set. Let's review how you can set goals for your marketing automation campaigns.
Set SMART Goals
This is basic. Any goal must be specific, measurable, attainable, relevant, and time-bound.
Here's an example: Increase online sales by 15% in Q4 by launching an email marketing campaign.
It's specific in a way that you have clearly defined what you want achieve by the end of Q4. It's measurable because you have a metric, which is online sales, and you have a specified percentage, which is 15%. Therefore, if your online sales in Q3 is $100,000, your Q4 target is $115,000.
Is it attainable? Ask yourself if you have the means to achieve it. If you would like to increase your online sales, then you would need to spend more time and use more resources to hit your target.
Meanwhile, consider if your goal is aligned with your business and strategies that you can execute. In this case, you would like to increase online sales by applying email marketing. It's relevant because you are doing marketing automation.
Lastly, set a deadline. It can help you create a timeline where you can implement your program within a certain period of time. You don't have forever to achieve your goals.
Use Marketing Automation to Set Goals
Earlier, it was mentioned that your marketing automation should help you in goal setting. The secret is to know your collected data, and let it guide you.
For instance, if you got 100 leads in Q3 and you want increased sales for the next quarter, then one of your goals should be to bring in more leads. Since goals must be s-m-a-r-t, you can phrase it like this: Increase the number of leads from 100 by 40% in Q4. Thus, you are targeting 140 leads in the next quarter.
This way, you are using your data to your advantage instead of putting them into waste.
Align Sales and Marketing Goals
Sales and marketing are two inseparable concepts. You can't create goals for one without considering the other. So, when you set your goals consider the needs of both.
If you want more leads to boost your sales, then find a way to improve your process such as streamlining communication between sales and marketing. Ask your sales team about customer feedback to strengthen your marketing strategies that have direct influence on sales.
Develop a Clear Marketing Process
With marketing automation, it's easier to design better processes and workflows that can nurture down your leads to the sales funnel using data and analytics.
You can study your customer behavior by looking at your analytics. From here, you can set up behavioral triggers, for instance, each time a customer clicks a link or shows interest in a particular offer. Or, you can segment a more defined list to make sure that you are targeting appropriately.
Study the Metrics
You can only see the big picture if you review your metrics. Each metric is related to another.
If you are targeting higher sales figures, you don't just look at your leads. You also check your list growth and unsubscribe rates as these can affect your conversion rate. Also, review your open rate, click-through rate, and other metrics.
Looking at these can help you evaluate your strategies and set proper goals.
Test. Analyze. Repeat
Once all your goals are set and your marketing automation strategies are final, implement them accordingly. However, you cannot just sit back and wait for results. You should test which strategies are working and which are not so you can perform necessary adjustments.
There are a variety of tests you can do. One is regular A/B testing in which you divide you recipients into two groups. Each group will receive different versions of your email. After testing, check which email gives you higher results, and stick to that.
Another test is automation split wherein you send two versions of your email to limited recipients only. From there, you analyze which version gives you higher metrics such as open rate, response rate, click-through rate, and more. This will help you decide which email version to send to other customers.
You can also execute an A/B test via API. Here, you can create new tests and evaluate your results using a software. Set protocols so you don't have to keep on reviewing your emails.
It is not necessary to do all types of A/B tests. Choose the one you are comfortable and capable of doing. What's important is that you analyze your performance, drop the one that's not effective, and repeat strategies that are giving you positive results.
Creating your goals does not have to be painful. However, it should be data-driven and well-informed. This is where the importance of your analytics becomes more pronounced.
By looking at your analytics, you can gain better insights which can be your guide in goal setting. You would see which metrics you need to improve and which can directly impact your overall business goal. This is so much easier to do if your marketing automation provider offers real-time analytics.
Need help getting started with marketing automation? We invite you to schedule a complimentary inbound marketing consultation where we can discuss your current marketing automation campaigns, strategy and even the process you have outlined to make sure it's a success.
Guest Blog Contributor: Kimberly Maceda is a Content Writer for ActiveTrail. She comes up with brilliant content about email marketing and automations to keep customers updated with the trends. ActiveTrail allows you to implement a goal-driven marketing automation program through features such as comprehensive analytics, A/B testing, dynamic customer segmentation, autoresponders, and more. It allows you to maximize your campaign results, improve your metrics, and increase revenue easily.