As we all know, the process of how people buy is changing. The salesperson used to have the power, but now it's the buyer who has the power. Instead of the sales rep being the trusted advisor, it is Google and other sources who are the trusted advisor. Because of this, the way sales teams sell has to change to shift and coincide with the buyer's journey and focus on inbound selling instead of outbound selling.
HubSpot recognized the need for continuous improvement for sales and marketing teams to better collaborate, also known as, smarketing. As a result, HubSpot has two new products, including the all-new Customer Relationship Management (CRM) and Sidekick tool for sales reps (in addition to many other product updates). These tools can dramatically change how companies integrate and align their sales and marketing departments to most effectively communicate with prospects to drive revenue growth.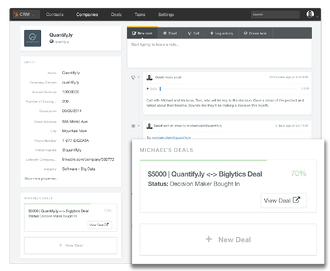 What makes the HubSpot CRM different?

Get organized and get selling with the CRM system your sales team will actually use. HubSpot CRM is easy to use from day one. Where other systems are made up of dozens of tools and complicated features, which could take weeks or even months to get set up and integrated with your process, HubSpot CRM is designed to get your team started quickly and keep them focused on selling without changing the way they already do things.
HubSpot CRM also saves your team time instead of giving them more to do. Say goodbye to the days of logging emails & calls. HubSpot CRM works in the background, organizing every interaction between you and your contacts as you go about your day. In addition, HubSpot CRM is built around the way people shop and buy today. Today's sales process happens across dozens of channels and hundreds of touchpoints - from your website and social media to your emails and phone calls. HubSpot CRM tracks and organizes every touch automatically. This makes it easy for sales reps to get a snapshot of a prospect or customer's activity before they call them. This also makes it easy for the marketer to get data on prospects and customers to ensure they are receiving the right communication, at the right place, and at the right time.
HubSpot CRM Features:
Database:

Collect & store data on contacts, companies, deals, and tasks with a reliable, easy-to-use database that is built for the scale of today's data. The HubSpot CRM database creates company records,

associates contacts, de-duplicates leads, and takes care of all the little details your team shouldn't be distracted by so they can keep focused on their jobs, whether they are a sales rep or a marketer.
Timeline:

Today's sales process happens across thousands of touchpoints and dozens of channels. The HubSpot CRM timeline organizes every email, call, note, and even website visits into one simple, intuitive view.

Email:

HubSpot CRM connects to Gmail, Google Apps, Outlook, and Apple Mail, logging emails with your contacts easily and automatically. Not only does it log emails, but sales reps can even send emails right from any contact's record in HubSpot CRM.

Data Enrichment:

Instantly see new, useful information about any contact or company. Background information, details on key employees, social data, related companies, and more.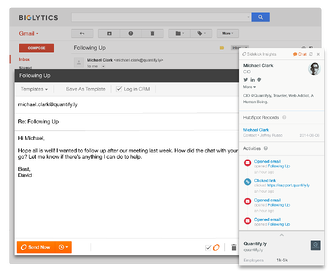 Sidekick Overview:
Take back your inbox with tools that make email better for everyone, including salespeople. An evolution of HubSpot's Signals product, Sidekick connects to your inbox and your CRM system, giving you valuable details about the contacts and companies you meet during your day, everywhere you go. So what are the Sidekick features revolutionizing HubSpot's Signals tool?
Sidekick Insights:

Sidekick lives in your browser and follows you throughout your day, giving you valuable details about the contacts and companies you find and interact with in your inbox and on the web. This gives sales reps the information they need when prospecting new accounts.

Sidekick Notifications:

Real-time notifications tell you when, where, and how prospects are engaging with you - by opening or clicking your emails, visiting your website, and more. This is valuable information when communicating with prospects at any stage of the sales funnel.

Send Later:

Get more out of your emails without sacrificing your workflow. Tee up messages from Gmail in Google Chrome to send on any day, at any time, when they are most likely to be opened & clicked. We all know how useful this is for any member of any business team to help keep your day moving without having to worry about manually clicking the "Send" button.
Those aren't the only updates coming from INBOUND. Check out another article to see the other awesome marketing product updates from HubSpot. Want to try these tools for yourself? Start your 30-day free trial of HubSpot today to get access to the latest and greatest of HubSpot's all-new features.