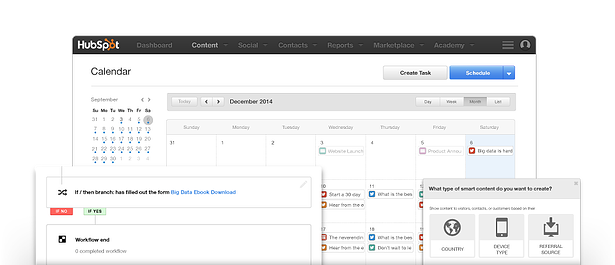 You have probably seen the updates from INBOUND that HubSpot has launched a CRM tool and sales Sidekick tool. This will revolutionize the way sales teams communicate with prospects, and the way that marketing and sales team align. That's obviously very exciting news, but those aren't the only updates coming from INBOUND.
Here is a list of the other awesome marketing product updates from HubSpot.
Anonymous Personalization: This is a revolutionary update to HubSpot's product. How many times have you wanted to personalize content based on where some came from, but didn't want to create duplicate landing pages in order to customize that content? Here's the answer. With anonymous personalization, you can personalize content for unknown visitors on your site...yes, we said it...unknown users. This includes personalizing by country, so you can update certain content based on their country they visit from, images, currency and more. In addition, you can personalize smart content to reflect the device someone is using to find you. For example, you can lighten your content on your homepage for users who are visiting your site on their mobile or tablet device. Finally, you can personalize content based on where a visitor is coming from including: organic search, social (even certain channels), referral links, and direct traffic. This is available to Professional & Enterprise users.


Editorial Calendar: We know you create amazing content, and it can be difficult to keep track of existing and future content projects. Now you can organize content and people on your team helping you with that content with HubSpot's editorial calendar built directly into the tool. Manage projects and assign tasks directly from HubSpot. This will help marketing departments of all sizes communicate and collaborate more effectively. This is available to all HubSpot users.
Attribution Reporting: We recognize that not all page views and marketing channels are created equally. That's why it's critical to know which channels and pages drive the most qualified traffic and conversions to your website. With attribution reporting, you can see what channel, source, page and more lead to a conversion. Slice and dice to get the best information about your marketing funnel to make the most of your marketing toolkit. This is available to Professional & Enterprise users.
Revenue Reporting: As a marketer, reporting on revenue is extremely important when proving the value of your campaigns. Revenue reporting is a way to help connect the dots between marketing and revenue. Revenue reporting will work with HubSpot's CRM and other CRM systems as well. This is an Enterprise only feature.
Email Optimization: How many times have you wondered whether or not your email subject line is going to get your email sent to spam, or if it's truly the best time to send that email? With the new email optimization tool, this helps you solve problems with your email before you send it so you don't get lost in spam and miss opportunities. Make the most out of each email you send with this awesome new feature.

This is available to all HubSpot users.
List Analytics: Did you know that marketing databases decay at about 23% per year? You need to maximize the effectiveness of your messages to ensure that you are sending the right messages to the right individuals. HubSpot's list analytics will show you how you list changes over time, how your segments are engaged, or even not engaged. This is available to Enterprise & Pro users.
Branching Logic in Workflows: This was a very much requested feature from many HubSpot customers. The new workflow tools allows you to optimize around goals of your workflows. Now, contacts can move through the funnel of one workflow or another based on simple "if/then" statements. Each workflow can still have a high-level goals, but can also be comprised around goals with each touch point. This is available to Enterprise & Pro users.
Tally: Talley is a fabulous new feedback app built directly into HubSpot. You can now do a temperature check for leads and customers who are on your site and actively engaged. Get and store feedback from your leads and customers in real-time so you can make changes to help improve the experience of your site and your service. This is a beta product. Please contact us to get more information.
Internationalized Product: As HubSpot continues to grow globally and expand their markets, they will be launching an internationalized version of the product for their international customers. More to come on this in the coming months.
As you can see, the features of HubSpot continue to grow and make the lives of marketers and sales people more streamlined, with enhanced analytics and ways to continue to connect and engage with prospects and customers. Learn more about HubSpot's new products and features. In addition, we invite you to schedule a free 30-day trial of HubSpot's product to see these features for yourself.