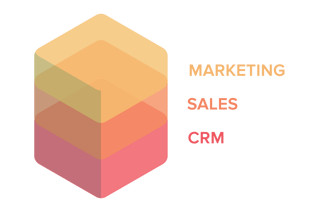 A simpler, more powerful foundation through HubSpot's Growth Stack: Marketing + Sales + CRM
INBOUND16, HubSpot's annual inbound marketing and sales conference, is in full swing, and there's a lot of exciting updates from this year's conference! Here's a quick round up of the some of our favorite product updates and launches from #INBOUND16.

HubSpot Marketing Updates:

Content Strategy: Grow your reach by adopting a content strategy that attracts visitors. With HubSpot's Content Strategy tool, you can now explore and validate what topics to write about, whether it be a blog, eBook, website page, or even social post. The shift from optimizing for terms to optimizing for topic areas is helping marketers truly create the best content possible by focusing on topic areas that are most important to their prospects and customers. This is one of the most exciting updates for us because it means that content is truly going to be about the reader, and it's no longer just optimized for machines.
Google Accelerated Mobile Pages: Reading on a mobile device is a slow, clunky and frustrating experience...but it doesn't have to be that way. Accelerated Mobile Pages gives content publishers the ability to create mobile optimized content once, and have it load instantly everywhere. This will be live in Q12017.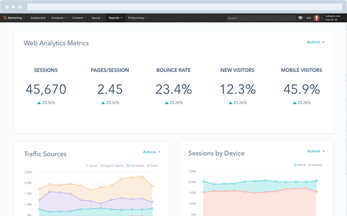 Reporting: HubSpot Reporting has been revamped to provide you with the most actionable content and web insights to help you make smarter marketing decisions. The new web analytics dashboard brings the most pivotal top-of-funnel metrics and content metrics into HubSpot. Get powerful metrics like bounce rate by device, new vs. returning visitors, and more, without leaving your HubSpot portal.
Collect: All content starts with an idea. And I'm sure you find yourself writing those ideas everywhere, whether it be in Evernote, in email, notes, or even post-its! But the problem is that that doesn't connect to our work. Using Collect from HubSpot you can save ideas, then easily insert them into content.
HubSpot Projects: Coordinate your team inside the tools you already use. HubSpot's world-class resources and methodology are built right in. This gives you and your team a place to collaborate on projects and build out projects that you can clone for future use. For example, if you built out an awesome inbound campaign, and want to be sure you remember all of the steps for the next time you build a similar campaign, just create a HubSpot Project. From there, you can clone and modify to ensure success on your next inbound campaign.
Facebook Ads: If you're familiar with the HubSpot Ads Add On, it previously integrated with LinkedIn ads and Google Adwords. You will soon be able to expand your reach through Facebook using the HubSpot Ads interface. This will give you the ability to run Facebook campaigns directly in HubSpot so you can track your analytics within the platform, and can manage your digital advertising all in one place. This is available in the Ads Add On from HubSpot.
Lead Flows: Many of you may be familiar with LeadIn, the free tool that HubSpot launched last year at INBOUND. This tool was a standalone tool, but now is available directly within your Content tools in the HubSpot platform. Lead Flows are an excellent way for you to capture top of the funnel leads on your website through a variety of pop-up tools that give users a way to engage and become a lead, without having to fill out an entire landing page form. Check out our latest blog on how to leverage lead flows as part of your digital marketing strategy.


HubSpot Sales & CRM Updates:
LinkedIn Sales Navigator Partnership: LinkedIn is critical to B2B marketing and sales success. HubSpot is proud to be one of LinkedIn's CRM partners, giving HubSpot customers access to target, understand and engage with prospects and leads through LinkedIn Sales Navigator right inside of HubSpot CRM. This will be available in 2017.
Message (Live Chat): Connect your sales team with interested prospects on your website in real-time. The new Messages functionality available through HubSpot Sales gives your prospects the ability to chat with your sales team when they want to engage. Many times, people need an answer right away, and live chat on your site integrated with HubSpot gives you a seamless way to do just that. This is available in the HubSpot Sales tool.
Meetings: Meetings, an exclusive feature of HubSpot Sales, makes scheduling meetings simple. As a marketer, you can now help your sales team book meetings through workflows, embedding the Meetings tool on your website, and more. This helps to connect marketing directly to revenue and ROI, which is absolutely critical as marketing and sales are now working more closely together now than ever before. Meetings syncs with your Google or Office 365 calendar, so you can easily share your most up-to-date availability with prospects via email, or on your website.


As you can see, the features of HubSpot continue to grow and make the lives of marketers and sales people more streamlined, with enhanced analytics and ways to continue to connect and engage with prospects and customers. We invite you to set up a free 30-day trial of HubSpot's product to see these features for yourself.
Also, if you decide you want to start using HubSpot for your marketing and sales efforts, you will also receive 12 months free of HubSpot's Reporting Add-On and Ads Add-On ($3,600 value).
Or schedule a strategic 60-minute inbound marketing consultation with our team to see how you can maximize your inbound marketing efforts.