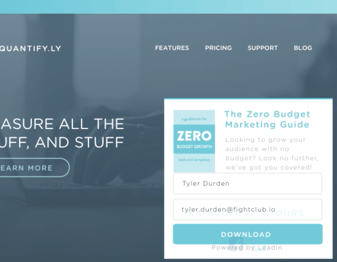 As you have probably noticed, the trend of pop-ups on websites for lead generation and lead reconversion is becoming increasingly popular. When these are used effectively, they can be incredibly successful tools to increase website engagement. The key there is that they have to be used effectively as part of your cohesive digital marketing strategy.
Are you wondering how you can best utilize pop-ups as part of your lead generation strategy? If you're using HubSpot, you may have noticed that you now have access to "Lead Flows" as part of your Content tools. Lead Flows from HubSpot is a lead generation and conversion rate optimization tool for digital marketers (or anyone with a website.) With Lead Flows, you can create custom pop-ups to help engage your website visitors, increase your web leads, and reconvert returning visitors. Using Lead Flows and HubSpot, you will then be able to get actionable contact insights and analytics on that individual to start to nurture them wherever they are in the funnel.
Here are just a few examples that you can leverage Lead Flows as part of your digital marketing strategy:
eBook & Whitepaper Downloads: You can leverage pop-ups and Lead Flows from HubSpot to promote your top-of-the-funnel content to your prospects when they are on your website. It's safe to say that a lot of people may not ever land on your dedicated landing page for your eBook or whitepaper, etc., but if they are browsing your website, that is a great way to get your lead generating content in front of them at a time when they are interested the most. The most popular form of Lead Flow for this is a slide-in call-to-action.
Demo Requests or Connection with Sales: If you're using HubSpot, you probably have an idea of the pages on your website that generally convert visitors to leads. Or if you're an ecommerce business, you understand what pages are critical to capturing that sale. Using Lead Flows, you can deliver a pop-up if you see that someone is on a page for a certain amount of time, yet they aren't converting. For example, if you know through analytics that someone typically is on a high converting page for 45 seconds before they bounce, you should consider using Lead Flows to deliver pop-ups at that time to give them a re-engagement opportunity before they bounce off the site. You can do this through exit intent pop-ups in Lead Flows.
Event Registration: We tested this for both in-person events and webinars, and this type of Lead Flow has truly fantastic results! You can leverage Lead Flows to act as a registration for your next event. This is particularly useful if you place the call-to-action on the pages on your website that are going to be most relevant to the event. We've seen over 50% conversion on these types of Lead Flows.
Blog Subscribers: This is probably the most common use case for pop-ups on websites. Since this is more of a generic call-to-action, there are several ways to do this. The first is an exit intent pop-up box. If you know that someone is going to be abandoning your website, you can deliver them an exit pop-up to ask them to subscribe to your blog to stay updated. In addition, you can have a drop-down call-to-action that is a bit more subtle, and can be placed on specific pages of your site, or your entire site.
Wondering how to get started, and want to be sure you don't annoy your website visitors? Here are some tips to keep in mind when setting up your Lead Flows in HubSpot:
Targeting: Be sure to target the appropriate pages on your website for your respective Lead Flows. Every call-to-action doesn't need to be on every page of your site. You need to make sure you look at the goal of the website page or landing page, why you're thinking of using Lead Flows, and who your target persona is on that page.
Triggers: Ensure that your flow triggers are appropriate. For example, your pop-up boxes should probably just be used on exit intent because they are very interruptive. If you have a slide-in call-to-action, be sure you are looking at the data to see how long someone is typically on that page so you know when to activate that Lead Flow.
Devices: There are options for you to disable the Lead Flow on mobile devices. In general, I would recommend this unless your site is almost entirely visited on a device other than a desktop computer. The reason is because it can be interruptive on a phone, and may cause people to bounce instead of the ultimate goal of converting.
Follow Up: While this isn't directly part of the Lead Flows, the follow up is critical. In HubSpot, you need to ensure that you are tracking who fills out your Lead Flows so you know which automation workflow(s) is most appropriate for your contacts. For example, you may need to update contact properties based on the Lead Flow submitted, or send them a follow up email, etc. This is important to build into your overall strategy so you make sure these leads are being treated like any other landing page lead.
As you can see, the opportunities are endless with what you can do with Lead Flows. This gives you yet another way in HubSpot to convert your website visitors into leads to build your top-of-the-funnel pipeline, and then nurture those contacts in marketing qualified leads and ultimately customers.
If you want to learn more about how to leverage Lead Flows as part of your strategy, you can schedule a complimentary inbound marketing consultation with our team.