Think of inbound marketing as a comprehensive approach to pull prospects through your marketing and sales pipeline to become customers. Inbound marketing is a more scalable way to turn your digital channels into a 24/7 salesperson that is continuously working to bring in new prospects to your sales team while engaging with your existing prospects and customers.
When utilized properly, inbound marketing will help your company:
Generate qualified leads for less money by attracting the right prospects to your company.
Create inbound links and social media activity to drive brand growth.
Enable prospects to find you through search engine optimization with unique content you develop and share on your digital channels.
Convert prospects into qualified leads for your sales team.
Provide customers with a way to connect with you when and where it is convenient for them, leading to higher customer retention.
Shape your brand promise and influence future purchases from customers based on their experience with your company.
Prospects today are much more empowered than ever before and consume content at a much faster pace. With content available on every device, organizations need to focus their efforts on maximizing content across all digital channels. Remember, prospects visit a variety of digital platforms to find relevant information. Your company needs to be available and engaged on those channels to answer questions and connect with those prospects when and where it is most convenient for them. Inbound marketing is a shift for marketing departments because it is all about giving the power back to the consumer. Think of all of the following aspects of inbound marketing to help pull your prospective buyers through the decision-making journey: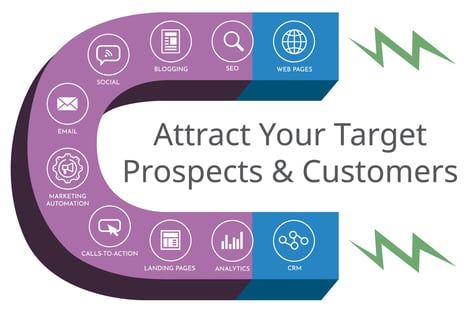 Organizations adopting the inbound marketing methodology have three goals in mind:
Attract

new and qualified prospects to your organization.

Engage

with those prospects in a meaningful and scalable way

Delight

those prospects and customers, so they become brand advocates
Tip: Read the blog posts to uncover more about the Attract, Engage, and Delight stages of the inbound marketing methodology.
These three stages enable marketers and business owners to drive continued engagement and brand loyalty with their prospects and customers. There are various tools and tactics to engage your prospects and customers at each of these different stages. The primary purpose focuses on moving prospects through the buyer's journey to help them in the decision-making process to become happy and loyal customers of your brand.
---
Are you looking for ways to optimize your inbound strategy? The book "Mastering Inbound Marketing: Your Complete Guide to Building a Results-Driven Inbound Strategy," written by Elyse Flynn Meyer, Owner & Founder of Prism Global Marketing Solutions, covers every aspect of the inbound marketing methodology, including the revenue generation trifecta of marketing, sales, and the customer experience. Check out the book to see how to most efficiently and effectively develop, implement, and maintain your inbound marketing strategy.