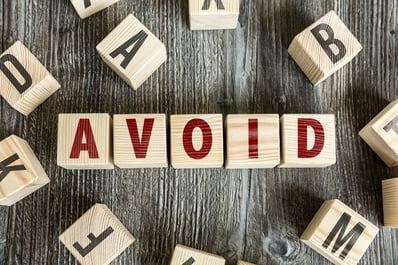 We all know that digital marketing moves fast, and because of that, there's a tendency to always look towards the next best thing and focus less on the lessons of the past. But developing an awareness and understanding of past mistakes is one of the best ways to pave a path to future success.
Being aware of the most common marketing mistakes can help ensure your company avoids them in the future. Here are 11 common marketing mistakes to avoid if you want your company to succeed:
1. Waiting: It is very tempting to wait until you are ready to start the marketing process. Maybe you think that your website needs an extra layer of polish, or you just need to construct the perfect campaign first. The reality is you will never be ready and it will never be perfect. However, you will learn the most by doing so it is simply better to start immediately and just improve as you go.
2. Ignoring Social Networks: Brands need more than a solid image, they need personality. The best way to build this is to engage with customers via social media. If your prospects and customers think of you as a friend, or a reliable resource, then they will always come to you first.
3. Neglecting New Talent: The people who most often need the help of a company, even a relatively young one, will be young or inexperienced themselves. If you treat these people like they matter then they will remain loyal to you, even after they become the experts in their field.
4. Not Networking: You should attend any and all networking events that are even vaguely relevant to your company, and even some that are not. First of all, they can be great fun. More importantly, networking leads to business. Not every meeting you have will gain you a customer, but the more you do the more you will be on people's minds. Once people are thinking about you they will be quick to use or recommend your business when it is needed.
5. Overlooking SEO: New projects and companies are in the perfect place to make the most of SEO. Like it or not, Google is the main avenue people will be using to find you. If another person or company appears higher in the results than you do, then they will be getting the business.
6. Ineffective Referral Programs: Let's say you've had a good start and generated some satisfied customers. This is great, but what you need is for those customers to generate more business for you. So, you want to make it easy for those customers to pass on their friends and colleagues to you. Getting referrals can be great for business. So long as you are polite it will do no harm, and it brings you back to the forefront of people's thoughts.
7. Subpar Customer Service: You may have created the perfect product which will solve everyone's needs, but it will do you no good if the people that represent you are not professional or friendly. In fact, a solid representative team will actually make up for any flaws that need to be worked out with the product itself. It's a case of getting the basics right, like not questioning returns and giving free upgrades the moment something goes wrong. Setting up a virtual number, with a service like eVoice can make it easy for people to call you and provide a simple way for you to provide a high quality customer service experience.
8. Keeping Secrets: This one may seem counter-intuitive since keeping your business's secrets from the competition seems like common sense. The reality of the situation is that you want to be explicit about exactly what you do and how you do it. Doing so will show off that you know what you are doing and that you are worth hiring. Just because everyone knows what you are doing and how you do it, does not mean they could replicate your results by themselves.
9. Not Maintaining a Blog: It does not matter what business you are in, you need a blog. Businesses both large and small will generate a lot of traffic through the means of an effective blog. Blogs assist with your SEO and allow you to engage with the community through the comments section. Just make sure that you are using your own domain in the format of yourbusiness.com/blog and not a third party source.
10. Not Utilizing Guest Content: Collaboration is a fantastic way to expand your user base. Any guest writer on your blog will want to advertise what they are doing. They will bring a chunk of their own fan base with them and they will add diversity to your content with their unique perspective and ideas.
11. Not Interacting with Others: Reading through other business sites and blogs sounds like a lengthy proposition with no obvious return. However, by leaving comments you are growing your public image. Eventually people will follow your comments back to your blog or website and some of these people will turn into customers.

Need help getting started? We invite you to schedule a complimentary inbound marketing consultation where we can discuss your current inbound initiatives, strategy and even the content marketing and lead generation process you have outlined to make sure it's a success.

Guest Blog Contributor: Ellie Saunders is a young mother who is passionate about digital businesses. She is currently enjoying her marketing role at eVoice, a place where businesses can get virtual and toll free numbers.