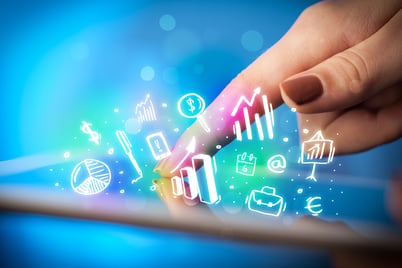 The internet has enabled businesses to develop a myriad of opportunities to engage with customers. Although many firms recognize the need to invest in digital opportunities with consumers, they don't know how to go about it. Consequently, 46% of brands struggle to develop a defined digital marketing strategy.
1. Don't Overlook Owning Your Online Assets
Your website, blog and email database are critical in building your digital strategy. And the benefit is that you own the data, and you also own the platform. You control the content, cadence, and messaging behind all three of these tools. Your digital assets are in your control.
2. Develop a Knowledge of Your Customers
Having a precise knowledge about your target customer will help you personalize your tactics and generate optimal results. Developing a buyer persona which can include your customers' values and fears, goals and aspirations, age, location, and education, among others, helps to control who the audience is that you are messaging. The idea behind the persona is to help you figure out what they need and how you can best deliver it to them.
3. Have a Common Message Across All Channels
Online assets and digital platforms need to reach a diverse group of people at different stages of their buying journey. Your strategy needs to integrate the core message across these differentiated channels to help you speak with one voice.
4. Assess Your Spend
All online marketing channels are not created equal. Consequently, for your strategy to deliver impressive results, you need to spend your budget wisely. Assess the marketing return each outlet can give you and weigh that against the objectives of your strategy. You will then be able to make an informed decision on which channels perform best.
5. Be Flexible
New trends, techniques, and tools regularly come to market in digital marketing. As you craft your strategy, it needs to account for the rapid change in these areas and include adaptability in responding to them. A responsive strategy that can change with unexpected customer behavior trends will still take you to your destination, only using the most efficient route.
6. Metrics Matter
For you to assess if your digital marketing strategy is working, you need to keep a close eye on your metrics. Schedule regular sessions to analyze your key performance indicators and determine the progress towards your return on investment. Staying close to your metrics will help you respond immediately in case any tweaks become necessary.
7. Quality Over Quantity
It may seem like a no-brainer, but many digital marketing strategies can lose sight of this simple truth. As you craft your content creation schedule and pick the channels to target, don't be driven by high quantity. Instead, ensure that you implement quality content to add real value to your prospects.

The internet has given businesses great opportunities to interact with customers. Your company must understand how to put together a digital marketing strategy that delivers an excellent return.
Do you want to learn more about how you can make your digital marketing effective? Talk to us for the right multi-faceted inbound marketing solution for you.