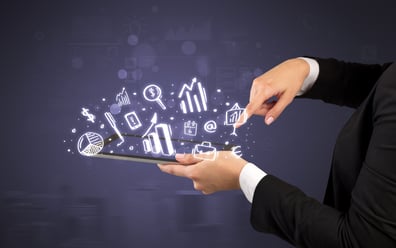 Are you having issues trying to get your site to rank organically in search engines? The first thing you have to understand as a website owner and marketer is the fact that spending money won't always get you great google rankings. You also need to have a strategy and a bit of patience in order to see results because organic search truly compounds over time.
There are many tips that you can use to improve your search ranking, but if you employ the following 5 Google organic search tips, you will start to see an improvement in your search results.
1. Improve the User Experience
A research conducted by SEMrush found out that there are four major factors that determine your website's ranking. They include:
Website Visits: How many people are visiting your website.
Pages Per Session: How many pages people are reading when they are on your website, which tells Google and the other search engines how much quality and helpful content you have on your site.
Time on Site: How long someone is on your site also tells Google and the other search engines how much quality and helpful content you have on your site because people tend to stay on sites longer when they are finding content that is valuable.
Bounce Rate: The lower the better! Bounce rate refers to how many people come to your site and only stay on that first page. This means that the content they saw may not have been very valuable. Keep updating your site with helpful content to keep your website visitors engaged.
All these factors are directly linked to the user's experience. If your website is easy to navigate and offers useful information, there will be higher traffic. As a result of that, people will stay longer on your site and view more pages, thus improving your search rank. The best ways to improve user experience is to have great content, and great website design.
2. Design Websites for Mobile-First
Google gives more credence to mobile versions of websites than desktop versions. In 2017, Google announced a move to a 'mobile-first index'. This was to focus on the increasing number of searches on smartphones. This is why it is important to design websites to be compatible with mobile phones first. This does not mean having a separate mobile website, but your existing website design and structure should be responsive. By designing SEO-friendly mobile websites with searches optimized for mobile-first, website owners can improve their Google ranking and minimize bounce rates.
3. Get More Backlinks
Backlinks are links from other websites to yours. Backlinks have a huge impact on the ranking of a search engine's site. It is even a lot better if the website you are putting your link on has a lot of traffic. The best way to get backlinks is by writing contributing articles. This way you get to share your opinion about happenings in your industry on other website blogs in exchange for a link to your site. By having backlinks from respectable domains, you can show Google that your site has some level of influence, and this will then be reflected in your search ranking.
4. Use H1 and H2 Header Tags
Headers make your content easier to understand for humans and search engines. Also, there is a link between Google search rank and the use of header tags in your content. By using header tags, you make your design easier for the user to consume your content easily. Consider it a way to format your content for the user experience, while also telling Google and the other search engines what the purpose of that particular page's content.
5. Write Long-Form Content
The longer your content is, the higher the possibility of getting higher Google search rankings. Create well-informed blog posts that cover every aspect of subjects that are relevant to your target audience. According to HubSpot, the ideal blog post length is roughly 2,100 words, but that will vary depending on your topic. Medium, a website dedicated to publishing and hosting compelling content, found that posts that took seven minutes to read earned the most engagement and attention. According to serpIQ, most of the top 10 Google results are between 2,032 and 2,416 words.
Here are a few other organic search tips that would be useful in improving your search ranking:
Fix any broken links
Improve your page speed
Optimize your images
Use descriptive URLs
Use Alt Tags
As you can see, there is a lot that goes into improving your organic search results. It takes time, and it's not just a one-time project. Organic search and creating compelling content needs to be a consistent part of your marketing and business strategy.
If you're interested in discussing your current marketing strategy and how you can start to improve your search results, we invite you to schedule an inbound marketing consultation with our team. If you want to see how your website's SEO results compare to your competition, get your free SEO report card.


Guest Blog Contributor: This blog was written by Tom Peterson, a digital marketing expert from the U.K. who is currently helping seelevelhx in their marketing efforts.