The first step in developing your inbound marketing plan is to build your buyer personas. You can read our blog, "6 Factors to Consider When Building Your Buyer Personas," to get more insight into this process. Once you have determined your buyer personas, it's essential to understand the process your buyers go through as they become aware of, consider, and evaluate your product or service. This is called the Decision-Making Journey or the Buyer's Journey. The journey is consistent across industries for both Business-to-Business (B2B) and Business-to-Consumer (B2C) organizations.
The stages of the Decision-Making/Buyer's Journey process are:
Awareness:
The buyer realizes they have a problem. They also decide if the particular issue should be a priority and if they should continue to search for a solution. To fully understand what your prospects are going through during this process, ask yourself the following questions:

How are buyers describing their specific goal or challenge, and why do they feel they now need to solve this problem?

What are the consequences of inaction? Understanding this can help you shape how your content can start to answer these questions and provide insight into what may happen if they don't solve this problem. Remember, they are still determining if this problem is worth their time, resources, and budget to solve.

How do your buyers decide if their goal or challenge should be a priority?


Consideration:
The buyer clearly defines their problem and starts to evaluate different approaches to begin the research and evaluation process to solve that issue. Here are questions to ask yourself to help understand how your buyers are going through this stage in the journey:
What types of solutions are your buyers going to start researching?

What is the education process that your buyers are going through, and where will they be seeking information?

How are your buyers going to evaluate the pros and cons of each category?


Decision:
The buyer narrows down their selection of potential solutions to solve the problem and moves through the evaluation and selection process. Questions that may help you understand what your buyers are going through as part of this process are:

What criteria are your buyers using when they get to this stage of the journey?

How are buyers competitively comparing your offering?

Who needs to be involved in the final decision-making process?

What other types of products or services are buyers looking for when making the final selection, such as the implementation process, ongoing training, and onboarding plans?


Here is a helpful image that visually explains how buyers go through each stage of the journey: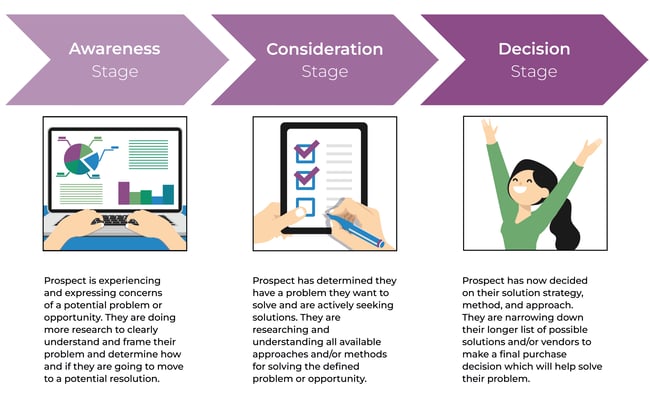 From my experience, you can use the following numbers when trying to understand how many competitors are generally in each stage. Your buyer is most likely:
Evaluating up to 10 solutions as part of the Awareness Stage
Narrowing it down to 5 – 6 as part of the Consideration Stage
Focusing on 2 – 4 as part of the Decision Stage
As you can see, defining all your possible buyer personas (target audience), and understanding their comprehensive buyer's journey, is the foundation of your inbound marketing program. Defining your audience and their journey is the backbone of your inbound marketing program.
---
Are you looking for ways to optimize your inbound strategy? The book "Mastering Inbound Marketing: Your Complete Guide to Building a Results-Driven Inbound Strategy," written by Elyse Flynn Meyer, Owner & Founder of Prism Global Marketing Solutions, covers every aspect of the inbound marketing methodology, including the revenue generation trifecta of marketing, sales, and the customer experience. Check out the book to see how to most efficiently and effectively develop, implement, and maintain your inbound marketing strategy.