Inbound marketing isn't a one-time campaign or a single initiative. Inbound marketing requires a strategy that includes content marketing, lead generation, prospect conversion, and customer communications. That comprehensive strategy will drive the right people to your digital channels to become engaged customers. To build the most effective inbound marketing strategy, you first need to determine your target audience and their typical decision-making journey.

Who are you trying to reach with your marketing efforts? Defining your buyer personas is the first step in the process of developing your inbound marketing strategy. Buyer personas represent your ideal customers based on internal and external market research using actual data about your existing customer base. Building buyer personas provides a great deal of insight to your marketing team and your entire organization. Creating buyer personas helps you target your marketing and sales strategy toward the right type of prospect. In addition, by defining your ideal customer, you are also helping to un-qualify people who don't fit your target persona profile. Identifying your ideal customer focuses your sales team, guides product and service improvements, and creates alignment between marketing, sales, and customer service. The end goal is to help you attract the right persona to your digital channels, convert them into qualified leads, and turn them into engaged and loyal customers that will grow your business and drive revenue.
6 Factors to Consider When Building Your Buyer Personas:
Identify the type of role or job title of your persona. This will give you an idea of who you are trying to target and their position at their company.

Consider how this person is measured in their job. What success metrics are they striving for, and how can your product or service help get them there?

Think about the industries your product or service relates to best. While your product or service may work across sectors, it's essential to understand a few key industries that might be a better fit for your company.

Identify the most significant challenges or pain points for this individual in their role. How can your product or service help save them time, resources, and cost? Remember that your product or service should always be solving a challenge.

Ask how people find information about the product or service you are offering. Are they searching for information through online websites, blogs, industry publications, referrals, or trade shows? Identifying where they search for information will help you focus your marketing efforts. This will ensure you are always in front of your target persona when and where they are in the research process.

Consider the target buyer persona's detailed demographics. This includes educational background, age, location, career path, goals, and more.

Here is an illustration that outlines key questions and points of information to consider for your buyer persona development.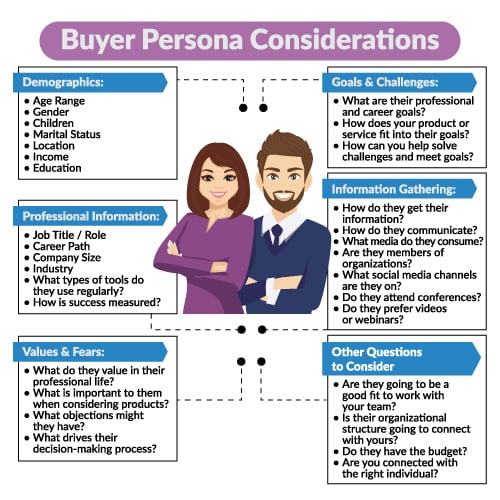 Practical Application:
A professional services firm needed to define its personas to ensure its content reached the right audience. Without a target persona, their content could have been too far-reaching, resulting in unqualified prospects and unnecessary sales conversations with people who would not turn into customers. To determine their target buyer persona, we analyzed their top ten clients over the last five years. This helped define the industries they have had the most success with and the types of people that were most engaged in their offerings. They found that their target personas were:
Owners of mid-size businesses:

These individuals know the challenges they face internally with training, development, and hiring, but did not have enough time to focus on these functions as a priority because they are running the day-to-day business.

VP of HR for a mid-size or enterprise organization:

These individuals are responsible for the overall strategy of training and development programs and the hiring process but need an outside perspective to build a comprehensive learning and development program for their company. They turn to a professional services firm to help them with specific strategic projects and ongoing initiatives.


Having these personas targeted and identified provided a focus for content development and alignment between marketing and sales to build a comprehensive marketing program. This helps to ensure you are creating the right content to be helpful for your target personas while moving them through the buyer's journey. Persona development should be the first part of your inbound marketing plan so you can strategize the rest of your marketing plan to target your ideal prospects.

---
Are you looking for ways to optimize your inbound strategy? The book "Mastering Inbound Marketing: Your Complete Guide to Building a Results-Driven Inbound Strategy," written by Elyse Flynn Meyer, Owner & Founder of Prism Global Marketing Solutions, covers every aspect of the inbound marketing methodology, including the revenue generation trifecta of marketing, sales, and the customer experience. Check out the book to see how to most efficiently and effectively develop, implement, and maintain your inbound marketing strategy.