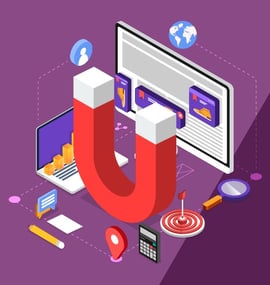 You may be wondering how inbound works for your business. When all of your teams are aligned around the inbound approach, including marketing, sales, and customer service, you can provide a truly integrated, cohesive, and consistent experience for prospects and customers who interact with your brand. Happy customers are the fuel that continues to drive the success of your business. If you are a B2B organization, referrals are likely a large part of your pipeline. That doesn't change with inbound marketing. It does, however, provide your customers with content to share with their networks on your behalf to help promote your organization and your services. If you are a B2C organization, you likely also have referral business happening mostly online. Creating memorable experiences and shareable content allows your customers to share your brand with their friends and family, which drives your business growth.

You also need to consider that attracting leads is no longer just the job of the marketing department, just as engaging in the sales process is no longer just the job of sales. Both teams must work in tandem to create a lasting relationship with prospects and customers. Those roles continue to overlap since there are multiple ways for individuals to engage with your company online and offline. Inbound is the methodology that puts a proven process behind how marketing, sales, and customer service interact with prospects and customers designed to deliver an integrated brand experience every time someone engages with you. This engagement will continue to build trust with your organization.


What is the Goal of the Inbound Marketing Methodology?
The goal of marketing used to be simple. It used to be about getting your message out to as many individuals as possible. Times have changed. Today, the goal is to get your targeted message in front of your target audience. The entire world is not your prospective customer. Every person is not going to want to buy your product or service. You need to target your messaging and marketing programs accordingly to make them highly impactful and provide the highest return on investment for your efforts. The goal for marketers using the inbound marketing methodology is to:
Attract

new and qualified prospects to your organization

Engage

with those prospects in a meaningful and scalable way

Delight

those prospects and customers so they become brand advocates

Inbound marketing is a big task, but it is certainly not impossible. All it takes is a strategic and methodical approach to build this long-term strategy. There are many individual components to the inbound marketing methodology, which we will be covering in more detail. It is understanding how all the marketing channels work in tandem to develop a prospect and customer experience ecosystem that builds upon itself. Over time, this process will deliver exponential results. Remember that it's not just about having an SEO strategy, a content strategy, or a social media strategy, but thinking about how they all connect to drive the best results possible. Stay tuned for our next blog that will go into detail on Attract, Engage, and Delight.

---
Are you looking for ways to develop or optimize your inbound marketing strategy? The book "Mastering Inbound Marketing: Your Complete Guide to Building a Results-Driven Inbound Strategy," written by Elyse Flynn Meyer, Owner & Founder of Prism Global Marketing Solutions, covers every aspect of the inbound marketing methodology, including the revenue generation trifecta of marketing, sales, and the customer experience. Check out the book to discover how to most efficiently and effectively develop, implement, and maintain your inbound marketing strategy.