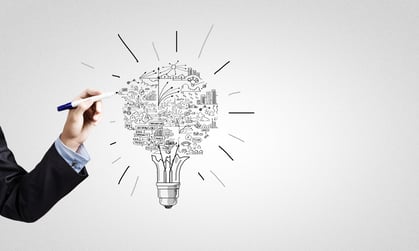 Inbound Marketing remains one of the most cost-effective methods of generating leads for your business. With little to absolutely no-cost, the promotion techniques produced by inbound marketing give many advantages to the business owners as compared to outbound marketing and other methods of advertising. By targeting interested customers, inbound marketing can help achieve more sales compared to Outbound Marketing, where random people are targeted regardless of their interest in your products and/or services.
Let's first discuss the 4 stages of Inbound Marketing:
Attract
Your target audience must know what you are offering and the value your brand holds. Bring forth some engaging and useful content that can be free of cost for them to quench their knowledge thirst. Essential tools to facilitate this stage are SEO, Inbound Content, social media marketing, and blogging. This is where a stranger becomes a website visitor.

Convert
The next stage is to tempt your visitors so that they submit their contact details and sign up to go further down the marketing funnel. To make your user's sign up, you need to provide them with a reason they can't say no to. A reason that compels them to provide you with their contact details. You can offer them content like ebooks, checklists, etc. Some popular tools to help you during the conversion stage are landing pages, CTAs and forms. If a visitor provides you with their contact details, Congratulations! They've now become a lead. So this phase is all about converting a visitor into a lead.

Close
Once you have qualified your leads with your content, you have to ensure that they buy your product and/or service and become a customer. To make that happen, you can use tools like email marketing, sales alignment, marketing automation and list segmentation. This stage is all about the lead generation to convert your leads into customers.

Delight
Your customers' satisfaction must be your top priority. You must make sure that your customers are happy with your product and/or service and continue to engage with and upsell other customers. The best benefit of taking this extra step is that your customers turns into your promoter. Obviously, if they are happy, they will recommend you further. A report by HubSpot suggests that around 55% of B2B companies make their sales through word of mouth to make the purchasing decisions for themselves. Some fantastic tools to help you out are social media monitoring, Trigger marketing, surveys, personalized website content, etc.

What can Inbound Marketing Provide to Your Business?

High ROI
HubSpot's latest State of Inbound Marketing report suggests that 53% of businesses achieved a higher ROI by practicing inbound marketing compared to outbound marketing.
Factors that contribute to a higher ROI:
Inbound marketing is more cost-effective than outbound marketing.
Inbound marketing is more effective as you approach people particularly interested in your products and/or services.

Clear Visibility
Through inbound marketing, you can be seen by your potential users at almost no cost. Inbound marketing creates clear visibility of your brand out in the market by creating engaging content that shows up in the search engine result. It then provides precise answers to your visitors' doubts and queries. Another way of acquiring visibility on the internet is to distribute your content on various channels.

Automated Relationship Building
When we talk about building a relationship with your audience, we often think of a long and tiring way, like a F2F meeting or a long phone call. However, it is not necessarily required at all times. You can also get leads the easy way. You can use many efficient tools to automate building up relationships with your consumers. According to a study by Salesforce, around 95% of users remain loyal to the companies they trust. So the result would be beautiful; you will not just gain the trust of your users but also expand your audience spectrum as you use the tools efficiently.

Inbound Marketing is the most effecting way to market your product because:
Every aspect of inbound marketing can be measured and approved.
It has an agile development process, and new strategies are easily and efficiently tested.
It is cost-effective, since concentrating on areas producing more benefits is pretty straightforward.
Inbound marketing is scalable; upon discovering a working inbound strategy, it is easier to reach more people across the market, and changing conditions are inexpensive and seamless.
The approach is customer-centric. Attractive and retaining the consumers are pretty comfortable with inbound marketing.

It's important to utilize these 5 inbound marketing tactics to generate more leads for your business:

1. High-Quality Blog
Lead generation is easy when you have already established yourself as a leader in your field, and the best way to do that is to excel in the blogging arena. For example, when the company 'Groove' was having a hard time attracting consumers, they put all their bets on good content marketing by creating a blog. They were just a few months short of running out of cash when they decided to get into some serious content marketing. The team did everything they could, from consulting renowned content strategists, to rigorously searching the internet to understand their target audience. They did it all.
Eventually, they realized that their target audience was going through the exact same challenges that they were encountering. So the company decided to share their journey with a blog known as "A SaaS startup journey to $100,00 Revenue a Month." The blog thing kicked off so well that within 24 hours, they got 1,000 email subscribers, and in 3 years, the blog was getting more than 250,000 visitors per month. If you need to practice efficient content marketing, you should focus on unique angles, superior content and solid market research.

2. Social Media
Social media marketing is a popular way of lead generation through content. This is performed by sharing content on social media channels to obtain your marketing and branding goals. Social media marketing can be done through sharing videos, posting text, images, and other content that grabs your audience's attention and hooks them up to your product. Social media offers a plethora of opportunities where you can convert your followers into genuine leads. Social media marketing can also be performed by running paid social media campaigns.
To build the master plan effectively performing social media networking, ask yourself some basic questions:
Who is your target audience?
What goals do you want to achieve through social media marketing?
Which target audience most uses social media networks?
What message would you want to send to your target audience?
Once you figure out answers to all the above questions, you would have a great social media marketing plan at your disposal.

3. Email
It is great to have a blog, a podcast, or thousands of channels to post your content at, but another thing that can put great positive results to your marketing strategy is email marketing. Create an email list and draw people to it. You can attract your audience to become a part of your email list by adding opt-in forms to your website and encouraging your audience to subscribe to it. You can also make it mutually beneficial by offering something in exchange, like "get a free eBook with one subscription."

4. Marketing Automation and Lead Generation
Marketing Automation is the method of using a specialized software to generate automated marketing activities. Most of the businesses through their marketing departments use this software to manage their email marketing, social media marketing, and other types of marketing techniques which also provides personalized experience for the potential leads. The boom of technology has resulted in a plethora of opportunities for business owners and marketing automation is a boon to them to make these marketing tasks easier, that too at affordable rates.
The aim of marketing automation is to prioritize customers and focus on their need and demands which will help increase sales. Effective Marketing Automation methods utilize fields beyond email to analyze the behavioral input of a particular customer and then use them to appeal to them further.

5. Video
You can get leads in incredible numbers just by uploading a video of your content on websites like YouTube. YouTube alone is the second search engine out there on the internet. You can obtain great benefits from this massive platform just by ranking the popular search terms related to your project or field.
Once you start posting content regularly with credible and helpful information, people will start viewing your videos more frequently, which can also result in more traffic turning out to be potential leads. You can include a comments section in your videos, where people can post their views about the videos. This will help you further to know about the opinion of your viewers and you can utilize most of the suggestions to generate more content. It will also help you get a review of your business.

Some additional tips you can follow:
Use the famous "search suggest feature" provided by YouTube
Analyze popular videos related to the niche of your product
Identify the best keywords from your keyword list and make use of them!

Need help getting started? We invite you to schedule a complimentary inbound marketing consultation where we can discuss your current inbound initiatives, strategy and even the process you have outlined to make sure it's a success.