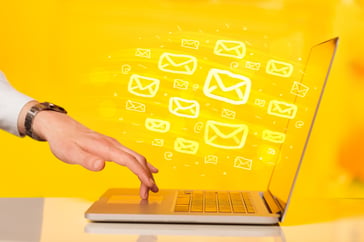 Integrating videos in your emails can have a huge impact on your email marketing efforts, and can help improve their effectiveness across the board. If you're looking to integrate videos in your marketing emails, there are many ways to go about doing it, but it is up to you to decide which method you prefer, and which will best suit your requirements.
Here are 3 ways to integrate videos into your email marketing:

1. Linking to Video Content
The most popular way to include videos in your email marketing is by linking out to external video content. It is more versatile than the other options and you won't have to worry about attachment file size limitations or issues viewing the video.
Typically there are several ways in which you could link to video content, including:
Anchored or unanchored text links are simple and direct. While they may not be much to look at, they will get the job done and can be added easily to any emails.
Static images that link to a video are an option that many marketers prefer. Typically the image will have a 'play' icon on it, mimicking a video player and providing a visual cue to recipients to click on it to play the video.
Animated GIFs are an alternative to static images but work in the same way. The fact that they are animated will immediately draw attention to them, and they can mimic a 'video preview' or simply have an animated play button depending on your preference.

2. Attaching Videos
Another other option is simply adding the video to your email the way that you would a normal attachment. Unfortunately that isn't ideal as there is a file size limitation for attachments – and video files are often simply way too large.
The exact attachment file size limitation for email will vary depending on the email server or platform that you and the recipient use. Generally it tends to be anything from 10MB to 50MB. Because of the way that emails work, even if your email platform allows you to send larger email attachments – the recipient needs to be able to receive them as well, or the email will bounce.
For example, although you may be able to attach and send a 50MB video, if the recipient can only receive 10MB attachments it will be sent straight back to you. If you really do want to attach videos to emails you will need to compress them so that they are preferably under 10MB. To do that you'll need a converter, for example Movavi Video Converter for Mac, and normally will have to reduce the video bitrate which will affect its quality.
Marketers tend to shy away from this option because of its limitations and the issues that it poses. It should be noted that if you choose to add static images or animated GIFs, it will add to the overall size of the email. That isn't normally too much of an issue for static images, but high quality animated GIFs can be quite large – and may often end up being several MB even if you optimize the GIFs. Despite not being 'perfect', this option has the fewest issues compared to the rest.

3. Embedding Videos with a Fallback
It's estimated that only 50% of recipients can view embedded videos in emails. This means that if you embed a video in your email, about half of your recipients won't be able to see it – which won't make your emails very effective. One solution you could consider is adding code so that if the video is unable to be displayed a fallback appears instead – normally an image that links to the video.
If you do use this option, you can effectively get the best of both worlds: A embedded video that will play within the email for platforms with HTML5 support, and a static image that links to the video and will open a browser so that other users can view it.
This is a good compromise between the various options, and it only has one slight downside: click tracking. You would normally track the number of people who click on the link or view the embedded video, but with this option you'll need to track them separately. To get around this downside you'll need to implement custom click tracking so that you can keep tabs on how your videos are performing.

By this point you should have a good understanding of how you can start integrating videos in your email marketing. As mentioned at the start it is up to you to decide which fits your requirements best. In general, the two safest options that ensure the video can be viewed by recipients are either linking to it, or embedding it with a link as a fallback. Keep in mind that if you don't want to use any of these options , you may face issues with attachments that are too large, or embedded videos that can't be viewed.

If you're interested in discussing your current email strategy, we invite you to schedule an inbound marketing consultation with our team. You can also check out our email marketing explainer video if you have any questions specifically on email.

Guest Blog Contributor: Mahendra Bajiya is a blogger who frequently uses videos as part of his email marketing. He generally prefers to use static image links, but has experimented with embedding videos as well.