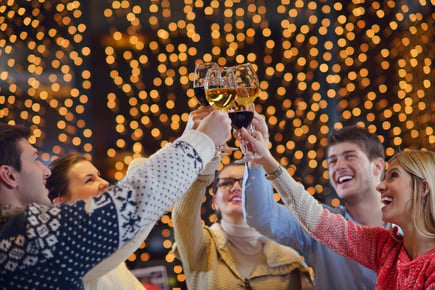 Common event email marketing mistakes like unclear calls to action or complex registration processes can leave your campaign cold and your event lacking in attendance. What's more, too many links or over-used email templates can land your carefully crafted message in spam folders or the promotions tab rather than the inbox.
It's important for event marketers to follow email best practices like segmenting lists, tracking key performance metrics, and focusing on list clean up. The following 3 essential tips are sure to help you optimize your event email campaigns and make them a success.

1. Subject Lines and Preheaders
Subject lines are the first thing an email recipient sees and something that a third of email recipients will use to decide if they'll even open your email.
Subject lines and preheaders, or the first few lines of text in the email body, should be engaging, informative, attractive, and short. It can seem like a tall order, especially if the name of the event you are promoting is long or there's a lot to convey in your email.
To help craft the perfect email subject line and opening sentences, keep the following points in mind:
Be specific about the emails intent and information it contains

Use the recipient's name

Use action words at the beginning of the subject line (register, enrol, sign-up, and the like)

Keep subject lines to 50 words or less

Check for misspellings and grammatical errors

Limit your use of CAPS and exclamation marks

Don't lie under any circumstances

A/B test when possible

2. Email Body
The layout of your email will help recipients decide if they are going to bother reading your message at all.
It's imperative that you keep your language friendly and professional and the email layout clean and simple. Avoid using the same email template over and again for each event you promote. Otherwise, both you and your audience will get bored and subscribers will stop reading your emails.
Including a few images to illustrate your message or a link to a video that explains the highlights of your event can work well. But don't be too reliant on dynamic content as some users opt to block these from all emails. If this turns out to be the case, your message is entirely lost. Too many images can also result in your email being redirected to spam folders or promotions tabs.
Stick to the point throughout your email. Provide important information and consider linking to additional information if it is available. Keep your call to action clear; if you need people to register before the event, be explicit. Additionally, make sure the registration process is smooth and straightforward. If it is too long or complex, you will lose potential attendees.

3. Signatures, Footers, and Social Links
Providing contact information is incredibly important. Make sure your email signature is professional. It should contain at least two contact numbers, an email address that is regularly monitored, and relevant company information such as the address and logo.
Footers should include relevant links for the email recipient and be properly designed. Just as the subject line and body of your email should be on point, don't go overboard with the email footer. Too many links and additional information here can be confusing or worse, land your email in the promotions tab where it will never be read.
Footers should also include an unsubscribe option. Including this option is going to allow email recipients to let you know if your emails are no longer relevant to them. It will also serve to stop you from looking unprofessional and desperate.
Social media share buttons can be included in footers and should be represented as small icons. Don't overlook these as they are a great way for email recipients to share details of your event with their network. It can help garner new leads and potential attendees.

If you're interested in discussing your current email marketing strategy and how you can further align that with your brand and voice, we invite you to schedule an inbound marketing consultation with our team. You can also check out our email marketing explainer video if you have any questions specifically on email marketing.

Guest Blog Contributor: Rae Steinbach is a graduate of Tufts University with a combined International Relations and Chinese degree. After spending time living and working abroad in China, she returned to NYC to pursue her career and continue curating quality content. Rae is passionate about travel, food, and writing (of course).