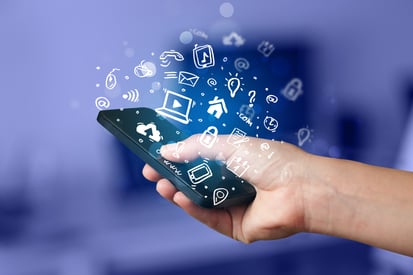 A HubSpot survey of marketing and sales professionals found that 65% of the respondents believe driving traffic to their websites and lead generation ranked as their top marketing challenge. Many of these companies continue to rely heavily on traditional outbound marketing tactics. When implemented in the right way, these tactics can still produce results. Companies may also have a website and a small presence on social media platforms. Although social media has been around for a decade, many B2B (business-to-business) companies fail to realize the importance of social media as a vital part of their overall marketing strategy.
Compared to the top B2C (business-to-consumer) brands, there are still B2B companies that have not made as much of an impact on popular social media platforms such as LinkedIn, Facebook, YouTube, and Twitter. If you don't integrate social media tactics into your overall marketing strategy, you will miss out on opportunities and fall behind your competitors.
The Importance of B2B Social Media
While outbound marketing tactics can still be effective, evidence shows that companies practicing strategic social media marketing are increasing their search engine rankings and driving more qualified traffic to websites. The major search engines, Google, Yahoo, and Bing, reward the companies that get attention on social media because it shows the popularity of your brand. If your pages appear in the top results of search engine rankings, your customers will be able to more easily find you, and social traffic converts at a rate that is 13% higher than the average lead conversion rate.
You can also stay up to date on the industry by looking at content shared by others, and keep an eye out on your peers and competitors.
Start with a Social Media Goal
One of the keys to implementing an effective social media strategy is to develop a clear plan of the goals you want to achieve and how to measure their success. The most common goals tracked by companies include:
Awareness: In terms of social media, awareness or visibility describes the extent to which your target market knows that you exist. You can track the "awareness" by reach and community size.
Engagement: According to Harvard Business Review, only 12% of B2B companies believe that they are effective at content marketing and social media. Your effectiveness at social media marketing relies on your ability to increase engagement, a measurement of action taken by a person, which includes "likes," "clicks," and "web traffic."
Lead Generation: Lead generation will be a by-product of your awareness and engagement. For example, B2B companies with an active presence on Twitter generate 2x more leads than companies not using Twitter.
How to Drive B2B Traffic with Social Media
Regardless of industry, your company needs an effective social media strategy. Here are three tips to help drive more traffic to your website using social:
Find a creative angle, especially if you feel you have a "boring" business.
Humanize your business by using first-person voice when writing content and utilizing a brand front person.
Hire a person or company who is familiar with your niche to manage your social media campaigns.
Social media plays a significant role in your ability to gain traction and maintain visibility and engagement with your target audience. Think about your social media efforts as part of the complete digital marketing strategy you need to generate more traffic and increase your quality of leads.
We invite you to watch this quick video that can help explain the importance of social media marketing to your strategy.

We invite you to schedule a complimentary inbound marketing consultation where we can discuss your current inbound initiatives, strategy, and even the content marketing and lead generation process you have outlined to make sure it's a success.