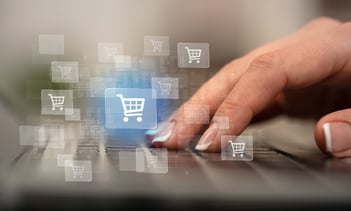 As an eCommerce store owner, your primary goal should be to drive qualified website traffic to your store, in an effort to convert that traffic into paying customers. Many eCommerce companies leverage paid advertising to drive traffic, and that is a great place to start. However, if you combine blogging with your paid advertising, you'll start to see an increase in your organic website traffic, as well as how long people stay on your site and your browsing your online store. Here are 7 reasons that you should be considering a blog to drive qualified traffic to your eCommerce store.
1. Develop Your Brand Voice
If there's one area that eCommerce stores are unable to compete with content-based online businesses, it's having a strong digital brand and personality. To make your eCommerce store truly stand out, you need to develop a brand voice, and nothing works better for that than blogging and sharing your story with your audience through content.

2. Attract Traffic From New Sources
This concept is relatively straightforward. The more pages you have on your store, the easier it's going to be for the internet to find those pages and see what you're selling. Leverage sources such as paid advertising, organic traffic, referral sources, and email marketing to drive awareness and digital activity to your eCommerce store.

3. Make Your SEO Efforts Easier
There's one type of traffic that's incredibly profitable for online businesses: search engine traffic. However, to tap into that coveted search engine traffic you have to deliver what the search engines are looking for which is content that helps website visitors get answers to their digital questions. Whenever eCommerce store owners begin implementing blogging into their regular marketing strategies, and do it in a way that focuses on search engine traffic, the traffic coming to their store dramatically rises.

4. Give People a Reason to Share
Consider how you to can get your customers to share information about your eCommerce store and products with their friends and family. You may be able to entice them by offering a free giveaway, a discount, a contest, and more. But when you blogging, all of that helpful content improves the chances of someone sharing your content because of the relevant information on your blog. You'll also be able to share your own content, instead of simply posting your product pages, asking people to buy.

5. Create Calls-to-Action
Whenever you start blogging, you are opening new pathways to tap into a consumer's mind in ways that most eCommerce store owners cannot do. As they are reading your content, you have their attention, and the ability to direct them to wherever you want them to go -- usually different product pages. When you're blogging about more than your products, though, such as new trends in your industry, stories of success from your customers, answering frequently asked questions, and providing testimonials, you can bring your visitors closer to becoming customers. Then, throughout the content, you can use a "call to action" to specifically direct them to one of your product pages.

6. Generate New Backlinks
This tip touches on the topic of optimizing your store to rank higher in the search results pages, because backlinks are a primary driving factor for how well a page will rank in the search results. The more backlinks you have from quality websites, the higher you rank, generally. To get those links, you're going to need to do more than publish product pages. Most bloggers and websites aren't going to be willing to link to your product pages without some sort of incentive. Having a blog helps you tap into the community and blogosphere so you're able to build relationships with other website owners and bloggers, and get them to begin linking to the content you've created -- instead of simply your product pages.

7. Open New Doors Into Your Sales Funnel
Stop and think about each of the different ways you're trying to get people to enter into your sales funnel right now. Email marketing should be at the top of your list if you own an eCommerce store. You want your email list to be filled with both current customers, as well as loyal subscribers that can eventually be convinced and converted into a paying customer. If you provide incentives to join your mailing list throughout your blog content, your email list is going to grow. Then, implementing a follow up strategy (that usually includes linking to the blog content you've created) helps build your brand with those subscribers, and keeps you at the front of their mind. Whenever they're ready to make a purchase, they know where to go.
There are quite a few different reasons blogging should become a priority. Not only will your business begin to grow, but you'll start to see how blogging impacts other areas of your business to improve your organic traffic, social engagement, email marketing, and much more.

Need help getting started? We invite you to schedule a complimentary inbound marketing consultation where we can discuss your current eCommerce marketing initiatives and how integrated content marketing can help you grow.

Guest Blog Contributor: Jock Purtle is an entrepreneur and business broker. He specializes in buying and selling digital businesses.