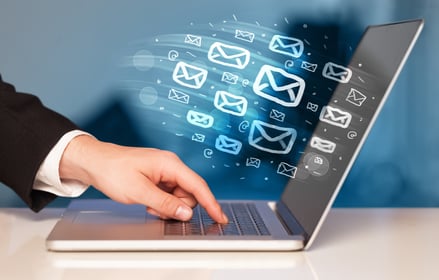 Many claim that email marketing is essentially dead. Why?
Because people's inboxes are filled with ads and marketing materials that frustrate them. It so easy to just dump them all and pare that inbox down to messages from people they know or from companies they have already done business with and whose products they are still interested in.
But here's the thing. 90% of internet users access their email every day. With that percentage, it still makes sense to use email marketing. The question becomes, how? How can you get your recipients to actually open your emails, and how can you give them an incentive to actually read them (and maybe take some action).
There is lots of advice out there about successful email marketing campaigns. And some of that advice relates to mistakes that marketers make in developing and deploying their campaigns. Here are seven of those mistakes that come from professional marketers who have made these mistakes and learned from them.
1. Where are Your Opt-In Forms?
Your email list comes from customers and those who have visited you and provided their email addresses through opt-in forms on your website and blog. One of the biggest mistakes you can make is to "hide" those opt-in forms at the bottom of your web or blog post pages.
If you must "hide" them, then you need to have CTA's in more prominent spots on your pages that urge visitors/readers to click and sign up. Comments like "If you like what you see, click here to sign up for our newsletter" or "Want more deals and offers? Sign up for our newsletter here." The other solution, of course, is to place your opt-in sign-up at the top of each page, encased in some type of box that catches the eye.
2. Buying Lead Lists
This is just a variation on an old theme. Before the days of the Internet, marketers bought lead list and sent out mass mailings, hoping that some would "stick" and strike a chord with the recipients. Now, there is a slew of companies selling email addresses based upon what they insist is "segmentation of audiences" based upon the target audience of an online marketer.
Here is the problem with this. You are virtually spamming people, and it will damage your reputation. Unsolicited emails are the most dumped by potential consumers, and you will be tagged as a spammer. Get your email lists through legitimate means – those who opt-in, customers who have made purchases, those who are following you on social media, or those who are clicking on your ads. Over time, your email list will grow. Just do it right.
3. Too Many, Too Often
Once we have our email lists, we are excited about doing all sorts of things. We segment our audiences; we craft our messages and automate their dissemination. We fell pretty good about our campaign.
One of the mistakes we tend to make, however is sending too many too often. Recipients experience overload when we do this. Their thinking is, "Oh no. Here is another email from ……why can't they just leave me alone?" And then the delete button is hit without even an open. You have thus become an irritant, not a giver of important content. And not only with your subscribers delete your individual emails, they will often simply unsubscribe altogether. Make certain you have a definite purpose for every email you send out. If you know your audience's needs and you have clear goals for what you want them to do, you will fare much better.
4. Those Subject Lines
No one will read a news article if it does not have a compelling, intriguing headline. Email subject lines are like headlines and titles. They have to motivate a reader. Subject lines can make all the difference between an open and a "delete."
Most common mistakes with subject lines is that they are too long and thus do not show up entirely, they are boring, they are unclear, or they exaggerate the content to follow. Keep your subject lines as short as possible, and never exaggerate the content that is within that email. Recipients will unsubscribe, because you are no longer trustworthy.
You have to get creative with subject lines. If you are not creative with them, or if your content within those emails is boring, then it may be time to contract the services of others who are better equipped. Many business owners and marketers do use the services of professional copywriting services. There are some great ones out there who can craft amazing subject lines, take your content ideas, and weave them into wonderfully entertaining, informative, or inspirational content. You might want to look at some writing companies reviews and find the top-rated ones for copywriting.
5. Waiting Too Long to Begin
A lot of marketers wait until they have a substantial email list before they begin a campaign. This is a mistake. The list will grow over time, and there is plenty of time to segment out your audiences as it grows.
It's good to get in the habit of creating a newsletter early on; it's also a good habit to contact anyone who signs up for your emails right away to thank them. You can also ask them in that email what types of content they would like, how you can better serve them, etc. It can even be in the form of a survey.
Any time a new subscriber comes on board, you must send a welcome email with something good for them. That "something good" may change over time, but it is still critical. Your new subscribers will constitute one segment of your audience as your list grows.
If you don't contact your subscribers because you think you don't have enough, you will lose them.
6. Not Monitoring Automated Campaigns
When you automate your email campaign, you still must monitor it. You may create emails for different segments, and they may be released at different times. Suppose you make reference to a celebrity, for example, and that celebrity suddenly is the subject of a disastrous news story. You will want to be certain that particular email is stopped immediately.
You will also have some "haters" – people who respond in a disparaging way. Simply remove them from your list and go on. You will never please everyone.
7. Not Cleaning Out Your Lists
Your automation program will provide the data on opens. You will know subscribers who have stopped opening your mail. Set a time frame for cleaning out the "no-opens" and do it consistently. You will stop irritating those who do not want to hear from you, at least not at this time. They may come back in the future, but continuing to hound them now will pretty much guarantee they will not.
Email marketing campaigns can be highly effective. Remember, 90% of people do check their emails every day. The key will be to fashion a campaign that focuses on what your audience needs and wants, to engage that audience with amazing content, to entice them with creative and intriguing subject lines, and to fulfill their expectations when they open that email. Check your campaign against these seven mistakes, make sure that it is structured well and that you are engaging your audience, not harassing it.

Need help getting started? We invite you to schedule a complimentary inbound marketing consultation where we can discuss your current inbound initiatives, strategy and even the content marketing and lead generation process you have outlined to make sure it's a success.

Guest Blog Contributor: Jessica Fender, professional writer, is an independent blogger, and chief content officer at OnlineWritersRating.com. She is passionate about wise team management and self-development as a leader. She is featured on Freelancer.com and Addicted2Success.