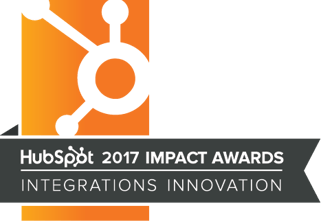 HubSpot, a leading inbound marketing and sales software company, recently announced winners of the Q1 2017 HubSpot Impact Awards. Prism Global Marketing Solutions is thrilled to announce that we received the HubSpot Impact Award for Integrations Innovation. This award recognizes creative uses of HubSpot, together with HubSpot's featured integration partners, to deliver value, return on investment, and innovative marketing campaigns for their clients. This is the 4th time Prism Global Marketing Solutions has received this award.
"Prism Global Marketing Solutions has set an example for how businesses everywhere should be transforming their marketing with inbound. Their strategic approach to attracting, engaging, and delighting customers has not only built valuable relationships with their audience, but has driven growth for their agency and the inbound movement. Our team here at HubSpot is proud to call Prism Global Marketing Solutions a Partner and recognize them with this award." - David McNeil, VP Global Partner Program and Strategy at HubSpot, Inc.
Some of the key results highlighted in this case study and HubSpot Impact Award for the use of the App Data Room and HubSpot integration are:
Lead Generation to Date: There have been 238 new leads generated since the beginning of this program.

Total Customers Acquired: Since the integration started running, there have been 75 customers acquired.

Percentage of MQL's to Customers: The client has seen a 31.5% conversion rate of marketing qualified leads to new customers.

Average Email Open Rate: For these contacts, the average email open rate is 48% for the workflow follow-up emails triggered by the HubSpot and App Data Room integration.

Average Email Click-Through Rate: For these contacts, the average email click-through-rate is 15% for the workflow follow-up emails triggered by the HubSpot and App Data Room integration.
About the Integration:
The work featured for this award utilized the HubSpot integration, App Data Room, an enterprise sales enablement platform assisting sales and marketing teams to organize, store, share, present, and track interactive sales media and content. App Data Room allows companies to collect data about in-person interactions that can be incorporated into the marketing and sales process. App Data Room puts the right content in the hands of the sales rep and the prospect, wherever and whenever they need that content to help streamline the sales process.
If you are looking to see how you can improve your sales enablement efforts with marketing automation, we invite you to schedule a complimentary inbound marketing consultation with our team. You can also learn more about why utilizing strategic integrations with your HubSpot platform can dramatically benefit your marketing, sales and operations.