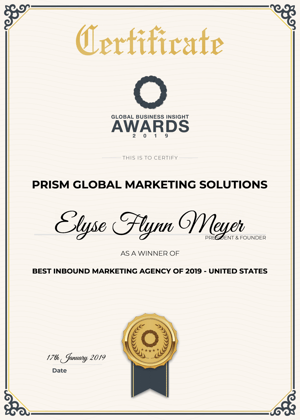 We are honored to announce that Prism Global Marketing Solutions has been named the 2019 Best Inbound Marketing Agency by Global Business Insight Awards based in the United Kingdom.
The 2019 Global Business Insight Awards celebrate business leadership, innovation in finance and investment, and sector success across all seven continents of the world. By concentrating on individuals, teams and organizations from a wealth of disciplines, these awards identify and celebrate a variety of different areas in global business. Using their far-reaching and intense research process, Global Business Insight ensures a selection of only the top organizations in each category for consideration.
"We are honored to receive the prestigious Best Inbound Marketing Agency for 2019 Award from Global Business Insight. This award recognizes our team's continued dedication to providing our clients with the highest level of innovation in the digital marketing space, and our growing global outreach," says Elyse Flynn Meyer, Founder of Prism Global Marketing Solutions.
We invite you learn more about how you can leverage strategic inbound marketing to enhance your marketing and sales efforts.