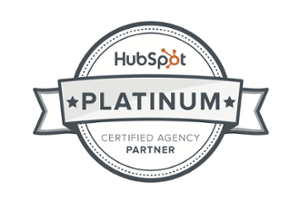 Prism Global Marketing Solutions is proud to announce that we have been selected as a HubSpot Platinum Certified Agency Partner. We are honored to be one of only 68 agencies globally to reach the prestigious distinction of Platinum Partner tier status in a group of over 2,500 HubSpot agency partners worldwide.
"I and the whole team in HubSpot are very proud and excited to welcome Prism Global Marketing Solutions as a HubSpot Platinum Partner. HubSpot recognizes Prism Global Marketing Solutions as a leading member of our partner team as they are incredible to work with. The vision and drive of Prism Global Marketing Solutions allows HubSpot to look to them as a trusted advisor. Their award winning services and focus on ROI stands out in the crowd," said HubSpot Channel Account Manager, Chris Alexis.
"Becoming a HubSpot Platinum Certified Agency Partner is a great milestone for us. Partnering with HubSpot allows us to deliver innovative, strategic and sustainable inbound marketing and sales solutions to enable our clients to to grow and scale their businesses," says Elyse Meyer, Founder of Prism Global Marketing Solutions.
Since it's founding in 2013, Prism Global Marketing Solutions has also received the following awards from HubSpot including:
HubSpot Impact Award: Integrations Innovation Q1 2016
HubSpot Impact Award: Services Innovation Q4 2015
HubSpot Impact Award: Best Client Onboarding (3rd in North America) Q4 2015
"As we continue to grow, HubSpot will remain an integral part of our business model as we leverage HubSpot's continually growing set of inbound marketing and sales tools to drive valuable services that are truly impactful for our clients," says Elyse Meyer.
About HubSpot's Partner Tiers:
In order to earn Platinum Level status in HubSpot's Partner Program, an agency must display and meet criteria built around volume of HubSpot customers, implementation of inbound marketing and inbound sales best practices, and overall customer satisfaction and growth through inbound marketing.
If you are interested in learning more about how inbound marketing and sales utilizing the HubSpot platform can improve your marketing efforts and increase your efficiencies, we invite you to schedule a complimentary consultation with our team.