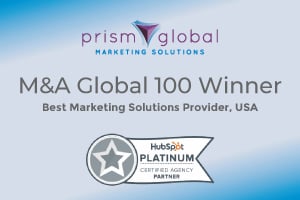 We are delighted to announce that Prism Global Marketing Solutions has won two prestigious awards from the M&A Today Global 100, consisting of only 100 of the world's leading firms and individuals, with votes received from their global readers, in over 163 countries worldwide.
Prism Global Marketing Solutions has been recognized for the following:
Best Marketing Solutions Provider of the Year - Arizona, USA
Elyse Flynn Meyer - Leading Executive of the Year - Arizona, USA
The purpose of the Global 100 is to provide their readership with a comprehensive understanding of the selected firms that are truly leaders within their chosen areas of specialization.
What is the Process?
The Global 100 does not follow the usual process followed by many other publishers. It follows a very specific, very comprehensive process, not commonly used elsewhere in the industry. Following the closure of the voting process, which follows a very strict format of third-party nomination, firms are shortlisted and selected as winners in their category.
How are Winners Assessed?
For each category awarded, a proprietary method of analysis ranks winners based on their domestic and international work. This ranking method produces a list of shortlisted firms, based on a very comprehensive set of criteria. The judging stage includes reviewing:
The strategic nature of work conducted.
The complexity of work conducted.
The scale of work conducted.
Whether the work conducted was done so in a speedy manner, and within budget.
Any ground-breaking or innovative processes used during completion of conducted work.
We are honored to be included in this exclusive list of firms because the Global 100 program provides a benchmark of the very best of the best industry leaders, exemplary teams, and distinguished organizations.
Note: It is a requirement for all of their programs of recognition to receive no less than 21% in votes from the global readership, currently in excess of 293,000. This policy is applied to further endorse the worthiness of the awards presented and any marketing carried out as a result of the process.
If you would like to learn more about how we can help your organization with award-winning inbound marketing expertise, we invite you to schedule a complimentary inbound marketing strategy session.