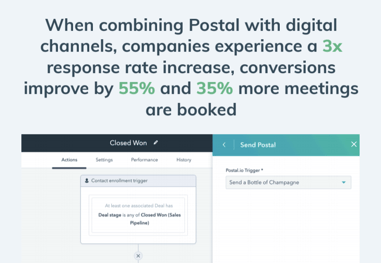 We are excited to announce that Prism Global Marketing Solutions has partnered with Postal.io. Postal enables marketers to elevate their demand generation and account-based marketing (ABM) strategies by adding gifting and direct mail to create a truly personalized sales experience. Now you can combine the power of HubSpot's Marketing and CRM platforms with the automation of offline assets from Postal.

What are the Benefits of HubSpot + Postal?
Use Automated Postal Triggers in Workflows
Postal automates the ability to send any item from the Postal marketplace. Here are some ideas of how this could be used:
Automate the sending of a gift card to webinar recipients
Send a gift to a new client when they convert from a prospect to a customer
Automate the sending of a thank you note after every meeting with a prospect
Think of the possibilities of triggering these types of personalized notes and gifts through workflows to make your sales experience unique and memorable for your prospects and customers.

Pre-Approve Your Gifting Marketplace
Postal's Marketplace has the ability to curate and personalize items to your company's specifications. You can send gift cards, charitable donations, drinks, branded swag, books and more. The marketing team can also approve the cost of the items and set budget parameters.

Send Handwritten Thank You Notes and Other Direct Mail
Direct mail is not a thing of the past, especially in today's digital world. A piece of direct mail or a thank you note can go a long way with a prospect or customer. Postal's direct mail platform simplifies the creation and design of direct mail. AI handwriting allows users to send notecards to prospects and clients that appear handwritten as well!

See the Postal CRM Card in HubSpot
With the Postal CRM Card on your HubSpot contact record, you can send contacts a gift or add contacts to a Campaign or Playbook without leaving HubSpot. The sales team can customize their follow-up with highly qualified prospects with just the click of a button, which will save them time and improve the time to close.

Personalization, Customization, Automation
Postal offers the ability to segment your account budget, billing, and creative assets by teams. Add team members and upload creative and pre-written templates all in one-place. Postal's reporting enables you to identify the cost per touch (CPT) of each campaign so you can optimize your sales and marketing campaigns.


"We are excited for this partnership with Postal because with the advanced HubSpot integration, we can help our clients provide a truly customized prospect and customer experience to generate more leads, close more opportunities, and improve customer retention efforts."
- Elyse Flynn Meyer, Owner of Prism Global Marketing Solutions.
We invite you to learn more about how you can leverage Postal and HubSpot to make the most of your demand generation and ABM efforts. Click here to schedule a consultation with our team to see if this integration would be a fit with your strategy.