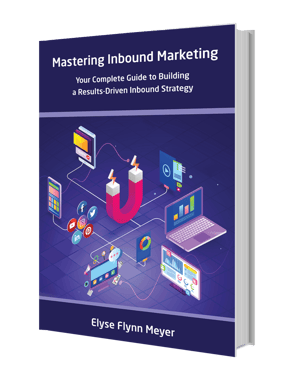 We are thrilled to announce the launch of Elyse Flynn Meyer's recent book, Mastering Inbound Marketing: Your Complete Guide to Building a Results-Driven Inbound Strategy.
Today, the world of inbound marketing is continually evolving. Marketing is no longer just about advertising to a broad audience and hoping that the message resonates with the right audience. Today, marketing is about targeting your content, messaging, and strategy to the right audience, at the right time, and through the right channels.
If you are looking to grow your business and amplify your online presence, it's time to consider the following questions when developing your inbound marketing strategy:
Are you currently driving enough website visitors and qualified leads every month to your sales team to achieve your company's revenue goal?
Do you leverage the most effective technology platforms to implement your digital and inbound marketing strategy?
Are you using the inbound marketing methodology for your sales and customer service experience to achieve maximum efficiency at every stage of the buyer's journey?
Does your business consistently look at your analytics and make real-time updates to maximize your marketing and sales campaigns?
In this book, discover the tactics and approaches to develop and implement inbound marketing programs for both small businesses and enterprise organizations. We will focus on every aspect of the inbound marketing methodology, including the revenue generation trifecta of marketing, sales, and the customer experience.
What Is Covered?
Chapter 1: What is the Inbound Marketing Methodology?

Chapter 2:

Defining Your Buyer Personas and the Decision-Making Journey

Chapter 3:

Setting Measurable and Attainable Inbound Marketing Goals
Chapter 4: Developing an SEO and Blogging Strategy to Get Found Online

Chapter 5:

Building an Inbound Conversion Strategy to Drive Leads

Chapter 6:

Leveraging Social Media to Connect with Your Audience
Chapter 7: Using Email Marketing and Marketing Automation to Nurture Leads
Chapter 8: Developing an Inbound Sales Strategy to Drive Revenue
Chapter 9: Improving the Customer Experience with Inbound
Chapter 10: Tracking Your Progress and Analyzing Your Metrics
Chapter 11: Choosing the Right Marketing Technology Platforms
Chapter 12:

Building a High-Impact Inbound Marketing Team
Chapter 13: Improving Your Process with Marketing Operations

Chapter 14:

Next Steps for Success

Consider this book your complete guide to mastering the inbound marketing methodology. You can learn more, or purchase your copy of the book today.