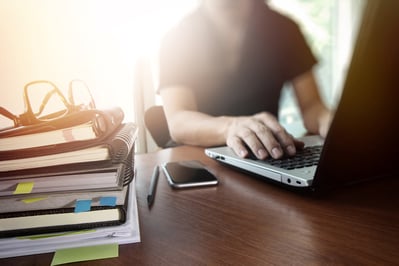 Blogging has significantly evolved over the years. Unlike its early days when it was used as a mere online diary/journal by individuals, blogging in the digital age means serious business to big brands and companies who use it to boost their sales and content marketing efforts.
While content marketing is "the only marketing left," there's much to consider when doing it, one of which is how often should you be blogging. In this post, we'll look at how posting frequency impacts success in blogging for both B2B and B2C industries.
What's the magic number in blogging?
When HubSpot looked at its 13,500 customer companies and analyzed the impact of their blogging efforts, they found that for both B2B and B2C companies, blogs that published at least 11 posts per month gained significantly higher inbound traffic than those who published less.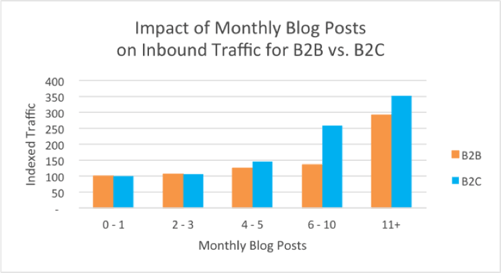 In this graph from HubSpot, we can see that B2B companies didn't see a spike until the 11 mark, which means that blogging often is more essential for this sector to earn more traffic.
However, it's easy to forget that page traffic is a vanity metric. When they looked at the leads converted, it is only when businesses published at least 11 blogs per month did those traffic actually convert to leads.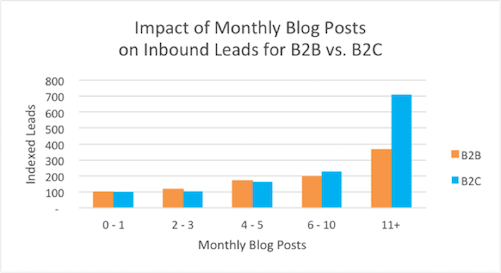 More content on your blog means more chances of your visitors staying on your site longer, which is good for your Google score (lower bounce rate).
That said, you also have to spend time not just on posting frequently, but also on creating the right kind of content. In another study by HubSpot, evergreen content from blogs were responsible for 90% of leads they got – that goes for both B2B and B2C sectors.
Here's a quick look at some factors to keep in mind when blogging for your business:
Consistency

: Yes, it's possible that two businesses in the same industry who post differently can achieve the same level of success. Whichever posting frequency you decide, staying consistent is one of the key factors that determine whether you'll gain a following/audience or not. Your followers will come to expect your posts and you'll slowly grow a following to earn enough juice, which makes Google decide that you're worthy enough of the first page of search results.
Freshness

: Newer, up-to-date content has a high chance of dethroning top performers in certain keywords, as is the case for Mashable overtaking a Copyblogger post that has 22K backlinks. However, that doesn't mean that newer content is always better, as Brian Dean of Backlinko says, "an old post that is regularly updated can still outrank new ones."

Quality

: Content marketing got the flack for its effectiveness when blogging exploded in popularity, spawning low-quality blogs that served only to farm links. Keep in mind that the reason you're blogging, first and foremost, is for your target audience, not Google

. The latter will come when your content is good enough.
Takeaways
How often you should blog still depends on your blogging goals. Without a clear content strategy, all those blog posts are like shots in the dark where you may be feeling the momentum with every hit, but all you're doing is missing your target and losing your chances to score.
When deciding how often you should blog, take inspiration from the industry statistics. For industries in both sectors, it's best practice to aim to publish at least 11 blog posts per month to get the traction you need.
To give yourself even more leverage, get a content marketing tool so that you can come up with the right number that suits your business blog like a glove.
Need help getting started? We invite you to schedule a complimentary inbound marketing consultation where we can discuss your current marketing initiatives, strategy and even the process you have outlined to make sure it's a success.

Guest Blog Contributor: Nina Pineda has been on the depths of online marketing industry for 8 years. She's easily amused by Tumblr memes, funny YouTube clips, and TV series, but keen and driven when it comes to achieving results and generating leads. You can find out more about her work at Spiralytics.com.