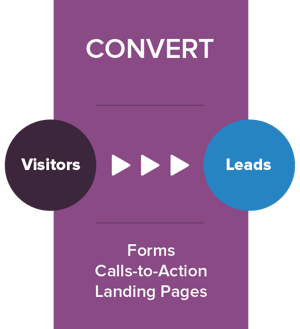 Are you familiar with the inbound marketing methodology? Our inbound methodology blog series focuses on the 4 steps of the inbound marketing methodology: Attract, Convert, Close & Delight.
The "Close" part of the inbound marketing methodology is critical. This is the part where you turn all of those qualified website visitors and leads into customers. Closing a lead and converting them into a customer can be a long process in many industries as well. It typically takes from 7 to 13 touches to convert a lead to a sale. So how can you utilize inbound marketing techniques to help close more customers for your business?
Inbound Marketing Methodology Step 3: Close
The first thing to remember is that you need to continue to provide helpful and relevant content to your leads as they are going through their decision making process. Your leads will always be at different stages in the buying process depending on when they entered your sales funnel, so it's important to identify what stage they are at so you can deliver the right content, at the right place, and at the right time to aid in their decision.
Some questions to consider as part of your closing process are:
Where did they convert as part of the buying process? If it's a more "top of the funnel" conversion, you will want to provide them with more overview content, brand awareness content, and assets such as guides and whitepapers to help nurture them down the funnel. If it's more "bottom of the funnel" conversion, you will want to share with them offers to help convert them into a customer much faster such as a demo, consultation, testimonials, and more.


What is your sales cycle? When utilizing marketing automation, you want to make sure your sales cycle matches with your marketing automation cycle. For example, if it takes someone 2 months to close from when they first convert, you should have your automation campaign match those 2 months. Ideally you can shorten that conversion timeframe as you start to analyze your sales data, but aligning that timeframe to begin with marketing automation is the best place to start.


What channels do your prospects like to communicate on? Automation is always helpful to have as "air cover" in the background providing them with the most relevant information. Also, consider if they are active on social media. If so, you should try communicating with them directly through that tool. If they are engaged on text, you could also start to automate SMS messages through your marketing automation tool. There's a variety of ways to communicate. Remember to align with what your persona wants, and it will help to expedite your sales cycle.


Tools to help with your inbound marketing efforts to close more leads into customers are:
Marketing Automation: Marketing automation is the process of sending communications to individuals over a certain period of time to get them closer to the purchase part of the process. Consider how long it takes someone to close, and what content is most important to them. Then use marketing automation to automate emails, text message, social media messages, and even reminders for your sales team to connect personally.


Lead Nurturing and Dynamic Content: Lead nurturing is a bit different from marketing automation. Lead Nurturing is about providing the right content either through email, on your website, or through social media to ensure you are targeting the right individuals with the right content. You can do this through dynamic content that will automatically change the content delivered to the individual based on where they are in the lifecycle. For example, if you have a prospect that is at the top of the sales funnel, your home page may promote an eBook, but if you have a prospect near the end of the sales cycle, your home page can feature their sales rep's information to schedule a call. It's all about aligning with where the prospect is at that exact time.


Sales Alignment including Lead Scoring: Utilize techniques like lead scoring to identify which leads are ready to move to sales. In addition, your team should create an SLA (Service Level Agreement) between sales and marketing which will help to align both teams together in lead generation and lead conversion efforts. By aligning your sales and marketing teams, you open up the lines of communication and allow marketing to communicate campaigns with sales, and give sales a way to provide feedback on leads to marketing. It makes the entire process work better and more efficiently.


CRM: Every company needs a CRM, regardless of how big or small you are. A CRM will help your sales people to follow up with opportunities and leads, and track where their deals are in the pipeline. Learn more about the HubSpot CRM. If you want to sign up for HubSpot CRM for free (forever), you can just click here to get started.


Analytics: Finally, analytics are crucial to every part of the process. Closed-loop analytics will help you see what content is generating the right leads and customers into your pipeline. It will also help determine where individuals are in the buying process so you can streamline your nurturing and automation program. This will give marketing information about what is working and what needs to be improved to further optimize your marketing and sales process.


The Close stage of the inbound marketing methodology is no longer just a sales function. Marketing needs to be involved in this process to help sales deliver the right content to prospects, and provide sales with further insights on leads and opportunities. It's all about how these two departments can work in tandem to nurture leads through the buying process and optimize the conversion funnel.


If you're looking for ways to integrate inbound marketing and sales alignment into your digital marketing strategy, we invite you to schedule a consultation with our team of inbound marketing experts.