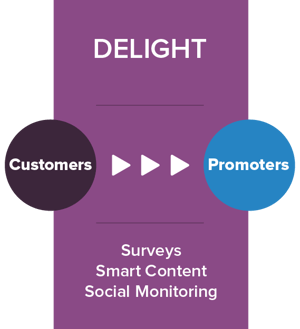 Are you optimizing your inbound marketing strategy and delighting your existing customers? Our recent blog series focuses on the four steps of the inbound marketing methodology: Attract, Convert, Close & Delight. If you haven't read our first few blogs yet, click here to get an overview of the inbound methodology.
Inbound marketing and inbound selling are all about providing remarkable content to your leads and customers. Just because someone has signed a contract with you, or purchased your products, doesn't mean you can forget about them. That's the worst thing you can do! Inbound companies continue to engage with, delight, up-sell, and grow their current customer base into happy promoters of the organizations and products they love. So how can you do that?
Inbound Marketing Methodology Step 4: Delight
I find this is usually the component of inbound marketing that is not implemented as well as the first three stages of the four inbound stages. It is essential to be sure to continue to communicate with customers, even after they become a customer. Inbound marketing provides remarkable content to your audience, whether visitors, leads or existing customers. Inbound companies continue to engage with and delight their customers, which should eventually help you up-sell and continue working with them as a happy customer. Some ideas for delighting your customer base are a customer newsletter (based on the persona, of course), surveys, inbound customer service tools to help your customer experience, and even a dedicated blog specific to your customer base.
Here are some ways that you can continue to delight your customers:
Dynamic Marketing: This is all about delivering dynamic, customer-driven content to your customer base when they visit your website. Instead of providing them a lead generation offer, instead, you may want a pop-up or call-to-action that focuses on connecting with customer service.
Social Media Monitoring: Always monitor your social channels to see if your customers are talking about you (good or bad!) You can use a tool like HubSpot to keep a list of your existing customer and monitor those individuals to see what their conversions are online and if there's any way you can help.
Surveys: This is essential to getting a pulse on your customer base. You can do something as simple as an NPS survey or something that asks a few more in-depth questions if you need more information about how a particular customer service call went, how your customer is using your product or service, and more.
Analytics: Always track how your customer base is growing or declining. You want to quickly spot trends if you see more cancellations or if your close rate is slowing down. You also want to see if a particular campaign drove a spike in new business. This gives you the data to see what is working and what is not.
The Inbound Methodology covers the steps and tools used to help you maximize your online marketing efforts by increasing website visitors, leads, and, ultimately, happy customers!
Remember that inbound marketing doesn't just happen on its own. It's built and powered by marketers leveraging tools and analytics to create campaigns that drive revenue. Inbound marketing is not something you set up and forget, but it is a well-tuned machine that should continually be updated as you get more data, new tools are introduced, and your brand continues to evolve. Now it's time for you to go out and create and deliver content for your buyer personas at the right place and at the right time.
If you're looking for ways to integrate more inbound efforts into your overall digital marketing strategy, we invite you to schedule a consultation with our inbound marketing experts.