How familiar are you with the inbound marketing methodology? Our blog series focuses on the four steps of the inbound marketing methodology: Attract, Convert, Close & Delight. If you haven't read our first few blogs yet, click here to get an overview of the inbound methodology.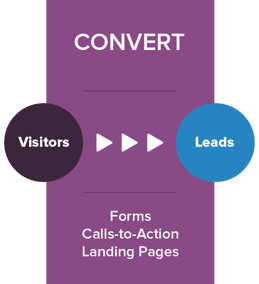 The "Convert" section of the inbound marketing methodology is when the lead generation work really kicks in. We love the convert stage of the inbound methodology because this is where you start to see the rewards of all of your content marketing efforts that you completed in Step 1, the "Attract" phase. You've already enticed your potential prospects to become recurring visitors to your website with your great content, so now you need to convert them into leads by providing high-quality and helpful content where they will provide you with their contact information in exchange for that piece of content. That prospect will be part of your marketing and sales funnel.
Inbound Methodology: Step 2: Convert
Once you have attracted website visitors, the next step is to convert them into leads by gathering their contact information. This is one part of the process that many companies miss out on, and that is why organizations often don't see the lead generation activity from their content marketing efforts. Either those organizations don't have the right content to drive effective lead generation, or they give away way too much of their premium content without collecting contact details to bring an individual through the funnel.
Gathering contact information is incredibly valuable to the online marketer. But, in order for your visitors to provide their contact details, you need to offer them something in return that is high-value and helpful. Some examples of premium-level content are eBooks, whitepapers, checklists, webinars, slideshows, videos, and more. Determine what information is relevant to your buyer persona, and start from there. You need one piece of content per persona to start, and then you can begin to build that out by the lifecycle stage. Don't try to do too much at once, though, since it can become overwhelming and stall the content development process.
Some of the most important things to consider when converting visitors into qualified leads include:

Landing Pages:

A landing page is a page that gives a teaser of the information provided to them in the premium content and includes a form that they need to fill out to get that premium level content. Keep your landing pages simple. Typically your content on the left and form on the right converts at the highest rate. Try to remove all distractions such as your navigation, social icons, and more so that the user is focused on the task at hand...downloading your content offer.
Add Dynamic Forms: A form on a landing page is essential, and capturing the right information is essential. Every organization is different, so the fields you need to capture will vary from other companies. But remember to keep your forms short, so you're not asking for too much information for a specific offer. Consider 5 form fields to be a good starting point. You can then make your fields progressive so that you don't ask a user for the information you already have in the database. This will help your conversion and provide a seamless process for the end-user.
Calls-to-Action: A call-to-action (CTA) is a button on your website or your blog. This call-to-action tells the visitor what you want them to do next (i.e., Download the Whitepaper, Watch the Video). When they click on this, it will take them to the landing page with the form. It sounds simple, but this is what gets someone to convert. If you add a call-to-action to each of your website pages, you could see a 30% - 40% increase in your conversions alone. Check out this case study on conversion rate optimization to learn more.
Effective Email Marketing (no, email is not a thing of the past if it's being used the right way): Once someone fills in their information, you want to send them a quick follow-up email. This email will include the requested information, whether it's a marketing video, ebook, whitepaper, or another form of premium content. You will also give them a secondary call to action, trying to move them through the funnel. An example is scheduling a demo, requesting an assessment, etc. This will help keep the user engaged and provide them with the next step in your marketing and sales funnel.
As you can see, the convert stage of the inbound marketing methodology is incredibly important. Now that you have attracted those individuals to your website, you can now convert them into leads! This is the most valuable component of the process for an online marketer because you can now nurture that lead through the buying process.
If you're looking for ways to integrate more inbound efforts into your overall digital marketing strategy, we invite you to schedule a consultation with our inbound marketing experts.