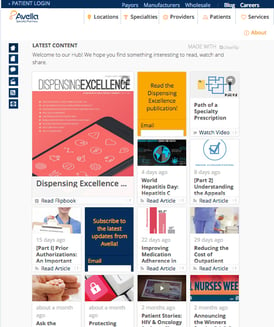 Are you looking to educate your prospects and customers, and provide them with content that is most appropriate for them? That is probably the goal of most marketing and sales departments, and the UberFlip and HubSpot integration allows you to use two world-class tools to drive content consumption, lead generation, and visitor reconversion.
Here is one of our featured client stories about how they have integrated the two tools to help solve the challenge of delivering the right content to the right persona at the right time.
As a specialty pharmacy, the objective of Avella Specialty Pharmacy's content is to help educate and guide their personas, primarily healthcare providers and patients. Because of the nature of their industry, their content is not just for a one-time decision to trust Avella, but a decision for a provider or patient to trust Avella through what is typically a very difficult time for this individual or family. Avella needed to find a solution for their content that would help to quickly reach the right persona at the right time. That's where UberFlip came in.
Through a variety of unique content including blogs, videos, whitepapers, guides, reference charts, publications, social media, etc., Avella was seeking a way to distinguish their brand from other traditional and specialty pharmacies. Specifically as a marketing department, they were looking to increase their website traffic, help providers and patients with beneficial content, and become a trusted advisor to their personas.
With increasingly more content being produced, Avella needed a solution that was scalable, helpful to their personas to find content, easy to navigate, and created a consistent and branded experience for their website visitors.

Some of the primary goals for Avella were:
Organize all of their content in one place for their team to manage.
Provide customers and prospects with an easy-to-use and easy-to-find content experience that was responsive across devices.
Deliver content in a way that is unique and differentiated so patients and providers could consume content at their own pace, and quickly find the information they need.
Generate more qualified leads by leveraging gated content to target specific B2B buyer personas (providers, payors and manufacturers).
Integrate with HubSpot to fit into existing business processes and track content, automation and marketing results all in one place.
Avella selected UberFlip as their content marketing solution to solve these challenges and achieve these goals. With UberFlip, Avella is able to achieve the following:
Deliver a branded and more consistent content experience for their B2B personas, and most importantly, their patients, who are seeking immediate pharmacy and healthcare information when searching online.
Convert their B2B website visitors into leads without interrupting the content experience.

Avella is able to do this through gating content on the UberFlip hub through landing pages, and also simple calls-to-action that integrate directly with HubSpot.
Save time, money and resources by using a tool that is integrated with HubSpot, and doesn't need the help of an IT department or other internal resources.
Keep all of their metrics in one place. As an avid HubSpot user, having all of their metrics, conversion data and automation all in one place was critical to this decision, and maximizing the use of UberFlip.
Provide a way for their sales team to have easy-to-share flipbooks with providers, and a way for marketing to track the effectiveness of these internal sales resources.
Through UberFlip, and a single content hub delivering a consistent content experience, Avella has achieved significant growth in premium content views, repeat and unique visitors, significant content clicks and content conversions. Avella can segment their content based on persona, and deliver the right content experience to the appropriate visitor on the website, ensuring they get the right information when they need it most. Here are some of the results Avella has seen in the first year as a result of using UberFlip:
808% increase in unique Uberflip website visitors by directing their traffic to a single location of their content hub.
411% increase in

eBook, white paper and reference chart views

with the ability to actually track engagement using Flipbook metrics.
540% increase in clicked links by boosting overall engagement with content delivered in a more strategic and organized fashion.
1899% increase in

unique page views (UberFlip specific content pages)

with an experience that encouraged further content consumption.
52% increase in time on resource pages with content that is more targeted to the persona, specialty and stage of the marketing journey.
91% increase in social shares of premium content and blog posts.
The success of UberFlip has been measured by the amount of content consumed, and how they have been able to evolve the use of UberFlip over time. As an example of the evolution of the tool, Avella is now using UberFlip to have one central place to deliver relevant social media posts to their personas from their treatment resource partners. Check out the treatment resources Twitter stream. This allows Avella to continue to be a thought leader in the specialty pharmacy space, while providing their patients and providers with immediate and direct information from their treatment resource partners. In addition, they now have dedicated resource "hubs" for some of their main specialties which makes it even easier to find specific specialty information. Check out their oncology resources hub.
Not only has UberFlip increased the website visits, lead generation, and overall content consumption for Avella, but it allows Avella to quickly and seamlessly deliver the best and most appropriate content their patients and providers, which is truly the ultimate goal of the marketing team at Avella.
If you haven't tried the UberFlip and HubSpot integration, we invite you to schedule a complimentary content marketing consultation with our team to learn more about how UberFlip and HubSpot can work together to help in our content marketing and lead generation goals.