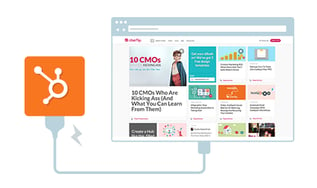 Integrations with any software tool you use are critical to maximizing the amount of information you get from all the platforms you are using. In this blog series, I will cover the integrations you can use with your HubSpot account to maximize the reach of your content, capture more analytics, and make better marketing and sales conversion decisions.
The first HubSpot integration I will focus on is UberFlip. UberFlip is a unique tool that allows you to aggregate your social content, blog articles and content resources like videos, e-books and whitepapers into a visually compelling "content hub" with the tools you need to truly convert your visitors who are seeking great content into customers.
Utilizing the UberFlip & HubSpot Integration, you can start to generate more leads with calls to action that feed your new contacts who are engaging with your great content into HubSpot. That allows you to not only see who is engaging with your content, but you can now trigger lead nurturing campaigns based on content consumption. You can even change a contact's lead score based on how they are engaging with the content in your UberFlip content hub. Finally, you will be able to build custom reports to help better understand the impact of your content. See which content is engaging your visitors to know what your blog and premium content should be focused on as part of your inbound marketing plan.
If you're already using the UberFlip & HubSpot integration, or if you're thinking about it, here are some actionable tips you can use to help you maximize the value of both tools together:
Create calls-to-action that sync with your HubSpot account: Capture contacts directly from your hub so people can continue to engage with your content without having to move to a landing page. Make sure you are using a HubSpot form to capture their contact information, so you can then get them into a smart list to start tracking your content's lead impact.


Trigger lead nurturing campaigns: Automatically trigger a lead nurturing campaign based on the CTA that is filled out in your content hub. For example, if you have specific buyer personas, and you see that someone has downloaded a certain whitepaper on your content hub, you can then enter them in a workflow to give them your next piece of great content!


Change lead scoring based on engagement: Now you can even adjust lead scoring based on engagement. This is critical to really having a closed-loop process, and making sure all of your content sources are being calculated into your lead score. Then you can even trigger notifications to your sales team when a CTA is filled out or a specific piece of content is consumed.


Integrate other company's and people's content into your hub: This isn't specific to the HubSpot integration, but one really great feature of UberFlip is that you can share other people's content automatically on your UberFlip account. This makes your hub truly dynamic, and always current with the latest information.

Example: One of our clients has the following pieces of content integrated into their hub:



Facebook posts

Twitter posts

Twitter "favorite" posts

Twitter lists: This is where you can make Twitter lists based on thought leaders in the space, partners you work with, etc. That content will now always be displayed as part of your hub now.

Videos: This is powered by the Wistia integration. (This is another HubSpot integration we'll focus on later in the series)

Company Blog

7 other blogs: These blogs are thought leaders in the space and industry publications. Their blog posts will always be available on the content hub.
You can check out their content hub here and see how they saw a 489% increase in website visits & increased a visitor's average time on page to 5:56!

We have many clients using UberFlip, and they have all seen this as a tool for lead generation, branding, and thought leadership. Check out our case study from UberFlip with one of our clients to see how they increased unique visitors by 808%, and increased ebook and whitepaper views by 411% with the ability to track engagement using flipbook metrics.
If you haven't tried the UberFlip and HubSpot integration, I would recommend looking into it to enhance your content strategy. They are even offering $100 off any of their packages for HubSpot customers. Click here to learn more and save on UberFlip.