For your blog to be successful, you need to engage the reader so they will become a known contact, or a lead, in your database. Generating leads is one of the essential functions of your blog because your blog is intended to create a highly engaged audience and offer them a way to connect with your organization. In addition, you want to ensure your blog includes text and visuals that connect with your blog's content.
First, to provide visitors with a way to connect with your organization, you need to include the following in each blog post.
Hyperlinks:


When you are writing about a topic you have already referenced on your website in a prior blog post or on a product/service page, link to that page from the blog you are writing. Linking to additional pages on your website keeps prospects on your website longer by visiting multiple pages and provides them with a way to learn more and become a new or re-engaged lead in your database for your sales team. You can also link to another article or a landing page for visitors to submit their contact information to learn more. You want your content to be valuable to the reader and want them to desire even more content from you.

Call-to-Action:


A call-to-action is simply a button or an image included in your blog post in the middle of your content and at the end of the content. The call-to-action goal is to provide the reader with a clear and direct opportunity to access an asset or a content offer that will engage them based on the blog they are reading. For example, you may want to allow them to download an eBook or schedule a consultation to connect with a sales representative.


The following is an example of both hyperlinking and a simple button call-to-action in a blog post.

The following is an example of hyperlinking and a more complex, image-based call-to-action in a blog post.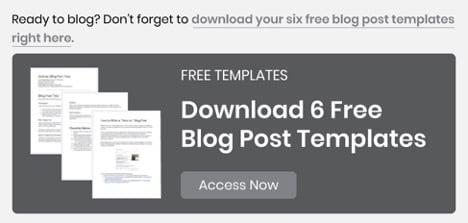 Image courtesy of HubSpot
Next, images on blog posts are essential for the success of your blog. Images provide a visual component that instantly connects with your audience. Here are some tips to ensure your images are optimized for your next blog post:
Your image will also use alt text, which is just simple text to describe an image's appearance and function on a page. Alt text provides a way for search engines to index your images so your articles can also be found when people search for imagery.

In addition, the image you choose can be used in email notifications to your database about your blog, which helps to add a visual element to your email program.

Finally, this image will also be used when you share the blog on social media and if other people share it with their audience.

Tip: To find the best images, you'll want to use a tool that provides royalty-free images. Some examples are Shutterstock, Dreamstime, and many more. You can also create your own images with tools online, such as Canva.
As you can see, it's not just about written content on your blog. You also need to consider the conversion elements and visuals that will help increase your blog's value to your organization. Always remember to focus on how a website visitor can become a prospect from your blog and how you can ensure imagery helps enhance your blog content's message.
---
Are you looking for ways to optimize your inbound strategy? The book "Mastering Inbound Marketing: Your Complete Guide to Building a Results-Driven Inbound Strategy," written by Elyse Flynn Meyer, Owner & Founder of Prism Global Marketing Solutions, covers every aspect of the inbound marketing methodology, including the revenue generation trifecta of marketing, sales, and the customer experience. Check out the book to see how to most efficiently and effectively develop, implement, and maintain your inbound strategy.