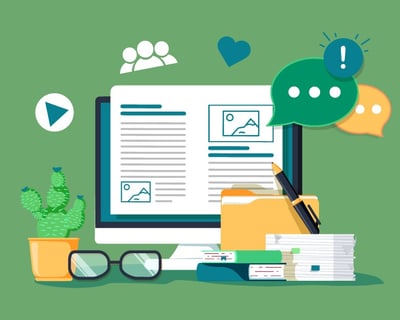 The concept of inbound marketing is about creating valuable and memorable experiences with your brand and your business that have a positive impact on prospects and customers who choose to engage with you. The inbound marketing methodology starts with attracting prospects and customers to your digital channels, including your website, social media pages, emails, texts (SMS), videos, podcasts, and more. This approach of attracting individuals encourages people to interact with your company because you provide them with valuable and trustworthy content that educates and inspires them. Inbound marketing is a way to help companies do business in a more meaningful and helpful way, so companies are no longer selling to prospects but are educating them on the path to a purchase decision. By doing this, companies see tremendous growth in their brand loyalty, revenue, and customer happiness.


As defined by HubSpot, the technology leader in inbound marketing, the inbound marketing methodology is comprised of three stages: Attract, Engage, and Delight. Businesses around the globe are implementing inbound marketing as a primary strategy to build trust, credibility, and momentum with prospects and customers by adding significant value at every stage of the buyer's journey. There are many different ways that a prospect can engage with a brand. Inbound marketing enables companies to be more present with their prospects and customers during the various stages of the buyer's journey to stay at the forefront of the purchasing decision. Remember that 81% of shoppers conduct research online before purchasing or engaging with a sales team. Inbound marketing helps your organization get in front of these qualified prospects at the right time in their research process.
Start by thinking about how you make a purchasing decision for your company. You likely do not immediately call a sales rep and ask them to give you a 30-minute pitch about their product. In fact, you will probably not engage with a salesperson until you have narrowed down your search to 2 – 3 products or services that you are evaluating. Whether it is a product or service you are evaluating personally or for your organization, you always have a research phase. The research phase includes the following steps:
Ask peers or friends for their recommendations, and do a Google search to find companies that best solve your challenge. This information will give you a shortlist of companies to start your search.

Visit company websites and look for more information online. You will probably read the blog or FAQ section of their website, which should answer some common questions you are searching for as part of your evaluation process.

Book a call with a sales representative to learn more. Before connecting with sales, the evaluation process ensures that you, the buyer, only spend time with the companies that have the most relevance to the challenge you are looking to solve.




Practical Application:
Have you ever been in charge of evaluating software for your organization to purchase? Think of a purchase such as a Customer Relationship Management (CRM) platform. Most business-to-business (B2B) organizations and many business-to-consumer (B2C) companies need a CRM to manage their sales process. There are many stages to the purchasing process that individuals go through as they evaluate tools and make recommendations. Here is the process a professional services firm went through when evaluating tools for their CRM solution.
First, they identified a need. Most companies evaluating a CRM determined that managing their sales interactions and pipeline management through excel spreadsheets was no longer sufficient. It was wasting time and resources.
Next, the professional services team researched CRM platforms. They asked colleagues and peers for recommendations and then did their own research. In addition, they worked with their third-party marketing partner to provide advice. During their research process, they found large and small CRM platforms that had pros and cons. They looked at websites, blogs, and third-party review sites for a complete picture of what each platform offered. They also reviewed case studies and watched short videos from the companies to get an in-depth insight into the CRM products available without connecting with someone at the company.
Finally, once they found 2 – 3 platforms with most of the tools they were searching for, they booked a time to speak with a sales representative. Sales is still part of the process, but just further along in the buyer's journey once the prospect narrows down their search. They spoke with the sales rep, who also provided references to speak with, and the sales rep sent more tailored content to aid in their purchasing decision.
From there, they purchased a new CRM solution. They selected a platform that could grow with their needs but wasn't a tool that was so overwhelming that their team would not use it.


It seems like a lengthy process, but today, this is how people buy. Depending on the product or service, this process could be short or long, as in this case. Today, many pieces of content are needed at every stage of the journey to help prospects find answers to their questions along the decision-making path that will keep your company relevant and in consideration. In the previous example, the following pieces of content helped educate and engage the prospect:
Blog Articles

Website Content

Social Media Content

Third-Party Review Information

Videos

Email Marketing

Case Studies

The process of creating this content may seem overwhelming. However, the process becomes much more manageable when you develop a strategy and comprehensive plan that encompasses the content you need to engage your prospects and customers.

---
Are you looking for ways to develop or optimize your inbound marketing strategy? The book "Mastering Inbound Marketing: Your Complete Guide to Building a Results-Driven Inbound Strategy," written by Elyse Flynn Meyer, Owner & Founder of Prism Global Marketing Solutions, covers every aspect of the inbound marketing methodology, including the revenue generation trifecta of marketing, sales, and the customer experience. Check out the book to discover how to most efficiently and effectively develop, implement, and maintain your inbound marketing strategy.