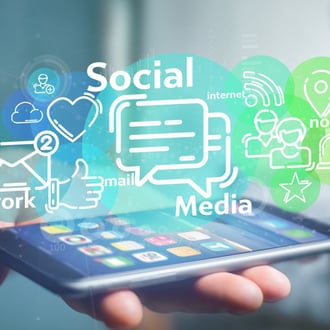 Brand loyalty is defined as the partiality of a consumer toward one business or product over another, and it can often make or break a company. Brand loyalty drives in-store traffic, visits to your website, word-of-mouth recommendations, and the conversion of leads to customers. Brand loyalty can often mean the difference between profits and losses, so brand loyalty is not something to ignore.
And more often than not, in today's interconnected world, brand loyalty depends on your ability to leverage the power of social media to build connections with your prospects and customers. Did you know that there are over 2.9 billion monthly active Facebook users? And that's just one social media network.
Tapping into your social media market and communicating with followers is no longer an option – it is a requirement. Cultivating customers on Facebook, Twitter, LinkedIn, Instagram, and other social media platforms is crucial to creating loyal customers and brand followers who continue to purchase your products and services and act as your brand ambassadors.
Here are five important ways to leverage social media to build brand loyalty.

1. Have a Social Media Strategy
You probably have an advertising strategy, a marketing strategy, and a list of additional micro-strategies. But if you don't have a social strategy, you need to define that quickly. Social media is no longer just about posting and not engaging. Social media is advertising, marketing, communications, and selling wrapped up into one effective and incredibly efficient medium. It needs a dedicated marketing and communication strategy, just like your other channels. If you don't have a strategy for using social to increase conversion rates, improve sales, enhance search engine rankings, and improve customer experience, you need to start now, since your competitors are likely already interacting and connecting with your prospects and customers instead of you.

2. Find Your Social Media "Voice"
Target Corp. speaks with a voice that's "fun and friendly." Apple is slightly distant and mildly mysterious. Ford is full of authenticity and approachability. What's your voice? Is it engaging? Does it coincide with your brand? Is it professional yet able to portray your company culture?
Your brand voice on social media should echo the voice of your other communications. If you have yet to decide what you want to "sound" like on social media, it's time to find your brand voice and use it consistently to build brand loyalty. Look at how you communicate on your website through content, in your emails, in videos, and more. Reviewing your existing content will help you determine your voice and ensure it's consistent with your other branding efforts, both online and offline.

3. Respond and Reward Your Followers on Social Media
It's called social media because it's built to allow people to be social. That means asking questions, commenting, complimenting, and, yes, even complaining. If you don't engage in social media just because of a fear of negative comments, that's the wrong approach. If you don't have an outlet for people to communicate their opinions, it doesn't mean they won't; it just means you may not see it and, therefore, can't respond to it.
To use social to build brand loyalty, you need to be willing to respond to those who take the time to engage with your company, for better or for worse. Followers who post on your social media sites feel like they have a connection to your company. Being responsive brings them further into the brand. It allows you to connect with supporters and convert those who seem less than satisfied.
Most importantly, it gives you the ability to show that you're willing to reward the most loyal of your followers with offers, discounts, advanced access to content, and more. You can even have contests or special promotions exclusively for your followers. This allows you to cross-promote between networks, and when that information is shared, you have an excellent opportunity to get even more followers and promoters for your brand.

4. Create a Community on Social Media
Once you've mastered the art (and science) of responding and rewarding, it's time to create a community. A loyal community following will mean the difference between an ever-growing and increasingly connected fan base or a social channel that fades into the background.
The first step in creating a community is getting to know your audience.

The second step is asking the right questions and listening to their concerns.

The final step is answering those questions and engaging with them based on where they are in the buyer's journey.
Keep in mind that all these need to happen daily – if not more frequently – to keep up with your community. It's not just a once per month or even one per week initiative. Creating a community in which you authentically interact with social media followers makes it more likely that the people who follow you will become brand ambassadors. This is your ultimate goal on social media.

5. Stay Focused on Customer Service on Social Media
In the end, your social strategy is all about customer service. Customers will often turn to social media when they have had both positive and negative experiences. It's up to you to fix whatever the issues may be. The worst thing you can do is ignore these issues.
You need to start by creating clear standards and expectations for your team. Begin training employees on how to use social media in ways that meet your brand standards. You should have a team of people who can respond and engage with customers and fans when they have questions, concerns or voice their opinions. Even if you do have a negative customer, a positive customer service experience on social can completely turn that around. And remember that on social media, others are watching to see how you respond, so it's important to make sure it's a quick turnaround with a helpful response to the customer. The quality of your customer service plays a significant role in determining how people feel about your brand. Make sure you show your customers the same online and offline experience.


Brand loyalty is paramount, and social media plays a vital role in the success of your ability to build and sustain that brand loyalty. Staying engaged on social media can truly make all the difference. When you care about your audience, share great content, and communicate in a way that aligns with your culture, you will start to see a positive impact on your business and your brand.
If you're interested in discussing your current social strategy and how you can further align that with your brand and voice, we invite you to schedule an inbound marketing consultation with our team.