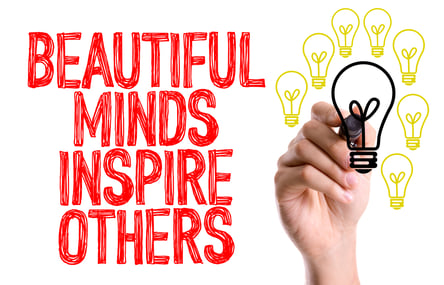 To stay competitive in the digital space, it is increasingly important for brands to evolve their online marketing strategies. If you want to reach your buyers during their research phase, it's vital to first develop your target buyer personas. This will enable you to adopt a myriad of strategies to ensure that you capture the immediate attention of visitors, deliver content to convert those visitors into leads and follow through with the sales process to ensure customer success.
One effective strategy that works for both business-to-business (B2B) and business-to-consumer (B2C) marketing initiatives is influencer marketing, and most brands can successfully implement this type of marketing to reach their target personas. A global study by Nielsen reported on the kinds of advertising that consumers trusted most when making purchasing decisions. Of those surveyed, 83% said they trusted the recommendations made by their inner circle of family and friends. But more importantly, an incredible two-thirds of survey respondents (66%) stated they trusted consumer opinions posted online.
This leads to the question about what types of consumer opinions actually influence decisions most. For example, a comment on a YouTube video recommending a clothing brand likely won't hold the same value to a consumer as a vlogging (video blogging) celebrity who wears a specific brand of clothing in their daily life. Think of influencer marketing as the territory that lies between official testimonials and subtle product mentions.
Why does influencer marketing work? It's similar to how consumers feel about recommendations from their inner circle. From my perspective, influencer marketing comes across as authentic because influencers have audiences who trust them. The right audience, made up of your target persona, sees these recommendations as part of the influencer's natural content flow. Since this isn't a direct advertisement or a sales pitch, it's much more relatable to the consumer and builds trust with the brand through an authentic channel.
As influencer marketing has become more important, I have worked with clients to build strategic plans around their influencer programs -- leveraging integrated campaigns to maximize their influencer efforts and drive maximum return on investment (ROI). Based on these experiences, the following are key strategies for reaching buyer personas through influencer marketing and choosing the best partners to work with as influencers for your brand.
Find The Right Influencers For Your Brand
Finding the right influencers isn't a quick and easy process, and it will take time and effort to identify and connect with influencers who appeal to your audience. You want to find influencers who are connected to your brand's personas and who your ideal target audience will trust and identify with to help them make purchasing decisions.
Begin by looking for individuals who have not only obtained a substantial following of people but who also pair with your buyer personas and their goals. Research the potential influencers' content and the types of comments they receive from followers to see how engaged their followers are and how they engage back with those individuals. Are their followers looking for advice and suggestions? Are these influencers providing them the information they need to take the next step in their decision-making process? If so, these are the types of influencers you want to spread awareness of your brand.
How To Leverage Influencer Marketing To Reach Your Buyer Personas
Once you have identified and started networking with influencers in your industry, the next step is leveraging influencer marketing to capture the attention of your audience. Here are five ways to effectively utilize your new influencer marketing strategy.
1. Shareable Content Marketing: A great way to get started is to have your in-house marketing team put together some shareable content, such as quick video snippets, infographics, compelling images or helpful blogs. Talk to your influencers for suggestions on what they feel works best for their audience. Consider combining talent to create unique, shareable content they can broadcast to their followers.
2. Social Media: Send influencers enough relevant information about your product or service, and provide product freebies or a service sample so they can create their own social media content. This is important because many influencers will not endorse a product or service without trying it to ensure it doesn't have a negative impact on their own brand authenticity. The goal of your influencer marketing social media strategy should be to have them mention and tag your brand on their social media platforms for a much wider reach.
3. Email Marketing: Influencers may or may not be willing to send a dedicated email to their email database. If they are not, you can usually still leverage influencer marketing in your own email marketing and automation efforts. Use influencers' quotes or photos in targeted emails to further enhance your brand reputation and build your credibility as a brand.
4. Video Marketing: Leveraging influencers in video marketing campaigns is about putting them front and center with your products or services to double your brand outreach. A video of an influencer who talks about your product or service gives them dynamic content to share with their audience and gives you interactive content you can share with your audience. You can leverage the video on your website, social platforms, email marketing, blogs and more.
5. A Spokesperson: Once you've found the perfect influencer who aligns with your brand's goals and buyer personas, consider taking the leap to make them your premier spokesperson. This means they'll represent your brand across their channels and your channels based on a long-term agreement. This is a successful approach if the influencer is continuously engaging with their followers with new content, creating a steady stream of new information for their followers to learn more about your product or service.
From my experience, leveraging influencer marketing isn't a quick, easy or even inexpensive type of marketing, but it is an effective one. Influencer marketing gives you a unique way to build brand authenticity and connect with a wider group of individuals who fall directly in line with your ideal buyer personas.
If you're looking to learn more about how you can leverage influencer marketing as part of your integrated digital strategy, I invite you to schedule a 30-minute consultation with our team.