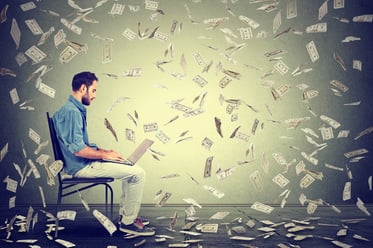 Are you just starting out as a small business owner? After developing a perfect business plan and getting all the paperwork in order, the next logical step on your journey to success is getting the word out and attracting customers.
Understandably, when your company is still in the infancy stage, gathering the funds needed to pay the marketing costs may prove to be quite a challenge indeed.
But is this really a cost? If you play your cards right, it's much more of an investment than anything else. And by implementing the following 4 tips, you will find that even a small budget can carry you a long way:

1. Recognize the Power of Social Media
Everyone can and should leverage social media for their business. As long as you know what to post to keep your audience engaged, there are absolutely no costs associated with it except for your time. It's all about experimenting with types of posts, content, and the most effective days and times. Once you have an engaged audience, you can amplify your message very quickly.
In terms of popularity, Facebook is still the king of social media, so this is probably where you should invest the vast majority of your time. When you've mastered Facebook, you can also learn to tackle other platforms like Twitter, LinkedIn and Instagram (be advised that every single one of them requires a different approach, however).

2. Create an Infographic
Everybody loves infographics! They're colorful, full of facts, and, simply put, a pleasure to read. Due to their rise in popularity, almost every graphic designer on the planet now knows how to create one. If you're smart enough to leverage the power of competition to work in your favor, you'll easily be able to negotiate a good price to get one made. Alternatively, if holding onto every dollar is a necessary way to get through the day, you can also attempt to design one yourself using one of the many free tools out there.

The secret to the true power of infographics is their tendency to grab eyeballs. And the best part of all? It's easy to distribute them, because people love them so much – in essence, they're at least as effective as sharing helpful content, and then some.
Expanding on the previous point we made, you can always post them on your website, social media, and other places without the fear of duplicate content penalties. After all, it's just an image! Given the fact you only need to pay once to get one made, they're an incredibly cost-effective marketing investment.

3. Repurpose Promotional Materials Whenever Possible
Moving on to the brick and mortar realm, attending professional conferences and organizing events is what every company should consider at some point. Some of the most meaningful professional contacts can be established this way, although the internet is one of the easiest and most cost-effective ways to promote your business. So, what can you do to make people remember you in person?
The answer is promotional materials. Think tablecloths, flags, exhibition stands, branded mugs, and everything with your logo on it. The more events you organize or attend, the more it makes sense to get these made. Since doing so is a one-time cost, what's stopping you from taking advantage of all the recognition they can give you?
When you can afford it, you should also think about investing in branded promotional materials you can give away (pens, mugs, mousepads, and so forth). As long as they're of high quality and useful, people will gladly use them around their homes, effectively being reminded of your brand every single time.

4. Organize a Giveaway
Speaking of free stuff, who doesn't love getting something of value ? This can either be a tangible product or a voucher for a service. How often have you seen a giveaway on Facebook? Chances are you'll be able to stumble across one of these without even having to look for it. If you need inspiration, just take a look at how the most successful business owners are doing it and follow in their footsteps.
You can also go one step beyond and make a contest, so everyone who wants to take part needs to contribute something of value. Whether it be an idea, a logo concept, or simply rewarding the person who shares it with the most friends, you can get a good return on your investment when organizing one of these. Since they can easily go viral and reach thousands of potential customers, they're definitely worth the effort.

As you can see, running and advertising a business on a shoestring budget can be done if you're clever enough to take advantage of all the opportunities the modern age presents you with. With the help of these 4 tips, you too can get your name out there and obtain all the customers you need.

If you're interested in discussing your current marketing strategy and how you can better incorporate these 4 tips into your strategy, we invite you to
schedule a consultation with our team.


Guest Blog Contributor: Michael Deane is one of the editors of Qeedle, a small business magazine. When not blogging (or working), he can usually be spotted on the track, doing his laps, or with his nose deep in the latest John Grisham novel.