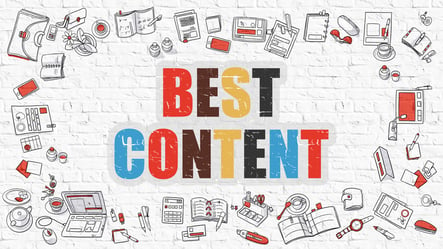 As an entrepreneur, digital marketer, or small business owner, your blog's traffic is a significant influencing factor for your overall sales performance. It allows individuals to find you online, learn about your business, and engage with you to become a prospect. Here are 5 useful ways to boost your blog's traffic.

1. Quality Over Quantity
Quality, quality, quality. Of course, you can aim for quantity too as long as your blog's content, brand's positioning, campaign's message, and everything else is kept at a high-quality level.
When you create your content schedule, don't think of writing 15 articles in one month. It's better to write four articles and make them truly relevant, helpful, and detailed. Try to make an impact and move the reader. If you can't create high-quality content (not everyone's a good writer, and that is totally fine), we would suggest you considering outsourcing your content development.

2. Treat Your Traffic and Followers with Care
You can improve your blog's traffic by treating your customers with care and respect. Include these feelings and states into your communication with customers, in content, in ads, in every place you go, and everything you do. This is a general state of mind, a mindful approach, and a terrific strategy to change the way things will work out for you.
Direct your motivation, inspiration, and need for abundance towards contributing with value and changing customers' lives. That will make a difference, and that will put you in a position of POWER (subliminal marketing) rather than force (intrusive marketing).


3. Diversify Your Media Types and Traffic Channels
You should do your homework and figure out what type of content your followers prefer most. Some audiences love to watch videos on Facebook, others on YouTube or Instagram. Some people love long blog posts, while others get bored. Some people think audiobooks are a goldmine, while others would disagree. That is why you must understand your audience's needs and online behavior.
Once you do, you'll be ready to plan the strategy and figure out what you'll focus on most. I'd highly suggest you diversify the media types. Aim for three content types (video, text, and graphics for example) and focus your attention using the 80/20 principle. That means 80% of your time, energy, focus, and money goes to one type of content, and the rest of the 20% goes to the other two. You can change the object of focus every month. This is another way of approaching the quality over quantity mindset.

4. Leverage Relevant Influencers
Influencers are an extremely underrated asset. There are many people who are being followed by hundreds and thousands of people. These individuals have a lot of reach power, so you only have to find the most relevant ones. Reach out to them, give them free value (give them something for free), or simply ask for a promotion opportunity. Here's an excellent guide to influencer marketing.

5. Treat Failures as Lessons
This tip is very short because it is the essence of growth and progress and it is indeed very simple to understand. To improve your blog's traffic, you must learn how to dance with failures. Failure is present in almost every move and decision you make because your expectations are the ones that establish the boundary between success and failure.


If you're interested in implementing a cohesive blog strategy, or looking to improve your current blog strategy, we invite you to schedule an inbound marketing consultation with our team. We will discuss the important metrics to track, and how to make sure 2019 is successful for your current and future blog strategy.
You can also check out our marketing explainer videos and discover all of the ways that you can maximize your marketing efforts.

Guest Blog Author: Kurt Walker is a talented copywriter and editor at Nerdywriters. He has started working as an academic writer at Superior Papers. When that was no longer enough, he became a senior content developer at EssayWritingLab. His #1 priority is to reach and teach as many people about the possibilities of digital marketing.