Are you wondering what to include in your marketing report? You may be confused with all the data and not sure what metrics and KPIs would be best to visualize.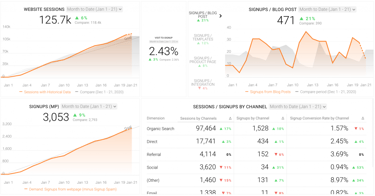 We understand because we've been there too, but if you were hoping for a one-fits-all solution, we have to tell you right away -- there isn't one. What your marketing report should include solely depends on what you're trying to achieve with your campaign.
However, although there isn't a universal template for everyone to follow, there are a few groups of metrics included in all well-written marketing reports. Read our article to find out what your marketing report should include, regardless of your overall campaign goals.
1. Output Metrics
What activities does your campaign consist of? You may be making sales calls, publishing blog posts, or posting on social media. These activities are your output metrics, and measuring them is a way to monitor the work you do on a daily, weekly, or monthly basis.

2. Outcome Metrics
If you need to present the results of your marketing efforts to stakeholders, you'd definitely focus on outcome metrics. These are the ones that clients and bosses are typically interested in more than anything. Outcome metrics may include traffic, or the number of sales or acquired leads.

3. Quality Metrics
Measuring the quality of outcome metrics is also important. You'll want to know your average lead score, for example, or how many sessions ended with a visitor signing up for your newsletter or making a purchase.

4. Progress Towards Goals
To learn if you need to adjust your campaign, you need to visualize your progress, too. How close are you to the goals you've set before the start of the campaign? Were there any positive changes? Whether you're headed in the right direction or not, the visualization of your progress toward your goals will help you determine the next steps you need to take.

5. Comparisons
How will you know if you're making progress? You'll compare your current results to your last month's results, or even last quarter or year. That's an efficient way to determine if you need to make adjustments to stay on track.

When Should You Report on These Metrics?
How often you'll report on the mentioned metrics depends on several factors. For example, on your campaign goals or whom you're reporting to.
Weekly reports are excellent for marketing teams that monitor any ongoing campaigns and make adjustments when necessary. Measuring your output or quality metrics can help you introduce changes to generate better results.
Monthly reports work well for marketers who need to inform their clients about the progress they've made. These reports may include outcome and progress toward goals metrics because they clearly illustrate how successful a campaign is in a result-oriented way.

Reports Help You Do Better
Marketing reports make it easier for you to analyze your data and for your clients to understand it. The five groups of metrics mentioned in this article help you get a clear idea of how close you are to your goals.
Tracking them not only lets you identify potential issues in your campaigns but also to discover your top-performing content and make predictions about what may bring you even more success.
That means you'll be able to copy your most efficient tactics and build a winning strategy for the future.

If you're interested in discussing your current or future inbound marketing strategy, we invite you to schedule an inbound marketing consultation with our team.