Did you know that there were approx. 124.5 billion business emails sent or received daily in 2018? That is a lot of noise to cut through to get your message in front of your audience. Based on these numbers, it's easy to understand how hard it's becoming to get your contacts to consistently engage with your emails. However, using an email marketing strategy that focuses on send time optimization for more personalized communication with each contact individually can significantly increase your email efforts and, more importantly, your email success to drive conversions and growth.
The following is a success story about how we worked with a Business to Consumer (B2C) healthcare company to leverage Seventh Sense and HubSpot to help deliver personalized emails at their subscribers' ideal engagement times. That's right - you can use email marketing to send emails based on the exact day of the week and time of the day that someone is most likely to engage. This is when email marketing really starts to work for you! By using these tools together, this B2C healthcare company increased their email engagement rates (both opens and clicks), increased new contacts from email marketing, and re-engaged dormant contacts to get them excited about the brand content again.
About the Company:
This B2C healthcare company has a fat-freezing medical device which is the only FDA-cleared, non-surgical fat-reduction treatment that uses controlled cooling to eliminate stubborn fat that resists all efforts through diet and exercise.

Challenge:
This B2C healthcare company is a widely known brand with a great deal of consumer interest in their non-invasive fat reduction procedure. With a variety of large marketing campaigns every year, they draw in hundreds of thousands of new contacts that are looking to learn more about the procedure and connect with a local provider to see if they are a fit. Because of that, they were facing a challenge of contacts entering their database, and then not engaging with email after the first month or so. To help with this challenge, we needed to find a solution to keep contacts engaged with email, improve deliverability, and increase overall opens and clicks to drive continued consumer interest in the treatment.

4 Primary Email Strategy Goals:
1. Optimal Send Times: The company was seeking a solution to connect with their growing audience. The traditional "batch" email is not effective in their case because batch emails don't take into account data that you have on an individual on when they typically engage with email. For example, while sending one batch email at 9am to a subscriber on the east coast might seem like an optimal time for that contact, that same email could be sent to a subscriber on the west coast at 6am, which may not be an optimal time for that contact. It all depends on the lifestyle of the individual, when they typically read emails, and the best time to connect. With this being a consumer audience, that time varies widely because it doesn't depend on weekday sends at certain times based on industry open rates. It's completely unique to the individual.
2. Personalized Communications: Segmenting by time zone is just not enough anymore. Marketing has changed. It is no longer about the "one to many" communications, but has moved to connecting on a "one to one" basis with your growing list of subscribers. By sending emails on a day and time that you already know an individual will engage with you will automatically have a positive impact on email engagement.
3. Re-engage Contacts: The company was seeing a decline in the number of contacts regularly engaging with their emails in late 2017/early 2018 (See chart below that shows overall email engagement decline. Don't worry because you'll see the improved results later in the study). By focusing on sending more personalized emails at their contacts' optimal send times, they were hoping to successfully re-engage some, if not all, of these dormant contacts.

4. Improve Deliverability: With the number of contacts in their database, sending a batch (one-time mass) email could be detrimental to their email reputation by sending so many emails to their contacts at one time. Seventh Sense allows us to throttle their email sends thereby increasing deliverability and spreading load on their systems and internal sales team. By doing this, we're able to increase their sender reputation with major email providers improving overall deliverability.


How Does Seventh Sense Work?


Seventh Sense analyzes historical email engagement data, builds a profile on each subscriber and then empowers marketers to automatically send campaigns at personally optimized times. The algorithms are heavily weighted toward sending at a time when each subscriber is most likely to click on a call-to-action within an email.
For each mailing, Seventh Sense uses the following methods of email delivery:
1. Send Time Personalization: Seventh Sense personalizes the send time for contacts with historical data. For contacts with a history of receiving, opening and engaging in email, the system analyzes that data and picks the most optimal delivery time for each individual within a user defined time window.
2. Send Time Randomization: For new contacts or contacts who have never engaged, the system selects a random time to send to each contact, between 8:00AM and 8:00PM EST. The goal is to discover that ideal send time for contacts who have never engaged in the past, the time they've specifically set aside to go through their inboxes.


What Were the Results? 🎉

Utilizing the power of analytics through Seventh Sense and HubSpot, this B2C healthcare company achieved the following email marketing results in 2018.

The following image shows the average open and click rates of 2018 emails sent through Seventh Sense vs. the average open and click rates of emails sent as a simple "batch" email, or a one-time send.

Performance of Emails Sent Through Seventh Sense vs. Emails Sent as "Batch":
Average Open Rates
- Seventh Sense Email Sends: 20.2%
- Batch: 10.3%
- Increase in Open Rates: 9.9%
Average Click Rates
- Seventh Sense Email Sends: 4.7%
- Batch: 0.9%
- Increase in Click Rates: 3.8%
What does this mean? A significantly higher percentage of individuals opened and clicked the emails sent through Seventh Sense compared to the Batch, or one-time send, emails.

Increased Sessions & New Contacts from Email Marketing:
By increasing email open and click rates, this company was able to:
Increase website engagement by increasing their website sessions from email marketing efforts by

64%

.
Increase new contacts from email marketing efforts by 94% in 2018.
The following charts show the increase in sessions and new contacts from email marketing in 2018 vs. 2017.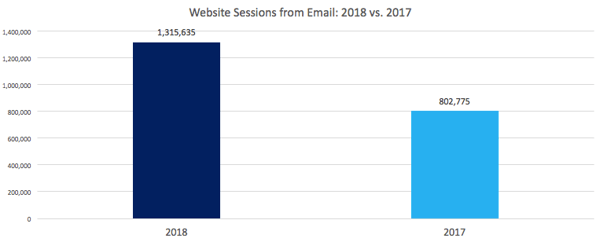 Engaging New and Re-engaging Dormant Contacts:
In addition to increasing their subscribers' engagement rates, this company was able to engage new contacts and re-engage contacts who had once been active, however went dormant.
Engaged 265,000 new contacts in 2018. These contacts had not been active in ANY email communication from this company.
Re-engaged 54,000 contacts who had gone dormant at least 90 days prior to the beginning of 2018 (

see chart below that shows overall email engagement increase)

. This number represented 24% of their total contacts.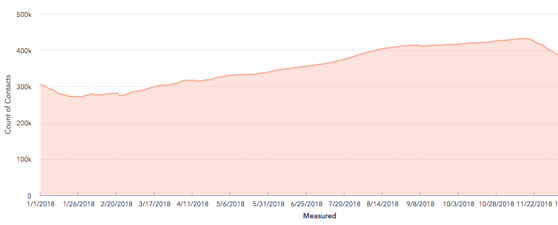 What Type of Revenue Impact Does This Have?
As most, if not all, consumer medical device companies, this company cannot track direct revenue from the consumer due to the nature of their business and revenue coming from the sale of devices and consumables to the provider. However, with analytics around conversion of consumers to new patients, we are able to track projected revenue from campaigns.

This company does a monthly email campaign that goes to all contacts in their database. This email needs to be sent on the same day of every month because it is promoting their monthly events, which are events held at the provider's offices educating consumers about the company's treatment. Using Seventh Sense, we were able to optimize the time of day the email is sent to each contact to improve deliverability since this is such a large driver of new consumer patients. By doing this small change in optimizing by time of day given the data we have from Seventh Sense and HubSpot, we have seen the following results in just this single monthly campaign:
Email Opens Increase of

10.1%
Email Clicks Increase of

155.8%
Since we know that 77% of consumers who attend an event become customers, we can infer the following results. This is just comparing over a 2-month timeframe sending these emails through Seventh Sense, in comparison to sending without Seventh Sense.
42% increase in treatments booked from monthly events
$2.4 million in revenue growth in a 2-month timeframe from event attendees
As you can see, utilizing send time optimization can have a significant impact on helping to better reach your audience. By utilizing Seventh Sense and HubSpot to send your emails at times when your contacts want to engage, you will be able to increase your email open and click rates, grow your new contacts and re-engage your dormant contacts.
Do you want to see how you can improve your email engagement? We have recently launched an email marketing optimization program that helps organizations define and implement strategies and tactics to take their email marketing to the next level. Click here to learn more and to schedule a consultation.