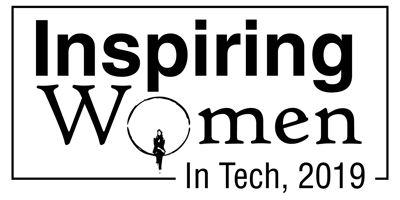 We are delighted to announce that Elyse Flynn Meyer was named a Top Inspiring Woman in Tech by Aspioneer Magazine for 2019. Elyse was recently featured in an article for their magazine, "Transforming Marketing with Inbound." The following is the article that showcases how Elyse sees the future of marketing utilizing technology and inbound to drive results.
While working in organizations from start-ups to Fortune 500 companies, Elyse saw a variety of different marketing and sales strategies, but always thought there must be a better way to build, implement and analyze these programs for effectiveness. She was right.
Today, she is helping organizations get the most return from their marketing efforts. "By focusing on tangible inbound marketing strategies, we help our clients develop unique and effective programs to grow leads and customers, and provide the tracking and analytics necessary to see what is working and what can be improved," says Elyse Flynn Meyer, Founder and President of Prism Global Marketing Solutions. The value proposition is clear: It improves sales, builds stronger relationships internally, and saves companies time and money by focusing on what works best.
"The best advice I received is to know that you are worth it and you are capable, and you can't let anyone stand in your way and make you feel inferior in your job, on a project, during a presentation, and more."

Creating Outcomes
Founded in 2013, Arizona based Prism Global Marketing Solutions motto is embodied in the slogan, 'A Multi-Faceted Approach to Your Inbound Marketing Efforts: A HubSpot Platinum Partner providing you with integrated and comprehensive inbound marketing solutions'.
The company works with its clients to strategize and implement unique inbound marketing programs that encompass all aspects of the buyer's journey including: Content Development, Lead Generation, Lead Engagement, Email Marketing, Marketing Automation, Sales Enablement, and Closed-Loop Analytics. They focus on the goals of the organization first to develop a plan that connects marketing activities with sales initiatives to deliver campaigns and streamlined processes that will help their clients reach their revenue targets by connecting with the right person at the right time with the right content. "We help businesses create processes to grow leads and revenue, and make that part of their organization's culture so marketing and sales are more sustainable and drive continuous results," states Meyer.
Excellence Personified
Six years ago, when Elyse decided to start her own agency — though her family was very supportive –many others thought it was not a good idea to venture into the agency world given the existing competitiveness. However, she ignored her critics by remaining determined and dedicated to her goal. "I had to minimize what people were saying and just show them that their doubts were something I could overcome. And I did," says Meyer boldly. Her perseverance paid off. She was awarded Arizona Republic's Top 35 Under 35 Entrepreneurs and later 4 Under 40 American Marketing Association Outstanding Marketers awards. This is a national recognition with only 4 individuals selected annually. Since it was based on not only marketing expertise, but also on demonstrating distinctive leadership, being exceedingly participative in extracurricular activities, deeply devoted to volunteering, and much more, a high achiever like Elyse was a natural choice for this well-rounded award.
She however humbly credits these successes to her ability to address challenges by keeping the end goal in her mind. "When I face challenges," says Meyer "I need to look further than just that one particular challenge. I look beyond that see what this challenge will help solve to get our organization and our clients to that next goal." Meanwhile, along the way, she was told and always remembers something very valuable that every woman must hear. "Don't ever let someone make you feel inferior. As a woman in business, it's very easy to let other people make you feel inferior, or that you aren't up to the challenge, or that you can't succeed without the help of other people," says Meyer. "The best advice I received is to know that you are worth it and you are capable, and you can't let anyone stand in your way and make you feel inferior in your job, on a project, during a presentation, and more."
When Elyse is not working to help organizations grow as well as sustain their marketing and sales, she can be found spending most of her time with family, especially her 1-year old daughter. Watching her learn and grow and experiencing things through her eyes brings her a lot of joy. She also loves to hike and cycle. When asked with whom she would like to dine if given the opportunity, she immediately responded, "My grandmother- Helen Toth. She passed away just over 5 years ago, and I would give anything to have dinner with her, have her meet her great-granddaughter, and share with her everything that has happened over the last 5 years."
Make it Happen
Meyer highlights, "There is still a huge gap in women in leadership positions and women on boards. As much as people talk about it being a priority, if people don't actually make things happen by hiring more women, promoting more women, and appointing more women to boards, the numbers will change in very minimal amounts. It's astonishing that in 2019 we still have to discuss this, but unfortunately, we do. And it starts with women and men in leadership positions to make this change."
Hence in order to assist women, and knowing what difference it made having her mother as her role model and mentor throughout her career, Elyse too mentors other young women. She is very active with the local universities to provide mentorship to young women who are almost to the point of graduation or are looking for internships and career opportunities. She also provides training and coaching on marketing and sales for women-owned businesses locally. She recently even co-authored with her mother for a personal branding book specifically for women to give them tips and strategies to help take control of their career, Brand YOU, Brand NEW. "I have a focus on women in business and women's empowerment. That will continue to become a primary focus as I watch my daughter grow," affirms Meyer.
As for all aspiring women, she appeals to them to never allow anyone else to take control of their career instead advice them to take it into their own hands. "Far too often I see that women think that other people will help them with career development, professional courses, mentoring to move up, etc. But it's really up to you as the individual to make that happen," concludes Meyer.