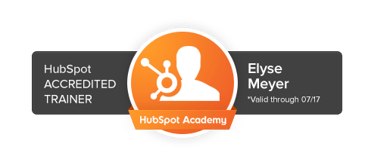 We are honored to announce that Elyse Flynn Meyer, Founder and President of Prism Global Marketing Solutions, has earned the prestigious designation of HubSpot Accredited Trainer. All HubSpot Accredited Trainers have been hand-selected by HubSpot to ensure they meet the criteria to provide highly professional inbound marketing training services for businesses around the globe, and have gone through a rigorous accreditation process by HubSpot.
The HubSpot Accredited Trainer program enables Prism Global Marketing Solutions to deliver the necessary training for individuals and teams to design and implement world-class inbound marketing campaigns. This program enables Prism Global Marketing Solutions to provide in-person and online inbound marketing workshops, training and coaching services for individuals and teams at every stage of their learning and development process with inbound marketing and sales.
Prism Global Marketing Solutions now provides HubSpot accredited training in the following areas:
Inbound Marketing Fundamentals
Search Engine Optimization
Blogging
Lead Generation
Email Marketing
Marketing Automation
Elyse Flynn Meyer has been practicing inbound marketing for almost 10 years, has been a HubSpot power user for 7 years, and a HubSpot partner for 4 years. Her experience includes working in-house at Fortune 500 organizations, small businesses, startups, and non-profits. "As a HubSpot Accredited Trainer, I am honored to be able to expand the reach of the inbound marketing and sales movement to transform the way companies not only market, but do business across departments. These training programs give companies the opportunity to learn and grow through a customized training program tailored specifically to help you meet and exceed your goals with inbound marketing," says Elyse.
Learn more about these customized HubSpot accredited training solutions for your company as a way to help your team grow and scale utilizing the inbound methodology.