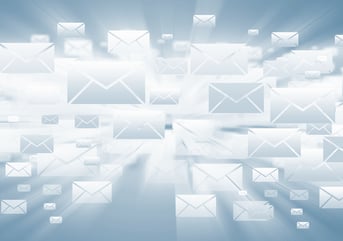 Statistics show that email marketing produces the highest ROI of all marketing activities. The more email subscribers you have, the better. While wanting more email contacts is natural for businesses, the question is: How can your business achieve this?
Many marketers will begin by adding an opt-in somewhere on the site (likely in a less than prominent area) and wait for visitors to find it and sign up. Of course, this results in sluggish growth, at best. This tactic is simply insufficient as email lists degrade by about 25 percent each year. Therefore, if your business isn't generating new email subscribers quickly enough, your email list will shrink annually. To help avoid this, we will explore eight tips for increasing your email subscribers.
1. Encourage Your Existing Subscribers to Share
One of the simplest ways to expand an email list is to get other subscribers to drive your growth. By including social sharing buttons, an "email to a friend" button, and a call-to-action at the end of marketing messages, you can encourage current subscribers to forward emails to their friends.
Those who receive the shared message are more likely to act on it than "cold" contacts as their friend has essentially vouched for the company, thus providing the social proof necessary to potentially earn a new subscriber.

2. Generate a Valuable Lead Offer
Lead offers are one of the most prolific means for drumming up new email subscribers for a reason: They work. However, the key to creating an effective lead offer is to offer a substantial amount of value to the audience, so much so that they can't hand over their email fast enough.
Therefore, it is wise to study who your consumers are, possibly even generating buyer personas and crafting a lead offer for each type of customer a business serves. A great way to find out the exact interests, pain points, and questions that consumers are dealing with is to survey social media followers and email subscribers. Moreover, you can also analyze the types of lead offers that competitors offer consumers to get an idea of what customers want to know more about.

3. Incentivize Subscribing
According to an email tracking report from the Data & Marketing Association, 60 percent of consumers sign up for email lists to receive offers and discounts. Therefore, you should aim to incentivize consumers with promotional offers to attract new signups.
For instance, you might offer new subscribers a 10 percent discount on their next order for signing up to the list. At the same time, inform them that email recipients are the first to know about upcoming offers, and the first to receive coupons periodically and the other perks that come with becoming a subscriber.

4. Analyze On-Site Behavioral Patterns
There is a lot that you can learn about your visitors from analytics. For instance, a traffic report will highlight the various sources of a site's traffic and the percentage of the whole that each comprises. Additionally, using analytics can help you see which of your pages are the site's most popular.
Alternatively, if you prefer, you can utilize tools like Crazy Egg or Hot Jar which provide you with heat maps that show how users are navigating a site, what they are clicking and the like. No matter how you opt to approach the task, it is necessary to analyze the behavior of visitors as this will inform you of the best locations for email signup forms, calls-to-action and other elements that will help to drive new email subscribers. However, in order to optimize one's site for producing signups, it is necessary first to figure out where visitors are coming from, how they are using the website and where they are clicking.

5. Utilize Exit Pop-up Forms
Pop-up forms get a lot of hate these days. In fact, many marketers advocate for not using them at all as they tend to interrupt the user experience and could increase bounce rates. However, pop-up forms are still employed by some of the most popular websites in every vertical. Why? Because they work. As Sumo reports on popup advertising statistics: "Some pop-ups see conversion rates as high as 50.2 percent! But the average conversion rate of the very best pop-ups was 9.28 percent. To put that into perspective, if you get even 150 visitors per day to your site, you'd have 418 signups in a month… The average pop-up conversion rate is 3.09 percent. Most pop-ups fall into this category… So, while 3.09 percent might seem small, imagine you have 100,000 visitors on your site. That turns into over 3,000 subscribers. That makes the 3.09 percent average seem alright in retrospect."
Yet, even with this info, many will be uncomfortable with the idea of employing pop-up forms. In that case, you should opt to at least utilize exit pop-up forms—those that only appear when someone intends to leave the site. Through this implementation, you can use pop-ups forms to capture user email addresses without interrupting the user experience.

6. Truncate Signup Forms
While many businesses try to collect as much information about consumers upfront through a signup form, this is a losing strategy. When consumers are confronted with a signup form that demands their first name, last name, email address, gender, age and other details, they are likely to forgo the process.
Therefore, one of the most effective things you can do to boost you email signup rate is to minimize the number of fields requested of new signups. Two fields (name and email) is all you really need to get the conversation going with a new subscriber. More information can be collected at a later date.
At the same time, it is wise to A/B test your form fields to see:
How much information you can collect upfront
How to make the signup module as alluring as possible
Therefore, you should take the time to test out a different number of form fields, color schemes, placement, offers, CTAs and other elements to see which iteration produces the best results.

7. Offer Content Upgrades
Content upgrades are a frequently used marketing technique where readers are offered the opportunity to receive exclusive content bonuses by signing up for a site's email list.
Such upgrades can prove to be a boon for generating new email signups. When referencing a Disqus survey on why people subscribe to email newsletters, a whopping 72 percent of respondents stated that they wanted to stay up to date with the site's latest content and topics that interest them.
Given this information, you might utilize pop-ups that surface after a user has scrolled to a specific point in a blog or even embed email signup forms within blogs to give readers the opportunity to get their hands on exclusive content.
By utilizing the offer of exclusive, premier content, you can potentially increase your email subscriber list substantially.

8. Run Contents and Giveaways
Social media giveaways and contests have long been a popular strategy for harvesting new email signups as this is an easy way to get your followers (and others who see the promotion) to become subscribers.
Moreover, you don't need an expensive, flashy prize to run a successful giveaway. You can provide gift cards, free products or similar offerings. Typically, users are asked to enter a contest by providing their email address, sharing the contest with their social circle and following the company on social media. As a result of these actions, a snowball effect frequently occurs, increasing the reach of the campaign exponentially. Therefore, social media contests and giveaways can be an extremely useful, low-cost solution for generating new email subscribers. Additionally, there are tons of easy-to-use tools like Rafflecopter that you can employ to make managing the process simple and straightforward.


Earning new email subscribers is a critical task for all businesses, given that their existing list deteriorates at an alarming rate. Therefore, you must put considerable effort into continually pulling new consumers into the fold. Given the profitability of email marketing, you should take the time to implement the eight strategies listed above to help keep your email list happy, hefty, healthy and a continual asset for business growth. If you're interested in discussing your current or future email marketing strategy, we invite you to schedule an inbound marketing consultation with our team.