Implementing the inbound marketing methodology requires the right mix of marketing strategy, content, digital amplification, and actionable insights. After you implement a successful inbound marketing strategy, how do you maintain continued growth in your traffic and new lead growth? In this case study, we outline how one of our clients leverages HubSpot, with a comprehensive inbound marketing strategy, to drive growth at all levels of the business.

Agricen, a plant health technology company, was looking to increase new lead and re-engaged lead volume as a goal for 2020. With COVID-19 and everything moving virtually almost overnight, this was an ideal time to strategize how we can leverage all of their new and evergreen content to connect with their audience in a new virtual world. With the amount of content that Agricen has created over the years (booklets, studies, videos, publications, and more), virtual activity such as webinar, new marketing workflows, and targeted social media ads were a good way to start to connect with prospect and customers in a digital way during these times. These are not new endeavors for Agricen, but had to be amplified to meet the changing business needs in light of the pandemic.

As part of a strategic and integrated inbound program, we wanted to make sure the content was relevant for the audience and they were receiving content when and as they needed it. We first surveyed the most engaged contacts in the database to get a quick pulse on the content that would be most helpful, and the other types of content they find helpful to consume. Then we created a plan to leverage webinars, blogging, lead generation, social media, paid media, email marketing, automation, and analytics. This helped drive a 20% increase in revenue, and the best quarter to date for Agricen! Agricen has worked with Prism Global Marketing Solutions for 7 years and this was the best quarter for marketing and sales traction, even given the current global situation with COVID-19.


What Were the Results?



Overall Traffic and Growth Numbers:




103% increase in website sessions
271% increase in new leads



Webinar Promotion: Through emails, social, blogs, website pop-ups, and Facebook ads, we helped Agricen drive a significant number of registrants and new contacts to their live and on-demand webinars.

1,350 registrants (up 575% vs. an average webinar)
135 new contacts (up 2,150% vs. an average webinar)
82 new contacts to view the on-demand webinar
16% click-through rate with a 68% conversion rate on the pop-up


Blogging Strategy to Drive Organic Search:

In addition to a structured blogging strategy with consistent content created for targeted personas, we took this quarter to review the most viewed blogs on the site and added new calls-to-action. This re-optimized and promoted new lead generating content, while re-optimizing for SEO.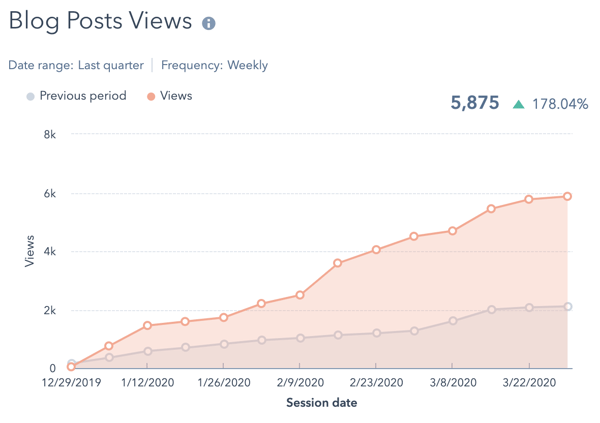 178% increase in blog views
9% reduction in bounce rate
99% increase

in blog views from AMP

Blogging efforts also had a significant impact on organic traffic and new contacts:



20% increase in sessions from organic traffic
560% increase in new contacts from organic traffic
Lead Generation with Dynamic Forms and Calls-to-Action:

Through the promotion of content assets, there was a significant increase in landing page engagement. We achieved this through adding dynamic calls-to-action on relevant pages on the website, promoting content to the existing database to re-engage leads, and promoting content on social media for new lead generation.






286% increase in landing page views as a result of search engine optimization, CTA placement and link placement throughout website and blogs
384% increase in submissions
25% increase in view to submission rate
131% increase in new contacts generated on landing pages


Amplified Social Media Engagement:

Agricen has a strong social following and we were able to amplify that through content to connect with their existing followers and drive new engagement and new leads.





2,888% increase in new contacts
334% increase in clicks
140% increase in sessions


Facebook Lead Ads to Drive New Lead Engagement: Agricen has used Facebook ads for several years to drive engagement and new leads. With the integration of Lead Ads with HubSpot, we wanted to test how Lead Ads would perform to drive increased lead generation. By doing this, we saw the following:

203 new contacts generated
$3.36 average cost per contact
42% decrease in the cost per contact of a standard Facebook ad or boosted post
The following is an example from one of the lead ad results:


Improved Email Marketing & Marketing Automation: Email marketing has always been a very important part of inbound for Agricen. Through a combination of promoting webinars, case studies, booklets, and blogs, we saw a tremendous increase in email engagement.



127% increase in opens
164% increase in clicks
230% increase in website sessions
441% increase in new contacts

In addition, Agricen uses Seventh Sense, a HubSpot integration, for send time optimization for emails. We were able to re-engage 3,175 contacts in email marketing that were dormant in email engagement over the last 90 days. This was the highest quarter ever since leveraging HubSpot (starting in 2103) for email engagement and up over 900% versus the prior quarter.



Impact:

Agricen saw a 20% increase in revenue during this quarter, and it was the most successful sales quarter the company has had to date 👍
594 New Leads: 271% increase in total new leads

Social: 2,888% increase in new leads from social (organic social and paid social combined)
Organic: 560% increase in new leads from organic
Email: 441% increase in new leads from email marketing



With a consistent approach to the inbound marketing methodology, Agricen continues to see significant increases in traffic and leads. Remember that inbound marketing is not a sprint...it's a marathon. That is shown through the continued results Agricen has seen quarter-over-quarter, and over the last 7 years, working with HubSpot and Prism Global Marketing Solutions.