Successfully implementing the inbound marketing methodology requires a cohesive and comprehensive approach to all of the available tools and strategies related to inbound marketing. Your organization needs to focus on marketing strategy, content, digital amplification and measuring the results. In this case study, we discuss how we worked with one of our clients to drive growth at all levels of the business using integrated inbound marketing.

LeadsCouncil is an independent association, whose members are companies in the online lead generation industry from buyers to sellers, technology solution providers and investment professionals. All members are united in a common goal of promoting best practices and fostering trust regardless of their vertical. LeadsCouncil has been using HubSpot since March of 2018, and engaged with Prism Global Marketing Solutions in April of 2020 to drive inbound activity such as brand awareness, website sessions, new leads, and member acquisition.

LeadsCouncil has a lot of great content such as whitepapers, webinars, and live virtual events happening monthly. After a thorough content audit of what they had available, and some of the new content that they may want to create, we developed an inbound marketing program to help drive their digital initiatives, including: Email marketing, marketing automation, social media, and conversion rate optimization.


What Were the Results?



Overall Traffic and Growth Numbers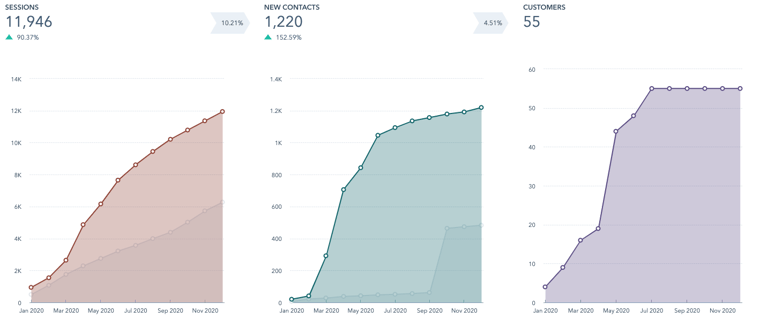 90% increase in website sessions
153% increase in new leads

Webinar Promotion
Through emails, social, blogs, and website pop-ups, we helped LeadsCouncil drive a significant number of registrants and new contacts to their live and on-demand webinars. This helped to encourage engagement with prospective members and existing members since live events have been on hold due to COVID-19.


2,079 registrants (both landing page submissions and pop-up form submissions)
894 new contacts from webinars
49% view to submission rate on landing pages
Average click-through rate of 21% on pop-ups with a form conversion rate of 68%
Conversion Rate Optimization
To focus on new lead generation, it was essential to optimize their website for conversion. To do this, we added calls-to-action and embedded forms throughout the most relevant pages of the website to capture new subscribers. To determine the pages and placement, we leverage the HotJar integration with HubSpot for heatmapping.

3,887% increase in new contacts
4,818% increase

in total submissions

In addition, we leveraged pop-up forms to drive top-of-the-funnel subscribers to engage them further through email marketing and social media. This resulted in 429 submissions through pop-up forms, which is a 14,200% increase from the prior year.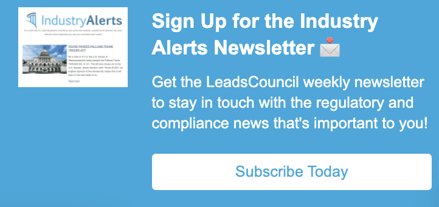 Amplified Social Media Engagement
Since LeadsCouncil has so much helpful content for their audience, it was important to leverage social media as an element of their inbound marketing strategy. By having a consistent approach to promoting LeadsCouncil and thought leadership content, they were able to see dramatic results in social media.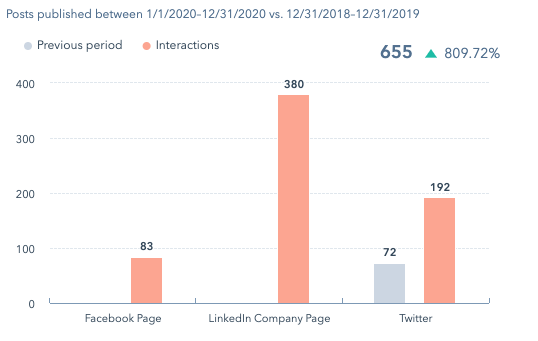 487% increase in sessions to the website from social
60% increase in social media audience
25% increase in published posts
809% increase in interactions
518% increase in clicks
459% increase in shares
Improved Email Marketing & Marketing Automation
Email marketing is an important element to any inbound strategy to connect with prospects and customers with the most helpful and meaningful content. Through a combination of promoting webinars, blogs, other virtual events, and whitepapers, LeadsCouncil saw a tremendous increase in email engagement.



41% increase in email opens
19% increase in email clicks
15% decrease in unsubscribes
3,504% increase

in website sessions from email

In addition, LeadsCouncil uses Seventh Sense, a HubSpot integration, for send time optimization for emails. This has helped us improve email engagement rates by sending emails to contacts at a completely personalized day of the week and time of day based on the data that is available in HubSpot for email activity. By doing this, we saw an increase of 875 contacts who re-engaged with email who were not active in email marketing for the last 12 months. This is a 130% increase from the prior year when tracking re-engaged contacts.

Integrations
In addition to the HubSpot and HotJar integration, and Seventh Sense and HubSpot integrations noted above, LeadsCouncil leveraged the following integrations as well:

Wordpress: Website hosting and tracking
Social Media: Facebook, LinkedIn, Twitter, and Instagram connections for social publishing and monitoring
Vidyard: Video hosting, analytics, and lead generation directly on specific videos
Zoom: Webinar hosting and registration for virtual events
SurveyMonkey: Member and prospect surveys for content, membership activities, and overall customer/member retention

Impact:

LeadsCouncil saw a 206% increase in new members (customers) in 2020 compared to 2019
The increase in new members resulted in an ROI of 1529% compared to the investment they made with inbound marketing
1,220 New Leads: 153% increase in total new leads

Email: 27,600% increase in new leads from email marketing
Social: 13,600% increase in new leads from social media
Referrals: 944% increase in new leads from referral sources
Organic: 167% increase in new leads from organic traffic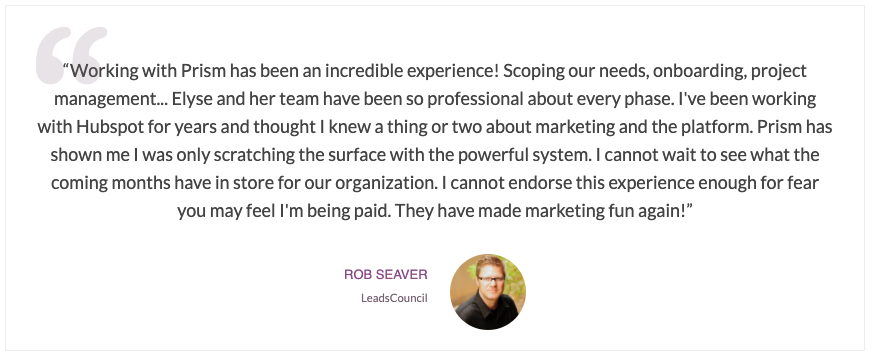 Using a consistent approach to the inbound marketing methodology, LeadsCouncil continues to see significant increases in traffic and leads. Remember that inbound marketing is not a sprint...it's a marathon. That is shown through the continued results LeadsCouncil has seen working with a HubSpot partner to strategize and implement a comprehensive inbound marketing strategy.