Are you looking to optimize your product marketing efforts, or have a product launch coming up that you want to ensure is successful? One of our clients develops and delivers innovative solutions that promote agricultural sustainability and improve plant health and performance. Their primary product, Titan XC™, contains concentrated biochemistry that helps growers get more out of their fertilizers by increasing nutrient availability. By accelerating the breakdown of treated dry fertilizers and converting organic nutrients into plant-available forms, Titan XC makes nutrients more available for plant uptake and utilization, helping to optimize yield potential and provide outstanding grower ROI. Titan XC adds the most value in the fall, so we had a campaign dedicated to promoting Titan XC to their distributors, and their end users.
This product adds significant revenue in the fall, and it has a tremendous impact for growers and drives ROI impact for growers throughout the year. Their primary goals for this large product campaign was to:
Re-engage Prospects & Customers in Their HubSpot Database
Develop New Leads and Prospective Customers
Educate Their Audience About the Product's Benefits
Provide Ample Information to Distribution to Sell to their End Customers (this product is only available through channel partners, but also marketed to end users to drive interest and engagement)

STRATEGY, TACTICS & RESULTS
To promote Titan XC, we needed to use many forms of digital media to reach a broad audience, educate existing prospects and customers, and provide information for channel partners to promote and sell the new product. The marketing plan consisted of updated website content including new case studies and publications to share results, webinars, email marketing, marketing automation, organic social media, paid social media, blogs, website pop-ups, direct mail, and online and offline media partnerships.

New Website Content: To make sure we properly featured Titan XC as a focal point on the website, we optimized their website which included benefits about the product, features, publications, studies, videos, webinars, and more. It acts as a content hub where growers can find all the information they need to learn more. You can view the page here: https://www.agricen.com/products/titan-xc
This page generated 3,867 views in the fall through organic traffic, direct, email, social, and referral traffic. In addition, they added six new blogs to their website related to Titan XC on the website. Their Titan XC blogs drove 4,705 website visits from organic, email, and social traffic in the fall.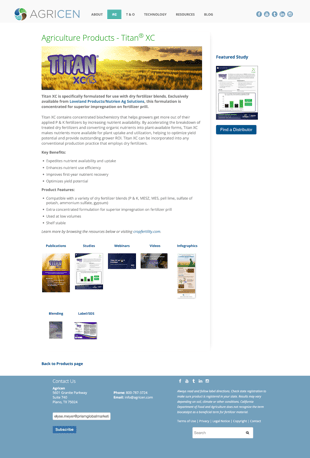 Case Studies and Publications: With any product promotion, it's essential to show the value the product will bring, and the sense of urgency for this particular product delivering the most value in the fall. We used case studies and publications from growers and the distribution team to showcase the results using Titan XC. This resulted in:
2 New Product Educators
26 New Videos for Social and Email
4 New Case Studies
1 Collaborative Webinar with Crop Life, the nation's leader in ag communication
Each of the above sets of assets has its own website pages so people can quickly sort through the content that is most meaningful to them. Here are examples of the studies and video pages:


For each of the gated assets on these pages, such as educators and studies, they also have their own set of assets per content offer, including:
Landing page with dynamic form
Thank you page to deliver the content
Follow-up email with the content asset and a link to find their nearest distributor
The following is an example of one of the landing pages: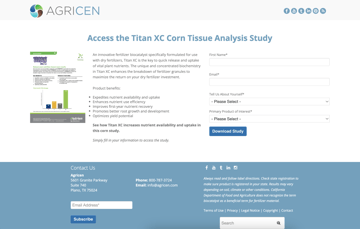 The content assets combined have generated 828 sales-qualified leads from various online and offline sources, as shown in the chart below. This is a 37.5% increase in leads compared to the prior timeframe.
Collaborative Webinar with Crop Life Media Publication: Webinars have been very successful for this client in educating growers and distributors on products and best practices. We worked with Crop Life, a leading publication in the US for farmers, to provide an educational webinar on how farmers can maximize their fertilizer. From there, we turned that into an on-demand webinar. The assets for the above included:
2 Landing Pages (Live & On-Demand)
2 Thank You Pages (Live & On-Demand)
2 Follow-Up Emails (Live & On-Demand)
2 Pop-Ups (Live & On-Demand)
Social Media Posts (Organic & Paid)

Between the live and on-demand webinars, 382 contacts have engaged with these events, either registering directly with CropLife for the live webinar, or with this client for the on-demand version. Here's an example of an invitation email to the live webinar.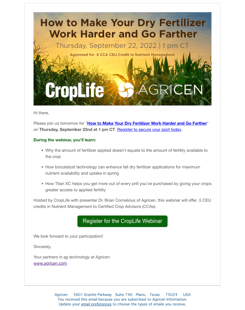 Email Marketing: To promote Titan XC, email marketing was critical because this client's database is highly engaged. They have a mix of growers and distributors in their database, so it was crucial to connect with both audiences by delivering content that would resonate clearly with both segments. There were 14 marketing emails related to Titan XC in the fall of 2022 including:
Channel Partner Emails
Internal Employee Email
Emails Based on Engagement (those who didn't open or didn't click the first email)
Webinar Invitation and Follow-Up Emails
Featured Study and Publication Follow-Up Emails
Marketing Automation Workflows

To date, the emails have generated the following results:
42,211 emails sent
53% average email open rate
20.1% average email click rate
32.6% average email click-through rate

Marketing Automation: In addition to batch email marketing, we also created a new marketing automation workflow that sends contacts a series of emails with content related to Titan XC with new data and studies that show the most updated results that farmers can expect. These emails have performed incredibly well, resulting in an average open rate of 34.8% and an average click-through rate of 14.8%.
Below is a breakdown of the performance of each email in the series.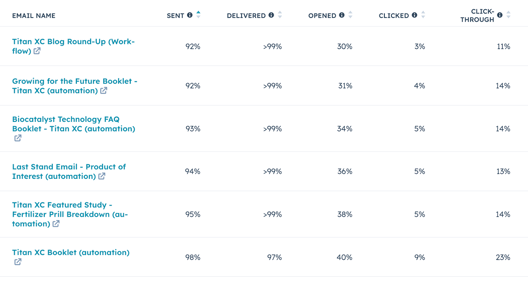 Here's an example of the style of one of their workflow emails. We kept the asset, logo, and background imagery at the top to focus on the content and call-to-action in the body.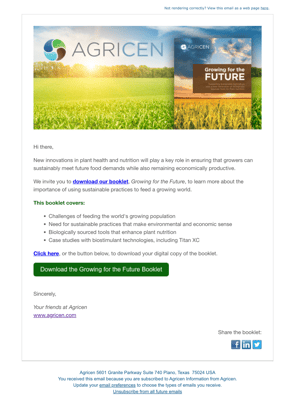 Social Media: Paid and Organic Social are essential to this client. They have a very engaged following on their social channels, particularly on Facebook, so we wanted to leverage this as much as possible. We used a mix of content assets such as short videos, quotes from farmers, before and after imagery, and link-based posts. There were 204 social posts as part of the fall Titan XC campaign across Facebook, Instagram, LinkedIn, YouTube & Twitter.
The social posts have generated the following results:
28,263 Impressions
1,783 Clicks
282 New Contacts
Here is an example of two of the social posts: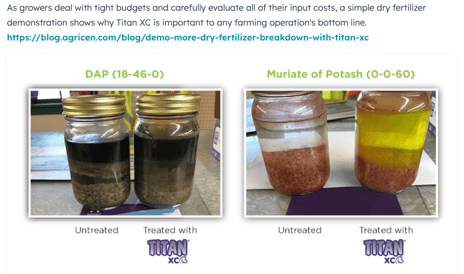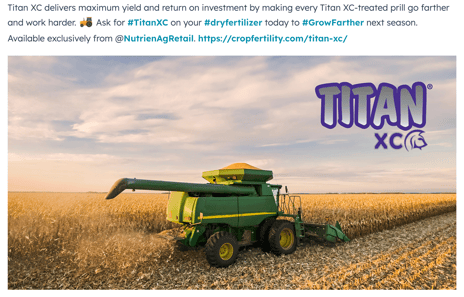 Paid Facebook Lead Ad: Facebook lead ads have proven to be very successful for this client, so we ran a campaign promoting the on-demand version of the Crop Life webinar where individuals just needed to submit their first name and email directly in-app to watch the webinar.
This resulted in:
145K Impressions
249 Leads ($3.51 per lead)
This is a $1.12 decrease in CPL from their average lead ad campaign in 2022.

The following is an example of the creative and content: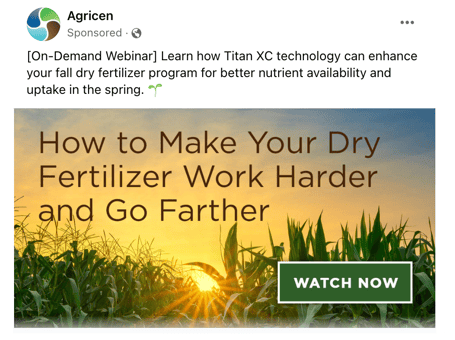 Website Pop-Ups: With the significant amount of website traffic that this client already generates, we promoted Titan XC heavily on the website so existing visitors could easily access more information.
We implemented a drop-down on the home page for anyone visiting the website. We also implemented an exit intent pop-up so visitors could easily submit their information to access the new product booklet including case studies.
This resulted in 382 submissions with an average conversion rate of 23.7%. The following is an example of the creative and content: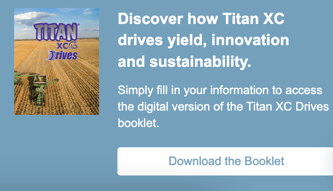 Direct Mail: Three sets of direct mail pieces were sent over two months to all growers in their target region. We had a tracking URL that redirected to the main Titan XC website page so we could track visits to the page from the postcard. This resulted in 282 clicks to the main website link from the tracking URL.

Media Mentions, Podcasts & Radio: Lastly, this client was featured in various publications and sponsorships for this product promotion, including growers sharing their stories, and podcasts discussing grower results. This included:
Articles in Agriculture.com

Several podcasts on the Nutrien Ag Solutions podcast, "The Future, Faster"

Radio ads on AgriTalk targeted to the locations that would see the most impact from Titan XC
We repurposed the content above to use on the blog, send related emails to the database, and for social posts. The above resulted in a 22% increase in referral traffic to the website, which can be attributed to linkbacks from media mentions and partnerships.

IMPACT
27% increase in revenue compared to the prior quarter
6,770 website visits (between all pages combined)
828 sales-qualified leads (37.5% increase in leads)
Significantly improved marketing automation email engagement, which positively impacts their email reputation score (53% average email open rate, 20.1% average email click rate, and 32.6% average email click-through rate)
Decrease in the cost-per-lead on Facebook, resulting in more qualified contacts and a

decreased ad budget

A Note from Our Client: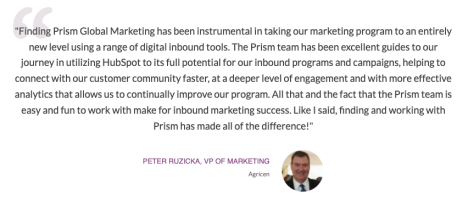 If you're looking to achieve similar results as the company featured in this case study, we invite you to speak with one of our inbound marketing experts today. We will discuss your current marketing and sales goals, how you're leveraging HubSpot, and the potential impact you could achieve when working with a HubSpot partner.