In today's digital age, it's imperative for businesses to have an integrated digital marketing strategy in place. With customers spending more time online, it's crucial to be present where they are and engage with them effectively. Integrated digital marketing involves combining various digital channels, such as email marketing, social media, paid advertising, and website optimization, to create a cohesive and comprehensive approach to reaching and engaging with your target audience. By leveraging the power of digital marketing, businesses can increase brand awareness, generate leads, and drive revenue growth.
One of our clients develops and delivers innovative solutions that promote agricultural sustainability and improve plant health and performance. A large part of their marketing efforts is around educating farmers and their distribution partners about best practices in agriculture and how their products positively impact yield/ROI for the agriculture community. One of their downloadable content assets, "Understanding Soil Microbiology and Biochemistry," is aimed at the top-of-the-funnel education process.
Discover how this organization worked with us to drive 1190 sales-qualified leads with a 62% landing page conversion and a decreased cost-per-lead on an integrated digital campaign.


OBJECTIVES & GOALS
This downloadable asset uncovers how soil microbes and the biochemical compounds they produce play a major role in the nutrients they release, which help to influence plant health and nutrition. As a tie-in to their product line of biocatalyst technologies, they focus on how biocatalyst technology can influence the soil and plant system to help with plant health and growth. The digital campaign around this is geared toward educating farmers, generating leads, identifying the product of interest and crops of importance, and then nurturing these leads in the funnel.

STRATEGY, TACTICS & RESULTS (DATA COMPARES 2022 RESULTS TO 2021)
To promote the Soil Microbiology and Biochemistry booklet, we needed to use many forms of digital media to reach a broad audience, educate existing prospects and customers, and provide information for channel partners to promote and sell the new product. The marketing plan consisted of email marketing, marketing automation, organic social media, paid social media, blogs, and website pop-ups.
In total, this campaign drove 1,190 new sales-qualified leads through a combination of organic search, email marketing, paid social, organic social, and referral leads. Here is a breakdown of the lead sources for these contacts, and we will cover each of the marketing strategies below.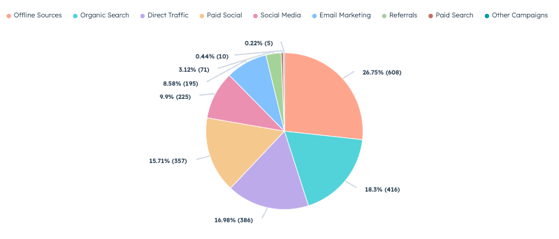 Landing Page Optimization: To ensure the landing page was optimized for conversions, we shortened the page content, optimized the form on mobile to reduce form fields, and added related imagery so prospects knew exactly what to expect on conversion. This has generated 771 leads at a 62% conversion rate with a combination of email marketing, organic social, paid social, and organic search.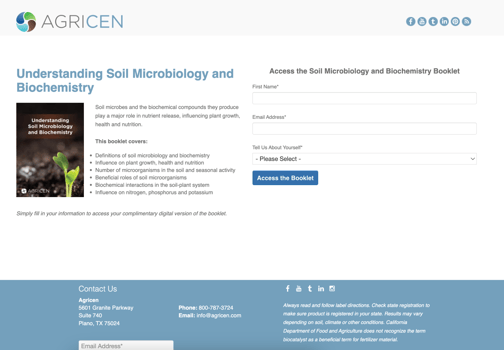 Email Marketing: To promote the booklet, email marketing was critical because Agricen's database is highly engaged. They have a mix of growers and distributors in their database, so it was crucial to connect with both audiences by delivering content that would resonate clearly with both segments. There were nine marketing emails related to the booklet for this specific campaign, including:
Channel Partner Emails
Internal Employee Email
Emails Based on Engagement (those who didn't open or didn't click the first email)
Marketing Automation Workflows

Here is an example of one of the emails: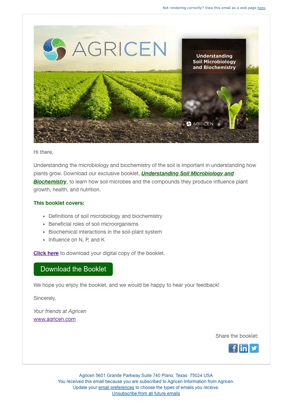 The emails have generated the following results:
32,121 emails sent
45% average email open rate
12% average email click rate
23% average email click-through rate

Marketing Automation: In addition to batch email marketing, we also created an automated email to add to 7 product marketing automation workflows. Each email was specific to why the booklet is relevant to growers who are interested in that specific product line, so they were highly personalized. In addition, we leveraged AI to send these emails with send time optimization. Send time optimization looks at data for each individual contact in a database and sends emails on the day of the week and time of day that an individual is most likely to engage based on their prior history. These automation emails have performed incredibly well, resulting in an average open rate of 51% and an average click-through rate of 25%.

Social Media: Paid and Organic Social is essential to Agricen. They have a very engaged following on their social channels, particularly on Facebook, so we wanted to leverage this as much as possible. We used a mix of content assets such as short videos, quotes from farmers, before and after imagery, and link-based posts. There were 22 social posts across the campaign across Facebook, Instagram, LinkedIn, YouTube & Twitter.

The social posts have generated the following results:
22,862 Impressions
1,203 Clicks

Here is an example of one of the social posts: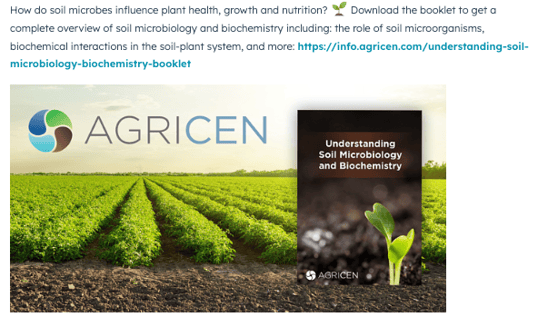 Paid Facebook Lead Ad: Facebook lead ads have proven to be very successful for Agricen, so we ran a campaign promoting the booklet where individuals just needed to submit their first name and email directly in-app to watch the webinar.
This resulted in the following:
150K Impressions
290 Leads ($2.67 per lead)
This was their top-performing ad in 2022 and is $3.92 less than the next highest-performing ad in terms of CPL.

The following is an example of the creative and content. You'll see consistent imagery throughout the social and other assets, so the branding and repetition help increase conversion.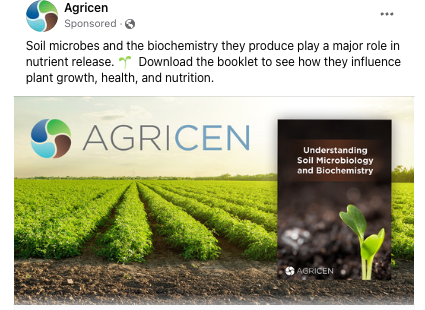 Website Pop-Ups: With the significant amount of website traffic that Agricen already generates, we promoted the booklet through an exit intent pop-up. This displays when someone is intending to exit the website. (If someone has already clicked to dismiss or has filled out any form to download this asset already, it will not display.)
This resulted in a 75.8% conversion rate, generating 129 leads across a mix of sources that have been driving traffic to the website.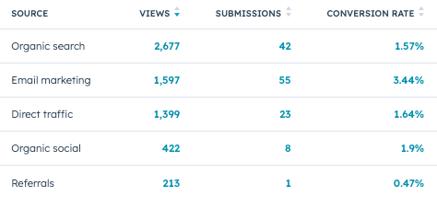 Website Calls-to-Action: We wanted to leverage the existing assets on the Agricen website that already had a great deal of traffic to amplify the exposure of the booklet. To do this, we placed call-to-action buttons throughout the website on relevant pages to provide visitors with a quick way to access the booklet.
These buttons were placed on 31 assets throughout the website, including product pages and blogs. This generated:
7,919 call-to-action views
1,265 call-to-action clicks
201 of the above-mentioned landing page submissions

The following is an example of the call-to-action buttons and data.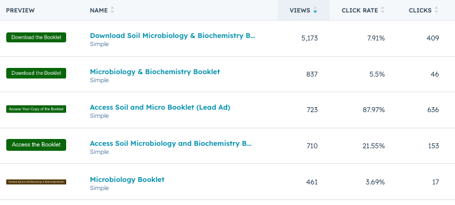 IMPACT
1,190 sales-qualified leads
29% increase in leads from prior year promotion
Significantly improved marketing automation email engagement leveraging AI and send time optimization, which positively impacts their email reputation score resulting in a 45% average email open rate and 23% average email click-through rate.
Decrease in the cost-per-lead on Facebook, resulting in more qualified contacts and a decreased ad budget

A Note from Our Client: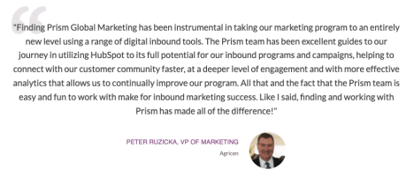 If you're looking to achieve similar results as the company featured in this case study, we invite you to speak with one of our inbound marketing experts today. We will discuss your current marketing and sales goals, how you're leveraging HubSpot, and the potential impact you could achieve when working with a HubSpot partner.